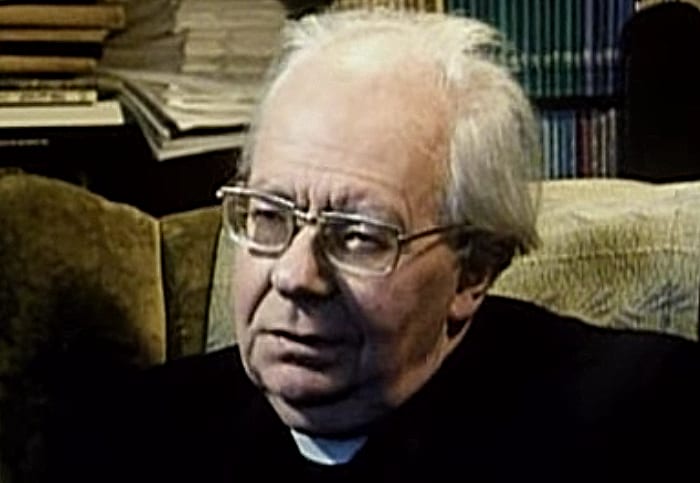 A UK man who was sexually abused by the late Fr John Tolkien, above, son of Lord of the Rings author J R R Tolkein, has had his compensation increased from £5,000 to £15,000 in what is believed to be an unprecedented move by the Catholic Church.
Although Tolkien was never charged with with any offences – he was deemed to be too unwell to face trial – the Roman Catholic Archdiocese to which his was attached  was apparently aware of the piest's abuse but never reported it until decades later.
According to the BBC the abuse happened in the 1950s, when Tolkien was based in Sparkhill, Birmingham.
Investigators said there is evidence to suggest Fr Tolkien admitted the abuse.
This evidence emerged in a note uncovered during a week-long series of hearings of the Independent Inquiry into Child Sexual Abuse, which is examining the Archdiocese of Birmingham's response to allegations made against four priests including Fr Tolkien.
The note "on the face of it suggests that Fr Tolkien admitted those allegations, and was possibly sent for treatment," Jacqueline Carey, counsel to the inquiry, said.
The note was written by Archbishop of Birmingham Maurice Couve de Murville as part of a 1993 investigation, suggesting he had seen information concerning the alleged abuse in 1968.
Carey said.
It seems no action was taken in 1968, and certainly no action was taken by Archbishop Couve de Murville in 1993. Neither matter was reported to the authorities.
Former boy scout Christopher Carrie, from Solihull, was given £15,000 in compensation in 2003 after he sued the archdiocese over sexual abuse claims. According to the Independent Inquiry into Child Sexual Abuse:
On 2 September 1993, Christopher Rooney (who subsequently changed his name to Carrie) met with Archbishop Couve de Murville. He told the Archbishop that he had been sexually abused by Father Tolkien when he was 12 years old. He said that, on three occasions in 1957, Father Tolkien had taken him into the presbytery and committed sexual acts on him, including masturbation carried out in a 'pseudo religious way.'
At the time, the CPS said Fr Tolkien was too ill to be charged, and he died later that year. Carrie died in 2018, after vigorously campaigning to expose Tolkien.

Carrie's former lawyer, Richard Scorer, above, of the Lawyers Secular Society, said the Birmingham archdiocese:
Was apparently on notice since 1968, if not earlier, that Fr Tolkien might present a risk to children.
Commenting on the latest move by the church, Scorer, who has represented five victims of sexual abuse in the archdiocese, said it was the first time in 25 years of handling cases involving the Catholic Church that it increased the financial reparations for a victim after a case had been settled.
They have held their hands up and recognised their conduct was wrong. It may well pave the way for other survivors to seek further compensation.
The report into historic abuse in the archdiocese of Birmingham found that more than 130 allegations of child sexual abuse were made against 78 individuals over the past 75 years. Of those, Tolkien, who died in 2003, was among the most serious offenders.
Another of Tolkien's victims, an altar boy, said in this report that the priest began abusing him from when he was just 11. Tolkien told him he was a "special one" in God's eyes and would be anointed by Christ – but if he were to report the abuse he would be punished by God.
And I was warned, 'Jesus will know if you say anything at all.'
• If you'd like to buy me a cup of coffee – and boy, do I get through a LOT of coffee keeping this site active – please click the  link below.
I'd love a cup of coffee