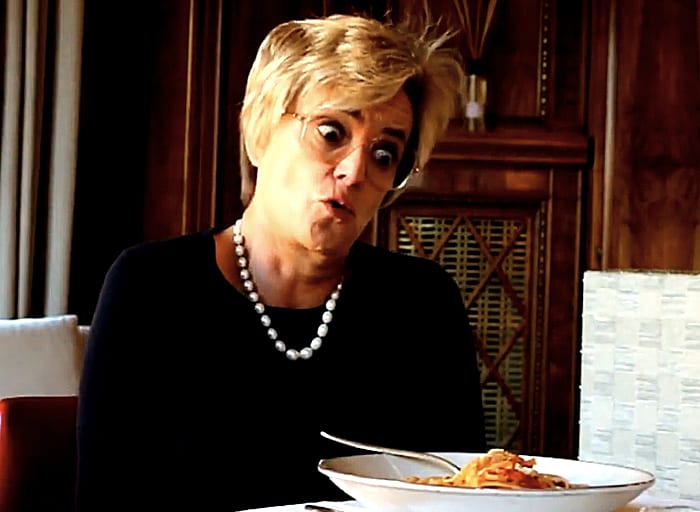 SHE looks as mad as a hatter, and judging from a recent interview she gave to Die Zeit, Germany's Princess Gloria von Thurn und Taxis is definitely one step removed from a padded cell.

Last October, she grabbed the attention of Mother Jones after she and two other crazy zealots – Gerhard Ludwig Müller, a right-wing German cardinal and Brian S Brown, who runs several anti-gay advocacy groups – got to meet "two of the Supreme Court's most ardent Catholic justices, Samuel Alito and Brett Kavanaugh."
Stephanie Mencimer, writing for MJ, revealed that the princess is a former 1980s punk rock party girl (dubbed Princess TNT by Vanity Fair) who has become an uber-conservative Catholic and a close personal friend of the former Pope Benedict.
Her castle in Regensburg has served as something of a salon for disgruntled right-wing Catholic elites and cardinals like Müller who are unhappy with Francis. Last year, she was working with former Breitbart News publisher and former Trump adviser Steve Bannon, a vociferous Francis critic, to create a 'Gladiator School' at her castle to prepare conservative Catholics to fight to preserve traditional church practices and to train an army of far-right activists in nationalist ideology.
This week she grabbed the attention of LifeSiteNews, which today (Monday) published key points from the interview in Die Zeit. It focused on what Gloria von Thurn und Taxis said about contraceptive pills.
After asserting that a true feminist "is someone who has the long-term interests of women in mind," she asked:
Why, for example, should it be in our interest to swallow a drug that simulates a permanent pregnancy in the body, just so that we can have intercourse at any time? Why hasn't a pill been developed to make the male sperm infertile? Because such a drug would never sell, quite simply!

So the woman must take the pill, which in many cases causes cancer, so that the men do not have to wait. Waiting would be much more beneficial to the erotic. But that is another subject.
Asked about what it means to be an emancipated woman, the princess questioned the idea of emancipation, as it is commonly understood. She said that celebrating the opportunity to work in jobs previously done almost exclusively by men:
Has been so cleverly suggested to us by men for decades, so that in the long run they can pass everything on to us. If you're talked into something long enough, you eventually believe it.

Our benefit? Zero! Is it really in the interest of women to do the same work that men have done before? I think not! Of course there are exceptions, but why does a woman as a soldier have to crawl around in the dirt and carry heavy equipment and possibly shoot? Is that in our interest?
Princess Gloria also pointed out that women, in balancing their lives, end up doing a lot more tasks than men, who themselves in turn become frustrated.
Household, family, career, what else?, Women can do almost everything better anyway, so it is much smarter to leave jobs to men exclusively, because otherwise we will have to do everything in the end, while the men sit in the corner sulking, emasculated, frustrated, degenerated and with identity problems and are not even good for reproduction.
She conceded she was exaggerating but said she uses provocation to talk about problems that are often passed over.
The princes referred to the fact that as a young woman, she was more interested in "pop stars, fashion, and the jet set," as opposed to Catholicism and politics. However, things changed after the early death of her husband 30 years ago – he died when she was 30 years old.
Faced not only with personal grief, but also with managing the property and businesses of the family, she was able:
To fall back on what I was taught from childhood: Place your worries under the cross and keep the Lord company with your fears and worries.
During a conference on "persecuted Christians" in November 2019, she criticised the Western world for being:
Obsessed and worried and totally taken by global warming and animal life. But, where have we come to if animals and plants have more [legal] appreciation than human beings?

We all want to live in a natural and healthy environment. But, how is it, then, that we accept and tolerate the most atrocious and unnatural and unhealthy proceedings when it comes to our own species.

Take, for example, hormone treatment. Hormone treatment for egg harvesting, for surrogate mothers, for surrogate children. Or, take the unhealthy sex-change. How unnatural is that? And, how traumatizing for body and soul is it when you rip apart the baby and suck it out of its mother's womb? Or, euthanasia.
• If you'd like to buy me a cup of coffee – and boy, do I get through a LOT of coffee keeping this site active – please click the link below.
I'd love a cup of coffee