**** BREAKING NEWS: FALWELL IS TOAST *****
Jerry Falwell Jr has agreed to take an indefinite leave of absence from his role as president and chancellor of Liberty University, the school announced Friday. (Alt link here.)

The private evangelical Christian university issued a one-sentence statement making the announcement.
The statement said the Executive Committee of Liberty's board of trustees, acting on behalf of the full Board, met Friday and requested that Falwell take leave, "to which he has agreed, effective immediately."
WHAT was Jerry Falwell Jr, President of Liberty University thinking when he posed for picture showing him with his jeans unzipped?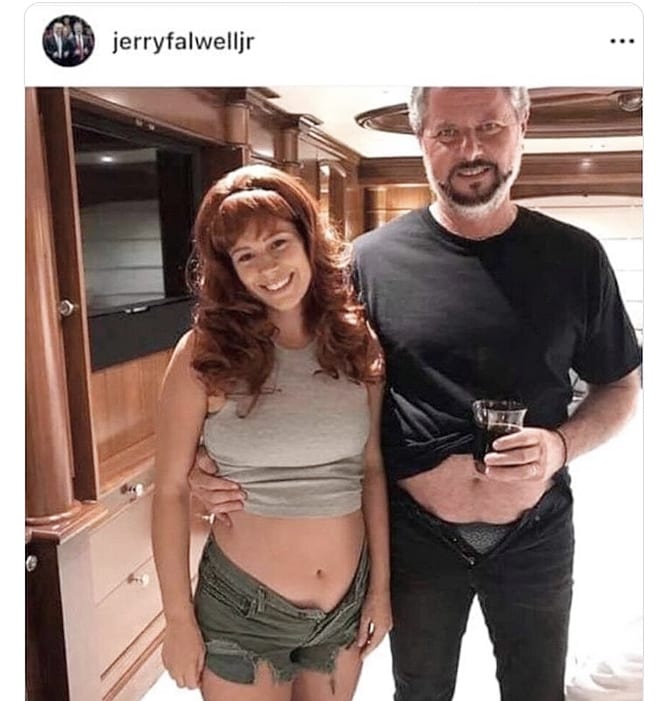 Falwell has an explanation of sorts for the shot, which was posted on Instagram – then hurriedly removed.
It was a "costume party" on a yacht and "just in good fun" he said in a slurred voice after charges of hypocrisy were leveled at him. After all, Liberty – based in Virginia – hold its students to very high standards of decency.
A veritable hotbed of chastity, the university prohibits students from having sexual relations outside of a "biblically-ordained" marriage and consuming media with lewd lyrics, sexual content and nudity.
The university's policy also counsels "appropriateness" and "modesty" in how students must dress.
The woman in the photo with Trump-lovin' Falwell is Kathleen Stone, his "wife's assistant." Stone's Facebook account says she works for Liberty University as a "certified personal trainer."
From a "pool boy" to a "personal trainer …" These Bible hucksters sure live interesting lives. From Rolling Stone:
In 2012, Falwell and his wife Becki visited the Fontainebleau Hotel in Miami Beach. While there, they befriended a 21-year-old pool attendant named Giancarlo Granda.

Granda soon began traveling with the Falwells, both to their home of Virginia to hike and water ski, according to the Times, and to the Cheeca Lodge in the Florida Keys according to the Herald. The latter paper published photos of the trip to the Keys, with Granda smiling next to Falwell, the two looking like father and son.

Just months after the friendship commenced, the Falwells offered to help Granda, who had practically no business experience, set up a venture in Miami. After consulting with his friend Jesus Fernandez Jr. and Fernandez's father, they agreed to open a hostel. Falwell ponied up $1.8 million.

Why did Falwell (who was nearly 50 at the time) and his wife invite a 21-year-old hotel pool boy to travel with them on multiple occasions, and then put up seven figures for him to open up a hostel in Miami Beach that Politico described as a "cesspool of vice"?
Sandwiched between Granda and Stone was the Falwells' hunky personal trainer Benjamin Crosswhite, a Liberty graduate, who benefited from a $2-m "sweet deal" done with Falwell.
Crosswhite describes himself on Facebook as:
God fearing, Jesus Loving man who is married to a woman I do not deserve.
Falwell described the scene leading up to the Instagram photo:
She's pregnant so she couldn't get her — she couldn't get her pants up. And I was like, trying to like – my – I had on pair of jeans that I hadn't worn in a long time so I couldn't get mine zipped either. And so – and so – I just put my belly – I just put my belly out like hers
He added:
She's a sweetheart and I should never have put it up and embarrassed her.
Falwell said in an interview on the Morningline show on WLNI 105.9FM, a local radio station in Lynchburg
I've promised my kids I'm going to try to be – I'm gonna try to be a good boy from here on out. And, anyway, long story short it was just in good fun. That's it.
• Please report any typos/errors to barry@freethinker.co.uk
If you'd like to buy me a cup of coffee – and boy, do I get through a LOT of coffee keeping this site active – please click the link below. I
I'd love a cup of coffee