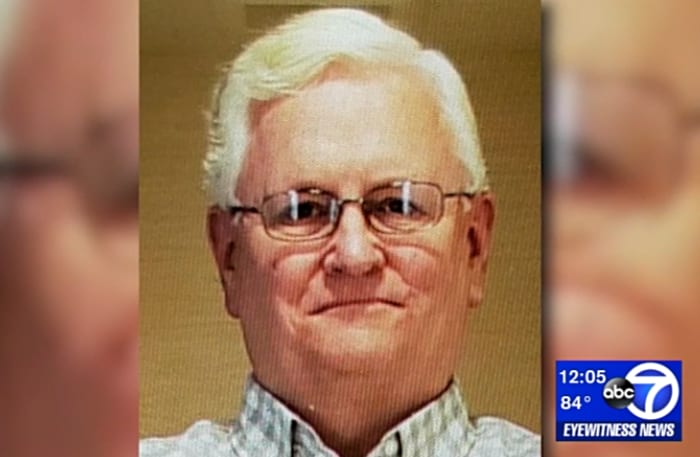 FOLLOWING the arrest late last month of Catholic Fr Francis Hughes, above, on on charges of sharing sexually explicit photos and texts with a minor, parishioners at St Pancras Church in Glendale were urged to pray and not abandon the the church.
The priest appointed to administer the church after Hughes' arrest and his removal by the Diocese of Brooklyn – Father Wladyslaw Kubrak – said:
I encourage my brothers and sisters, in other words, our parishioners, to pray and to trust in God. That is exactly what it is about.
Kubrak explained that in the hardest times, the faithful should turn to Jesus Christ for guidance and face these difficulties head-on. He added that parishioners must:
Pick up their own cross and face everything that is going on.
He also said that while he understands this situation could lead people to want to move away from the church, he hopes parishioners continue to come to St Pancras and that his door is always open to anyone who wants to talk to him.
According to a statement issued by the US Department of Justice, Hughes, 65, engaged in sexually explicit text messages on a dating app with a 15-year-old boy.
Acting US Attorney Audrey Strauss said:
The allegations against Francis Hughes are chilling and frightening to any parent. A person who, by the nature of his profession, is presumed to be trustworthy allegedly victimized a child. Thanks to the FBI, Hughes now faces a serious federal charge.
FBI Assistant Director William F. Sweeney Jr. said:
We expect adults, especially those in positions of trust like Francis Hughes, to protect our children, not victimize them. Sadly, these allegations demonstrate there are still predators out there who abuse this trust.

If you or anyone you know may have been a victim of Rev. Hughes, we are asking you contact us at 1-800-CALL-FBI. If you are a parent or guardian, please take a moment to have a discussion with your children about protecting themselves and about how they can report the type of predatory behavior that is alleged here today.
According to the complaint filed in White Plains federal court:
On February 16, 2020, Hughes communicated by text messages with a 15-year-old boy ("Minor-1"). During the course of the text communications, among other things, Minor-1 sent Hughes three images of Minor-1's penis. Upon receiving one of the images, Hughes responded, [with] among other things, "Yummmmm I will suck you so much" and "Make you cum."

During the communications, Hughes told Minor-1 that he was a part-time college professor and a counselor.
The diocese said in a statement:
Our first responsibility is to our people. Outreach will be provided to the parishioners with the hope of providing them with pastoral care, which is what we do. We will take into account the necessary safety precautions during this pandemic.
Hughes served as pastor of St. Pancras for five years. He was ordained a priest on May 17, 1980, and has served at several parishes, and one preparatory school, in the diocese.
ABC7 reported that former students of the church's middle school say there was always something odd about Hughes.
One said:
He always used to be like a little over-friendly, and he used to be a little touchy sometimes. That's why I always thought there was something off about him.
Hughes faces up to 20 years in prison if convicted.
• Please report any typos/errors to barry@freethinker.co.uk
If you'd like to buy me a cup of coffee – and boy, do I get through a LOT of coffee keeping this site active – please click the link below. I
I'd love a cup of coffee