IT'S a far leap from an ancient temple in Israel to a disused church in the UK but there's an interesting link between the two: cannabis.
In May the BBC reported that a discovery made in a 2,700-year-old temple in Tel Arad suggested that ancient Israelites were using dope in significant quantities as part of their religious rituals.
This would go a long way to support speculation that large parts Bible were written by stoners in the grip of delirium. Talking donkeys, anyone?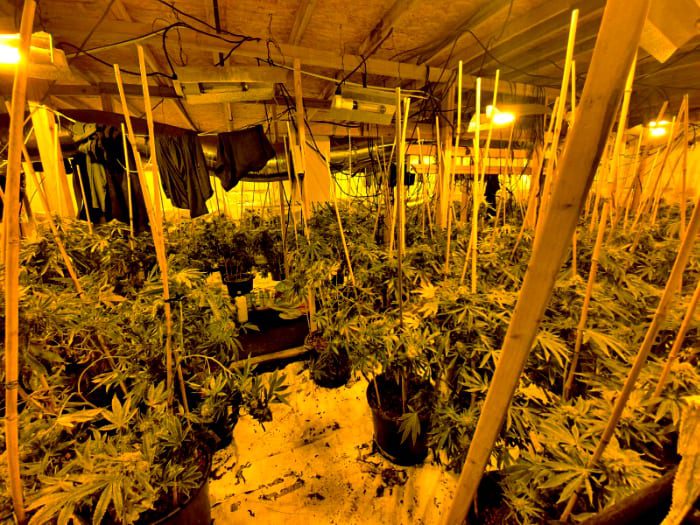 I was reminded of the report after reading that cops in Staffordshire raided the historic United Reformed Church in the village of Armitage late last month and seized 400 pot plants.
Built in 1820, the Grade II-listed building stands next to a primary school. It's not been used as a place of worship for more than 20 years, so an enterprising local, Hazret Malaj, allegedly invaded the church and set up special lights, power banks and wooden frames to enable an industrial level of cannabis production.
Chief Inspector Mark Smith who is based in Lichfield for Staffordshire Police, praised his officers on Twitter for seizing the cannabis, adding:
I'm glad this haul is off the streets and in our custody. Top job by Sergeant Green and troops.
One imbecile called "Ima Hound" responded to the tweet by saying:
Our brave rainbow police took a break from turning a blind eye to BLM and the Muslims and policed some plants instead. Then back to the station for diversity training and gender re-assignment hormones.
This is the second finding of a cannabis farm in a church that has been revealed recently.
Police discovered a sizeable cannabis farm on the premises of an unused church building in County Durham. Extractor fans and 72 plants were found in the loft of Wheatley Hill Methodist Church in May.
A spokeswoman for Staffordshire Police said:
Hazret Malaj, 31, of Rugeley Road, Armitage, has been charged with producing a controlled drug of Class B. He has been remanded until his next court appearance.
The cannabis find in Israel led researchers to concluded that the substance may have been burned in order to induce a high among worshippers.
This was the first evidence of psychotropic drugs being used in early Jewish worship, Israeli media reported.
The temple was first discovered in the Negev desert, about 95km (59 miles) south of Tel Aviv, in the 1960s.
In the latest study, published in Tel Aviv University's archaeological journal, archaeologists say two limestone altars had been buried within the shrine.
Thanks in part to the dry climate, and to the burial, the remains of burnt offerings were preserved on top of these altars.
Frankincense was found on one altar, which was unsurprising because of its prominence in holy texts, the study's authors told Israeli newspaper Haaretz.
However, tetrahydrocannabinol (THC), cannabidiol (CBD) and cannabinol (CBN) – all compounds found in cannabis – were found on the second altar.
The study adds that the findings in Tel Arad suggest that cannabis also played a role in worship at the Temple of Jerusalem.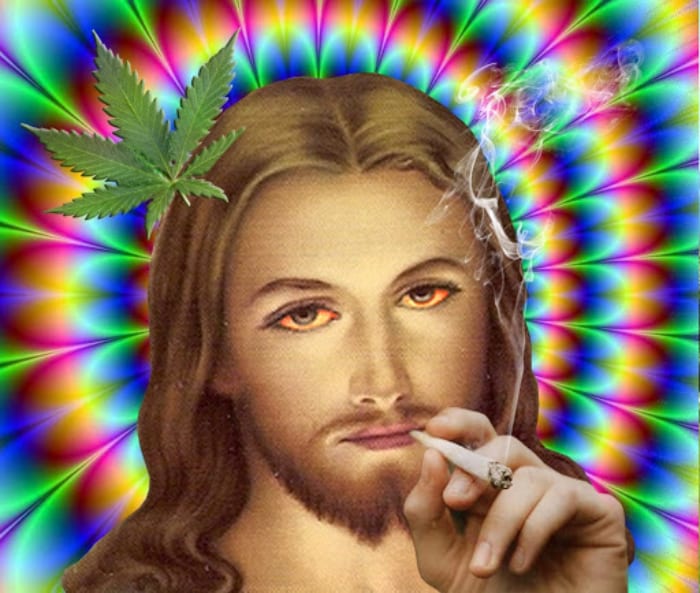 In 2003 The Guardian reported that "Jesus was almost certainly a cannabis user." A study of scriptural texts indicated that Jesus was "an early proponent of the medicinal properties of the drug."
The anointing oil used by Jesus and his disciples contained an ingredient called kaneh-bosem which has since been identified as cannabis extract, according to an article by Chris Bennett in the drugs magazine, High Times, entitled Was Jesus a Stoner? The incense used by Jesus in ceremonies also contained a cannabis extract, suggests Bennett, who quotes scholars to back his claims.
Carl Ruck, professor of classical mythology at Boston University said.
There can be little doubt about a role for cannabis in Judaic religion.
Referring to the existence of cannabis in anointing oils used in ceremonies, he added:
Obviously the easy availability and long-established tradition of cannabis in early Judaism – would inevitably have included it in the [Christian] mixtures.
Bennett suggests those anointed with the oils used by Jesus were "literally drenched in this potent mixture."
Quoting the New Testament, Bennett argued that Jesus anointed his disciples with the oil and encouraged them to do the same with other followers. This could have been responsible for healing eye and skin diseases referred to in the Gospels.
I can certainly vouch for the fact that cannabis has stopped the glaucoma in my left eye dead in its tracks, and has actually improved the vision in that eye.
• Please report any typos/errors to barry@freethinker.co.uk
If you'd like to buy me a cup of coffee – and boy, do I get through a LOT of coffee keeping this site active – please click the link below. I
I'd love a cup of coffee