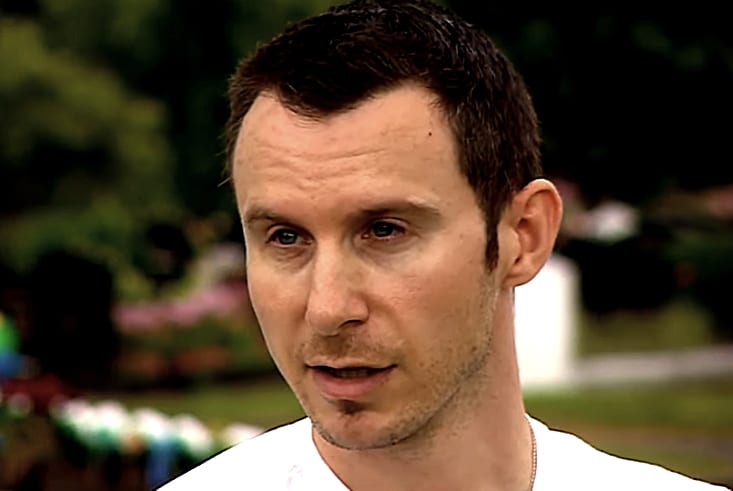 IN 2015 Matt Ogston, above, lost his Muslim partner of 13 years to suicide. Rather than seek the 'gay cure' his mother insisted upon, Dr Naz Mahmood, 34, threw himself off the balcony of the couple's London home.
Ogston, now a filmmaker and public speaker, reacted to Mahmood's death first by establishing the Naz & Matt Foundation – (motto: never let religion, any religion, come in the way of the unconditional love between parents and their children) – and later by changing his name to Matt Mahmood-Ogston.
The foundation was in the news last week after it published the results of a new study that shows how badly gay kids brought up in religious families fare.
Mahmood-Ogston said:
We commissioned this new survey to better understand the challenges LGBTQI+ people face and the sometimes devastating impact it has on their mental health.
The survey shows that LGBT+ people with religious or "conservative" parents are 2.5 times more likely to face rejection when they come out.
Moreover, 70 percent of people whose parents react negatively suffer from anxiety, depression and suicidal thoughts.
Mahmood-Ogston said:
Homophobia triggered by religious or culturally conservative families is widespread.
After the death of Naz Magmood, above, Matt Mahmood-Ogston told The Guardian:
I blame a community that is so closed minded to allow these bigoted views that make families believe that their honour is more important than loving their children.The respect and honour of the family is more important than the happiness of the children they gave birth to. How sick is that?
Last year he spoke out against mainly Muslim fanatics who were objecting to gay-inclusive school lessons:
The researchers found that LGBT+ people from a religious or culturally conservative background are 30 percent less likely to be out to their parents or families compared to other LGBT+ people in the UK.
Twenty-seven percent said they didn't come out because they feared disappointing their parents. Moreover 23 percent feared anger and aggression and 19 percent worried their parents would disown them.
These fears appear to be well-founded. Of those who did come out and had a negative reaction, 43 percent faced anger and 13 percent received abuse.
Meanwhile COVID-19 had taken a toll on many LGBT+ people's mental health. And this survey again confirms that trend.
It found that LGBT+ people from religious or culturally conservative families in lockdown with those families are more likely to have hidden their true identity.
There were some positive findings however. The survey does show that most people's parents do accept their sexuality.
Indeed, only 25 percent of people from a religious or conservative background said their parents were negative when they came out. Moreover, that falls to just 10 percent of people whose parents aren't religious or 'conservative'. Others parents may have been positive, neutral or not responded.
Here's an issue that bears consideration: fundamentalists of all denominations breed like rats. Among their large broods there will, of course, be gay offspring who will be made to feel like outcasts if they come out, adding to the burden of suffering and stupidity religion has already dumped on humankind.
Here's just one recent example: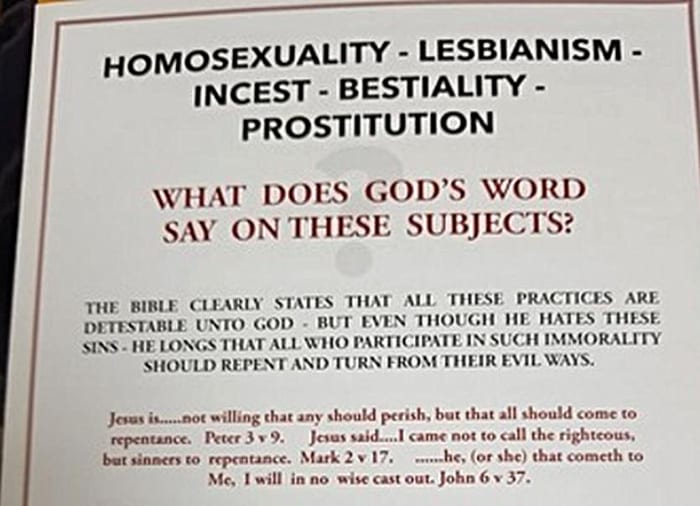 Yeah, yeah …. I know this sort of shit pops up all over the place. The only reason this filth has received media attention is because the distributors were linked to the Mid Ulster Christian Helpline, listed in the Mid Ulster District Council's online directory.
I say "was" because the council has temporarily suspended their directory after the link was made between the "helpline" and the Christards who were distributing homophobic literature in the Magherafelt area.
Independent councillors Dan Kerr and Barry Monteith wrote to council management to ask that the listing be removed because it may promote conversion therapy.
A spokesperson for the council said the directory listings had been:
Temporarily removed. The online directory offers local business and services a listing opportunity and any inclusion should not be considered as an endorsement by the Council for any goods or services provided by any organisation.

However, given the issue which has now arisen, the directory section where community and voluntary organisations have registered their details, has been temporarily removed to allow us to undertake a review of the provision of the service in line with our equality commitments, and to take advice as required.
• Please report any typos/errors to barry@freethinker.co.uk
If you'd like to buy me a cup of coffee – and boy, do I get through a LOT of coffee keeping this site active – please click the link below. I
I'd love a cup of coffee