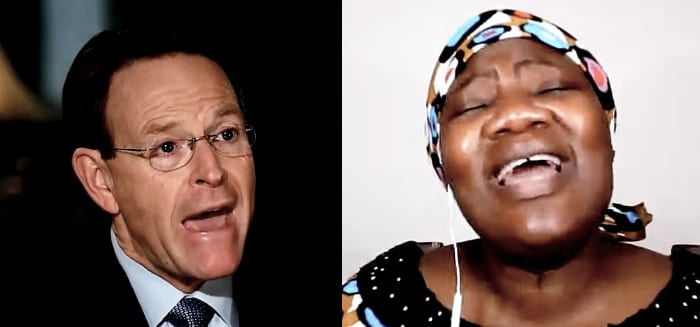 IF YOU are to believe Tony Perkins, head of hate group the Family Research Council, 'Big Tech' allowed its 'political agenda' to get in the way of COVID-19 'facts' by removing a video from social media sites that featured Texas Pentecostal preacher Stella Immanuel, who thinks she's 'God's battleaxe' and that women can be impregnated by 'demon sperm.'
In a op-ed published by far-right Christian website, LifeSiteNews, Perkins claimed that America's Frontline Doctors had:
Come to DC with one goal: to address some of the rumours about the pandemic and share their views on the best ways to fight it. As men and women who'd spent the last several months treating patients with COVID, their opinion was valuable – to everyone, it turns out, but Facebook.

Mark Zuckerberg's platform pulled the video, insisting it was full of 'false information about cures and treatments for COVID-19.' Twitter and YouTube soon followed suit.
Curiously, Perkins failed to mention Immanuel, choosing instead to quote Dr Teryn Clark, one of those featured in the video that had been retweeted by President Trump. Clark said the doctors' main goal, was to share "what they'd see up close." She a keen advocate, as is Trump, of hydroxychloroquine as a treatment for COVID-19. Perkins quoted her as saying:
It's not unsafe. It's effective immediately … I just don't know how it could be seen that we're [advocating something] dangerous.
The "facts," Teryn went on to argue, are being "ignored."
You want facts, Mr Perkins? Then hop across to Medpage Today, which – under the headline No Evidence That Doctor Group in Viral Video Got Near COVID 'Front Lines' – said:
The latest viral video promoting COVID-19 misinformation features a newly formed group called America's Frontline Doctors. About 10 physicians, dressed in white coats with an embroidered America's Frontline Doctors logo, spoke for 45 minutes in front of the Supreme Court on Monday on a range of COVID-19 talking points, from hydroxychloroquine (HCQ) being curative to the mental health effects of lockdown outweighing the toll of the virus itself.

But none of the most vocal members have practices that would place them on the actual front lines of the COVID-19 pandemic. Some don't currently practice at all.

Two of those appearing at the Monday event are ophthalmologists, one of whom is no longer licensed.
Writing for Medpage Today, Ryan Basen pointed out that Jenny Beth Martin, co-founder and national coordinator of the Tea Party Patriots, spoke as part of the America's Frontline Doctors press briefing.
It is not clear what relationship, if any, exists between the two groups beyond the Washington event.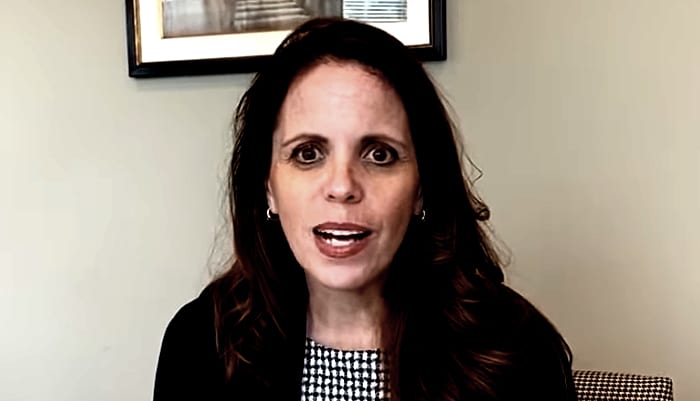 Cutting to the chase, Basen provided brief bios of the docs involved in the Washington charade. For example Simone Gold, MD, JD, above – "a doctor, lawyer, writer, mom" – has been a frequent contributor to conservative media, including Fox News, where she advocates for HCQ as a treatment for COVID-19 and fast economic reopening.
Her California medical license includes her unverified claim that she is involved in patient care 30-39 hours per week and indicates a practice location in Hesperia, a bedroom community of about 100,000 at the edge of the Mojave Desert. Efforts to determine where specifically she may practice were unsuccessful.
Turning to"God's battleaxe", Basen wrote:
Immanuel is a pediatrician and minister in Houston, according to reports, with a clinic in a strip mall. During Monday's briefing, she claimed she has treated 350 COVID-19 patients with HCQ and none have died.
She said she is working on publishing her own data, then added that her data would not matter because right now people are dying when not treated with the drug.
"Everybody get on hydroxychloroquine!" she said, calling the large randomized trials that debunked the drug "fake science." She also declared that people did not need to wear masks.
Immanuel could not be reached for comment Tuesday. Her ministry's website was not operational Tuesday afternoon and a GoFundMe page that she called her "legal team" has been removed from the site. A cached version of the ministry site still stands.
Earlier during the pandemic, Immanuel made news for challenging Anthony Fauci, MD, and CNN correspondents to share urine samples to prove they were not secretly taking HCQ.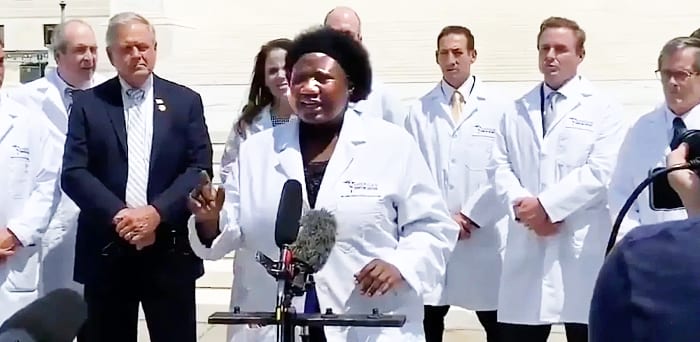 Next up, James Todaro, MD:
Todaro, an ophthalmologist based in Michigan who is no longer practicing, graduated from Columbia University College of Physicians and Surgeons in 2014. His medical license, which was classified as "educational limited" in Michigan, expired in 2019.
According to his LinkedIn profile, Todaro has not practiced medicine since 2018.
Previously, Todaro wrote a "white paper" in mid-March on chloroquine as prophylaxis and treatment for COVID-19, based on published information and linked in a Twitter post. Twitter has since marked it as "potentially spammy or unsafe."
Todaro did not respond to multiple requests for comment from MedPage Today.
Then there's Californian Bob Hamilton, MD, a pediatrician and schools liaison with America's Frontline Doctors.
His practice is involved with Lighthouse Medical Missions, which organizes faith-based medical service trips in developing countries. Hamilton also founded a company that sells bath and body products for babies, and authored a 2018 resource guide called 7 Secrets of the Newborn.
Dan Erickson, DO, is another mentioned in Basen's piece:
Erickson is the co-owner of Accelerated Urgent Care in Bakersfield, California. He is a former emergency physician, according to reports, who was featured on national television in late April after he claimed data his center had collected showed that COVID was more widespread and less harmful than reported in medical journals.
The American College of Emergency Physicians and American Academy of Emergency Medicine issued a joint statement condemning Erickson's claims, calling them "reckless and untested musings" that are "inconsistent with current science and epidemiology regarding COVID-19."
Others with dodgy records are mentioned, but Perkins, who has a very tenuous grip on truth, will no doubt dismiss Basen's piece as "fake news".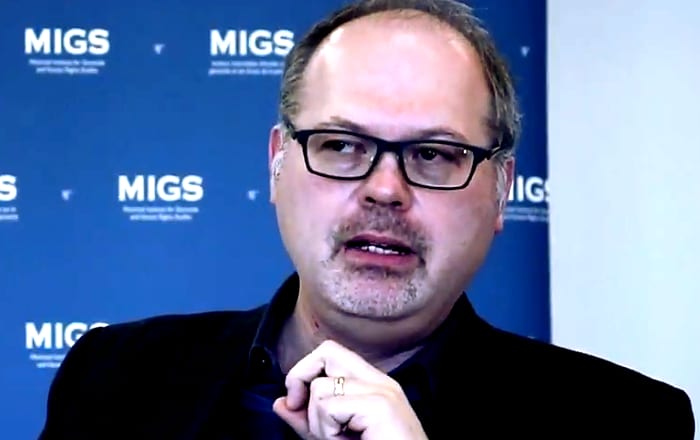 The curious among us have been trying to get a handle on Immanuel's cockamamie beliefs. Religion News Service obliged with an interview with André Gagné, above, Professor of Theological Studies at Concordia University in Montreal.
When André Gagné heard Stella Immanuel, a Trump-supporting doctor, talk about demon sex and hydroxychloroquine, he knew what she was talking about.
At least the demon part.

"That's essentially Genesis Chapter … Or at least one interpretation of the passage.

In that chapter of the Bible, spiritual creatures known as the "sons of God" look down on human women, find them to be good-looking and decide to sleep with them, leading to the birth of a group known as the Nephilim. All of this behavior eventually culminates in the Flood …

Immanuel appears to be connected with African Pentecostal and charismatic church movements, where the spiritual world and the physical are closely connected.

What happens in the spiritual world affects the physical world in that belief system … And Immanuel likely sees no conflict between her training as a medical doctor, where she uses the tools of science to treat patients, and her work as a deliverance minister.

People who share her beliefs would understand what she's talking about, said Gagné. When people outside the faith, with no context, hear or see what she said, things sound weird.

"We don't understand this world. We don't have the same epistemology," he said.

Gagné noted the similarity to a Paula White sermon, when the Trump adviser preached about satanic pregnancies and caused a social media controversy. Those she was preaching to knew she was not talking about literal pregnancies, while outsiders were confused and horrified.
Bottom line: Immanuel is as nutty as a squirrel turd.
• Please report any typos/errors to barry@freethinker.co.uk
If you'd like to buy me a cup of coffee – and boy, do I get through a LOT of coffee keeping this site active – please click the link below. I
I'd love a cup of coffee