FOLLOWING the murder in America of George Floyd, competing brands Nike and Adidas put their differences aside to show that they care about getting justice for the black community.
Adidas tweeted "Together is how we move forward. Together is how we make change." Nike then responded by tweeting a heart emoji. One twitter user wrote "Adidas just reposted Nike's video on Racism. Wow. This is a moment." Adidas also posted the Nike video on their Instagram story.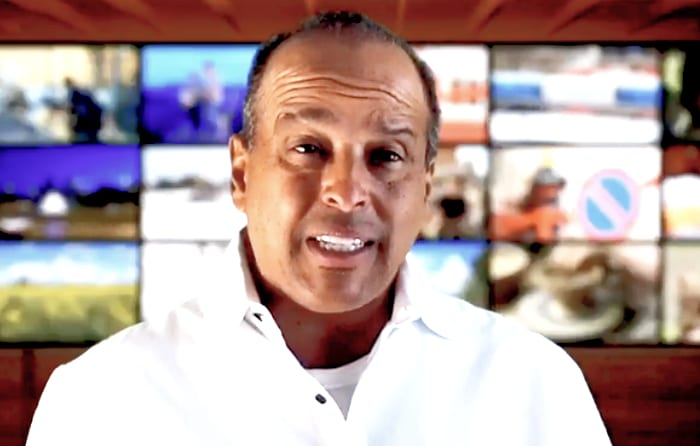 Well, last Thursday according to far-right  PJMedia, Nike (but not Adidas) received a demand to stop supporting "anti-Christian and Marxist" Black Lives Matter by Trump-lovin' Bishop Aubrey Shines, above, representing a barmy new group called the Conservative Clergy of Color, a coalition of a few hundred black pastors, bishops, and other clergy.
Addressed to Nike President and CEO John Donahoe,  the letter insists that his company stops supporting BLM. Instead they want Nike to condemn the Chinese government for its oppression of the Uyghur minority.
Shines said:
Nike is on record supporting the Black Lives Matter movement. A multi-billion dollar company is funneling funds into an organization whose only objective is to destroy America as we know it… while they turn a blind eye to China.
The letter kicks off by saying:
We the leaders of Conservative Clergy of Color have watched with sadness and frustration as the country we love has been torn apart by violence and looting. This civil terror, perpetrated and lead by the Black Lives Matter movement, has turned American against American and possibly set race relations back decades.

Black Lives Matter, a movement run by anti-Christian, self-proclaimed Marxists, hijacked legitimate calls for police reform and turned it to their own ends. This is not a group interested in constructive change; through their vicious campaign to defund police and silence anyone who disagrees with them, they have destroyed livelihoods and gotten innocent children killed. It is antithetical to the nonviolence that Dr. King and the Civil Rights movement stood for.
The black pastors accused Donohoe and his company of having:
Helped fan the flames of this unrest by caving to support Black Lives Matter and promising financial support to their allies. You have given Black Lives Matter a platform, and as such, have contributed to the chaos that is tearing apart every major city in our country. You are culpable in the violence that has wronged so many innocents in the name of 'the revolution …

You have been happy to play into the hands of anarchists at home and ignore slavery abroad. We demand that you immediately sever all business ties with China and acknowledge the suffering of the Uighur people. We demand you end your support to the violent Black Lives Matter movement and any affiliated causes. We ask you take a hard look at real injustice in the world and to remember that change comes through forgiveness and compassion, not violence.
The group assured Donohoe and Nike that "we are not here to 'cancel' you, as is the popular thing these days." Rather, they said they are:
Firm believers in sensible, civic dialogue. We would like to extend the hand of Christian fraternity and offer to meet with you one on one to discuss these important matters and this crucial period in our country's history.
PJMedia is part of Townhall Media, a publisher owned by Salem Media Group, a publicly traded company whose properties, according to its website, target:
Audiences interested in Christian and family-themed content and conservative values.
PJMedia:
Salem also owns more than 100 radio stations, most of which are Christian-themed talk and music stations; more than a dozen websites; a publishing arm; Christian-themed mobile apps; and investment advice sites.
• Please report any typos/errors to barry@freethinker.co.uk
If you'd like to buy me a cup of coffee – and boy, do I get through a LOT of coffee keeping this site active – please click the link below.
I'd love a cup of coffee