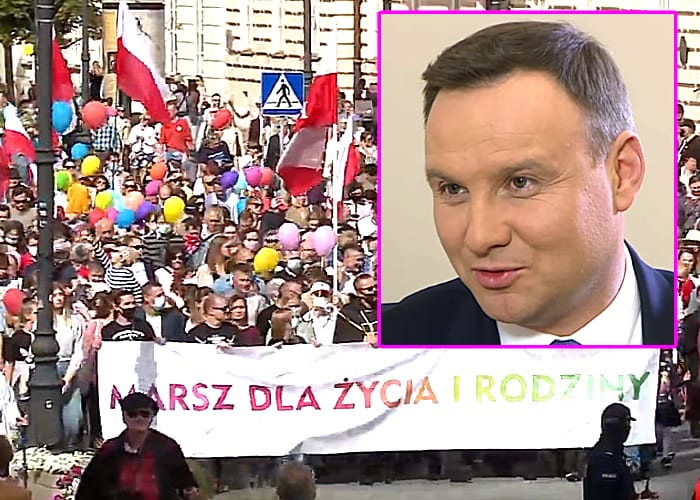 POLISH President Andrzej Duda, inset above, last Sunday participated in 5,000 strong march to declare 'let's defend the family together.'
But in today's Poland, gay people aren't regarded as family by a coalition of far right forces and the Catholic Church. Instead they are seen as an "ideology".
Reporting yesterday on the march for LifeSiteNews, Dorothy Cummings McLean said:
In recent years, the traditional, largely Catholic country has been challenged by a fringe movement, funded from abroad and supported by the European movement, that is attempting to spread LGBT ideology.
A few days later councillors in eastern Poland voted to keep a motion declaring their town "free from LGBT ideology".
The mayor's office in Krasnik said councillors had voted 11 to nine to keep the symbolic anti-LGBT+ motion that was passed in May 2019, which declared that the town would defend itself from:
Radicals striving for a cultural revolution.
The decision coincided with the delivery to the European Union's Commissioner for Equality, Helena Dalli, of a petition signed by more than 340,000 people who are demanding action against Poland for its relentless attacks on LGBT communities.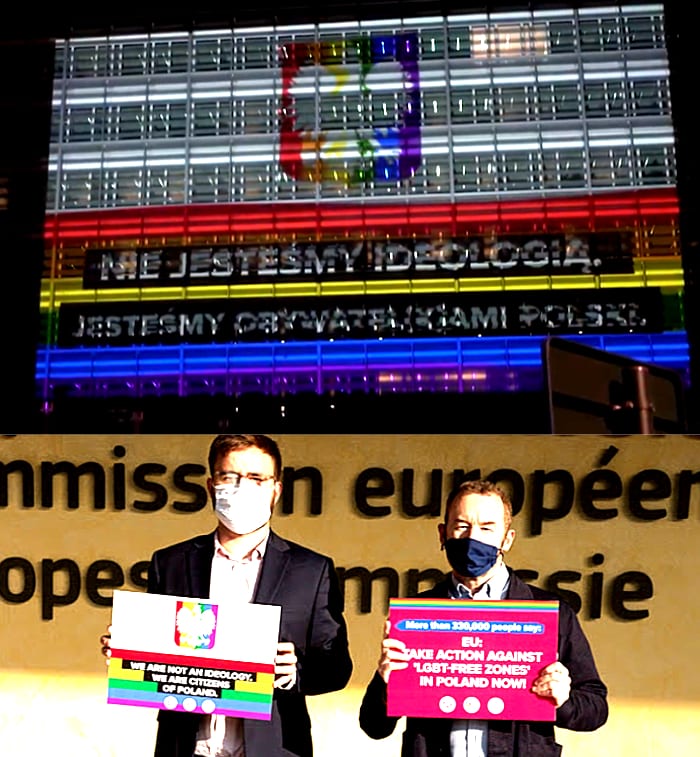 In addition to delivering the petition, activists lit up the headquarters of the European Commission with a massive projection, saying in English and Polish 'We are not an ideology. We are citizens of Poland.'
In an email this week to Pink Triangle Trust secretary George Broadhead, Matt Beard of All Out said:
Hate and violence against LGBT+ people in Poland have reached a boiling point. Polish politicians have declared LGBT+ people 'enemies of the state' and denounce them as 'an ideology.' And around 100 Polish municipalities have declared themselves 'LGBT-free zones.'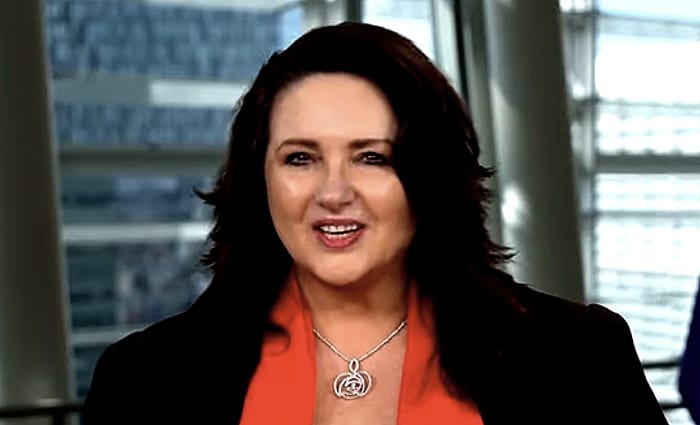 Polish LGBT+ people are citizens of the EU and their rights must be protected. These attacks on LGBT+ lives in Poland must end NOW. Yesterday morning, I went to Brussels and, together with Marcin Rodzinka from KPH, our Polish partner group, delivered the signatures to the EU Commissioner for Equality, Helena Dalli (above.)


We went to the EU with a loud and clear demand from 340,000 people: take action on Poland NOW.

The petition also represents a message of love and solidarity from across the world to the LGBT+ community in Poland: we hear you and we will stand with you.

So we came back in the evening and lit up the headquarters of the European Commission with a massive projection.
You can sign the The All Out petition here.
Krasnik is not alone in setting up so-called "LGBT-free zones." Almost 100 Polish municipalities have similar policies – and it's costing them dear. Norway last week announced that it would not grant funding to any of them.
Bartosz Staszewski, a campaigner against the LGBT-free zones, said the decision was against the best interests of Krasnik's roughly 35,000 residents.
"I just hope that this is the most expensive … act in Krasnik's history," he told the Thomson Reuters Foundation by phone. The citizens of these cities are losing because of the path (politicians) choose."
Norway's Foreign Minister said on September 14 that Krasnik and other districts with anti-LGBT+ statements would not be getting grants from a €100-million programme for small and medium-sized Polish cities funded by Norway, Iceland and Lichtenstein.
The city, which would have been eligible to apply for up to €10 million euros, has received about €7 million from the European Union in the last two years, a spokesman for Krasnik Mayor Wojciech Wilk said by email.
He distanced the town's executive from the vote, saying the resolution was purely "symbolic" and that there were no specific regulations negatively affecting LGBT+ people.
The Polish embassy in the US said on Tuesday there were no LGBT-free zones in Poland, responding to a tweet by Democratic presidential candidate Joe Biden, who said they had:
No place in the European Union or anywhere in the world.
The embassy replied in a tweet:
The Polish Government is committed to the rule of law, equal rights and social inclusion. There is no place for discrimination in our societies.
Last week, the European Parliament passed a resolution calling on the EU to take action against Poland for rolling back LGBT+ rights and compromising judicial independence, including potentially denying it funding from the bloc.
Earlier that week, European Commission President Ursula von der Leyen condemned "LGBT-free zones", calling them "humanity-free zones".
Poland also has an anti-Semitism problem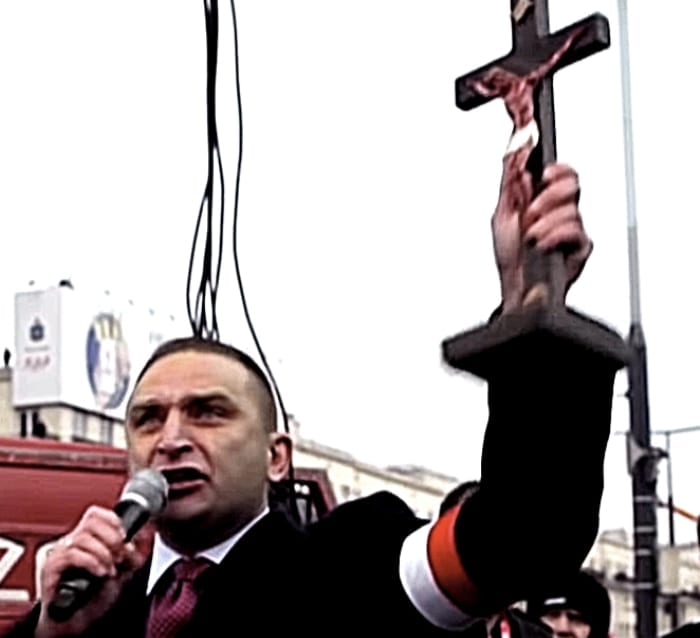 Neo-fascist forces in Poland also stand accused of ramping up anti-Semitism. According to this report, Two US senators have written to President Duda to express their concern about a rise in what they said was anti-Semitic discourse. The letter was sent by Senators Jacky Rosen, a Nevada Democrat and Republican James Lankford,of Oklahoma.
The letter notes the close defence ties of the United States and Poland and suggests a failure to address the anti-Semitism and to advance Holocaust restitution could impede the growth of the relationship.
Much of the rhetoric singled out in the letter, has to do with the debate in Poland over Holocaust restitution. It became an issue in the recent presidential campaign when Duda, a member of the ruling Law and Justice party, won re-election.
The letter said:
We are alarmed by growing anti-Semitic discourse in Poland and scapegoating of the Jewish community, which run counter to our nations' shared values. Specifically, during Poland's 2020 presidential campaign, the Law and Justice Party and state television peddled anti-Semitic tropes and thinly veiled demagoguery.
It cited a number of insinuations that Duda's rival in the election, Warsaw Mayor Rafal Trzaskowski, was in the pocket of Jews pressing the restitution issue.
• Please report any typos/errors to barry@freethinker.co.uk
If you'd like to buy me a cup of coffee – and boy, do I get through a LOT of coffee keeping this site active – please click the link below.
I'd love a cup of coffee