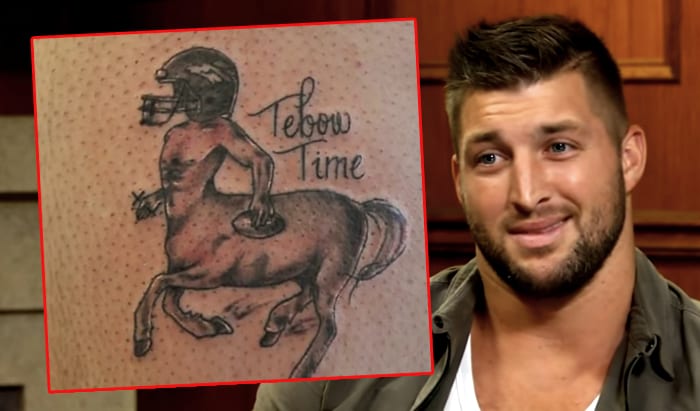 Folk who dislike public displays of piety had every reason to detest Tim Tebow's ridiculous kneeling at NFL games. But Christian fans of the less than stellar player so loved his 'Tebowing' that they had images of him inked on their skin. Some of those tats were pretty damned awful, as the one inset above, shows.
One fan has even credited Tebow, who left the NFL to play baseball, with putting him on a path to a cure for his epilepsy by praying for him.
According to a report today (Sunday) in the Christian Post, Arizona resident and born-again Christian Brandon Berry was at Tebow's first baseball game with the Scottsdale Scorpions in 2016 when he had a seizure and and blacked out. He woke up to find Tebow praying over him. Someone who witnessed Tebow's intervention said:
Tebow put his hand on Berry's leg and prayed quietly. Right after that, he stopped seizing and his whole body just stiffened up. My first thought was that he was dead. A paramedic even put a hand on his neck to check for a pulse. Then, Brandon started coughing and he came out of it.
Berry told CP that he's been free of seizures for two years.
I think God is a big factor in all this. I have been building a relationship with Him …
He also credits a change in diet and yoga. Not the "demonic" Hindu version that Christians are advised to avoid, but DDP yoga, a fitness programme and company run by former professional wrestler Diamond Dallas Page, a three-time World Championship Wrestling heavyweight champion.
Berry said that DDP removes a lot of the spirituality found in other yoga programmes. When he does it he puts on Christian worship music and prays to God.
In 2017, a Tampa.com article sought to explain why so many hated Tebow. Most objected his "shoving his religion in my face."
Tom Jones, author of the piece, wrote:
Tebow believes in God. He believes in service. He believes in trying to impact people in a positive way, to make their lives better. He believes in doing whatever it takes, including playing baseball, to the best of his ability to reach people and share his story and make a difference in the world.

What's wrong with that, exactly?

Maybe if people spent the energy it takes to hate Tebow on living their lives more like Tebow, the world would be a much better place.
For those thinking of aping Tebow's act of going down on one knee and holding a clenched fist against one's forehead while praying during games be aware that he owns the "Tebowing" trademark.
• Please report any typos/errors to barry@freethinker.co.uk
If youB'd like to buy me a cup of coffee – and boy, do I get through a LOT of coffee keeping this site active – please click the link below.
I'd love a cup of coffee