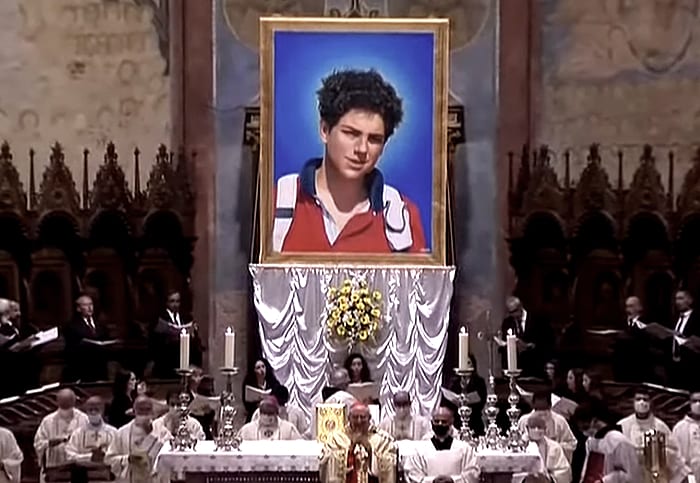 A SCRAP of an Italian teenager's T-shirt that allegedly cured a Brazilian boy of a rare pancreatic disorder set in motion a Catholic process that saw Carlo Acutis getting beatified in Assisi at the weekend.
Vatican experts in the miracle industry decided that Acutis "intervened from heaven" to cure the seven-year-old boy in 2013, seven years after Acutis died of leukemia aged 15.
Acutis, born in London on May 3, 1991 to Italian parents, was put on the road to sainthood after Pope Francis approved a miracle attributed to Acutis: the healing of Mattheus Vianna after he came into contact with an Acutis "relic", a piece of Acutis' T-shirt.
According to Wiki:
On 14 November 2019, the Medical Council of the Congregation for Saints' Causes expressed a positive opinion about a miracle in Brazil attributed to Acutis' intercession. Luchiana Vianna had taken her son Mattheus, who was born with a pancreatic defect that made eating difficult, to a prayer service.
Beforehand, Vianna had already prayed a novena asking for Acutis' intercession, while during the service her son simply asked that he wouldn't 'throw up so much'.
Immediately following the service, Mattheus informed his mother of the healing and asked for solid food when he came home, as he had been on an all-liquid diet. After investigation, Pope Francis confirmed the miracle's authenticity in a decree on 21 February 2020, enabling Acutis' beatification.
The relic was given to the boy's mother by a priest.
Acutis, a "computer wiz" who was in the process of documenting miracles for the Internet when he died, is the youngest contemporary person to be beatified, a path taken by two Portuguese shepherd children living in the early 1900s who were proclaimed Catholic saints in 2017.
At the beatification ceremony in Basilica of Saint Francis of Assisi, a portrait of Acutis was slowly unveiled, revealing a smiling teen in a red polo shirt, his curly dark hair illuminated by a halo of light. Cardinal Agostino Vallini, the papal legate for the Assisi basilicas, kissed each of the boy's mask-wearing parents, Andrea Acutis and Antonia Salzano, after reading the proclamation decreed by Pope Francis.
Already touted as the "patron saint of the internet," Acutis created a miracle website and took care of sites for some local Catholic organisations.
Vallini said:
Carlo used the Internet in service of the Gospel, to reach as many people as possible.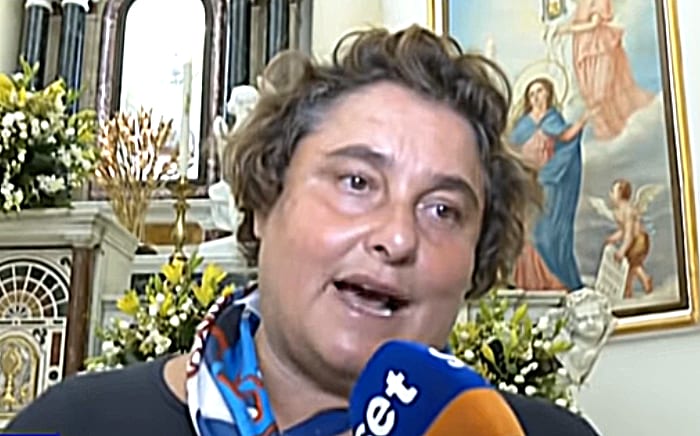 As a small child, he showed a strong religious devotion that surprised his non-practicing parents. His mother, Antonia Salzano, above, told the Corriere della Sera newspaper that from the age of three he would ask to visit churches they passed in Milan, and by the age of seven had asked to receive the sacrament of Holy Communion.
Acutis' piety prompted his mum to go full-on religious.
Carlo saved me. I was an illiterate of faith … It is a path that continues. I hope to at least wind up in purgatory.

I was sure he was already a saint while alive. He healed a woman from cancer, praying to the Madonna of Pompeii.
Another verified miracle is necessary for sainthood, although Pope Francis has waived that on rare occasions.
Acutis told his mother that he would give her many signs of his presence after death.
Before he left us, I told him: If in heaven you find our four-legged friends, look for Billy, my childhood dog that he never knew.
One day she got a call from an aunt who was unaware of the mother-son pact, saying:
I saw Carlo in a dream tonight. He was holding Billy in his arms.
The Catholic Church does grisly like no other institution outside the horror movie industry – and in this instance it surpassed itself. Numerous Catholic sites feature photos of the teen lying dead, and one – Aleteia – has a report, with photos, of the opening of Acutis' tomb for "veneration."
Bishop Domenico Sorrentino of Assisi celebrated a Mass today for the opening of the tomb, saying that 'today Carlo becomes in some sense visible again, the beauty of his presence among the angels and the saints. Carlo helps us to follow his footsteps and convert to Jesus.'
Aleteia added that reports that the body was "incorrupt" were false. A lot of work had to be done to prettify him for his post mortem appearance.
You can buy Carlo Acutis T-shirts here. But sadly no-one seems to have come up with a Carlo Acutis Covid-19 face mask. Budding entrepreneurs take note.
Update (15.10.20): Because thousands are flocking to see Acutis' corpse – clad in jeans and a pair of Nike tennis shoes in a tomb with a glass window – it's been decided to extend his period of veneration for another two days, until October 19.
• Please report any typos/errors to barry@freethinker.co.uk
If you'd like to buy me a cup of coffee – and boy, do I get through a LOT of coffee keeping this site active – please click the link below.
I'd love a cup of coffee