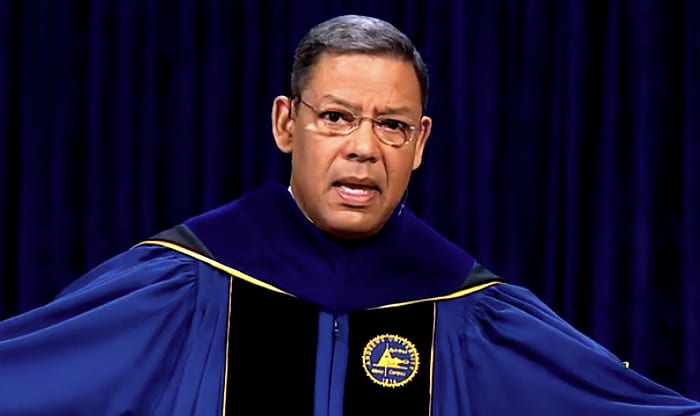 LAST year Adventist Church treasurer Juan Prestol-Puesán, above, gave credit to Heaven's Treasurer for a good financial year.
He told a Maryland meeting of the church's 2019 Annual Council:
We wish to acknowledge our dependency on God for His continuous presence, guidance, and sustaining grace.
That "grace" saw tithes rising to over $89-million during 2018.
Every Sabbath in 2018, the amount collected in offering plates around the world amounted to $50 million in tithe and mission offerings. Prestol-Puesan gleefully said:
If you add local giving, you're talking about far more – this is what I call the silent miracle. We would not be reporting to you these positive numbers, if not for the generosity of our members.
But, capricious at the best of times, God chose to send COVID-19, and Prestol-Puesán this week glumly reported that the church, which has more than 21 million members worldwide, will lose $26-million by December due to the coronavirus pandemic.
This decline, which has driven the church into "survival mode" means that budget control measures will have to be put in place. These include the suspension of allocations to selected functions; introduction of budget reductions for departments and programmes; and reduction, reallocation, and redirection of personnel.
One reader of the Christian Post's report of the Adventists' woes showed little sympathy. John Whittle wrote:
Tithes are the biggest scam going in most church denominations. Church leaders always thump home Malachi 3: 8 creating a guilty conscience with the congregations.
The entire teaching on tithes is not even close to the Biblical teachings of tithing or giving a tenth … It's not the congregation that's robbing God in tithes, it's the leaders robbing their own gullible congregations from an unbiblical teaching on tithes …

And what about these Seven Day Adventists; what are they worth? .. About US$14 billion … The denomination currently receives about $2 billion annually according to this year's edition of the Global Tithing Index (GTI).
The Adventists want people to know that, despite gaining its wealth from some of the poorest people in the world, this is not theft:
As one seventh of our time (the Sabbath) belongs to God, so does one tenth of all material things we acquire. Scripture tells us that the tithe is 'holy to the Lord,' symbolizing God's ownership of everything (Lev. 27:30, 32). It is to be returned to Him as His own.

The tithing system is beautiful in its simplicity. Its equity is revealed in its proportional claim on the rich and on the poor. In proportion as God has given us the use of His property, so we are to return to Him a tithe.

When God calls for the tithe (Mal. 3:10), He makes no appeal to gratitude or generosity. Although gratitude should be a part of all our expressions to God, we tithe because God has commanded it. The tithe belongs to the Lord, and He requests that we return it to Him.
The answer to the church's problems may lie in the UK, the site of a Magic Money Tree.
It was reported this week that the government has thrown a "lifeline" to the Catholic Church. The Catholic Bishops' Conference "is hugely grateful" for a "magnificent" grant of £3-million, which comes out of the Culture Recovery Fund for Heritage.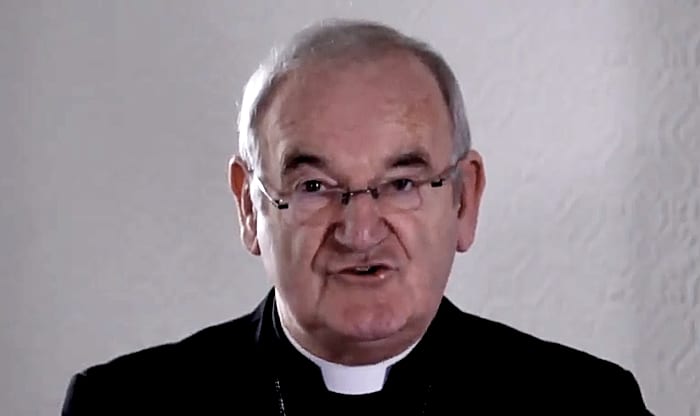 The Most Rev George Stack, above, Chair of the Patrimony Committee for the Bishops' Conference of England and Wales, said the grant was coming at a time when many historic churches are struggling after the pandemic forced them to close their doors.
The grant will be distributed to its Grade I and II historic churches through the Catholic Trust for England and Wales.
Stack said:
We are hugely grateful for this magnificent award. With our churches closed during lock down many planned repair projects were unable to go ahead. Other churches have simply not had the resources to carry out much needed repairs. Grants from this award will bring new hope to congregations struggling to raise funds at this very difficult time.
Some 445 heritage organisations are to receive a boost from the Culture Recovery Fund. The Church of England has also received £10.7m to support 16 cathedrals and 50 parish churches.
Other sites to benefit from it include Blackpool's Winter Gardens, Blyth Tall Ship, the Severn Valley Railway, the International Bomber Command Centre in Lincolnshire, and the Piece Hall in Halifax.
Becky Clark, the Church of England's Director of Cathedrals and Church buildings, said Covid-19 had had a "devastating impact" on communities, including worshipping communities at historic churches that rely on events and donations from visitors to stay afloat.
There is a great deal of uncertainty ahead, but this funding will help churches and cathedrals to be places of refuge, rest and strength for all.
• Please report any typos/errors to barry@freethinker.co.uk
If you'd like to buy me a cup of coffee – and boy, do I get through a LOT of coffee keeping this site active – please click the link below.
I'd love a cup of coffee