THE altar used by a Catholic priest and two women for an amateur porn shoot at Sts Peter and Paul Church in Pearl River, has been removed and burned by the Archdiocese of New Orleans.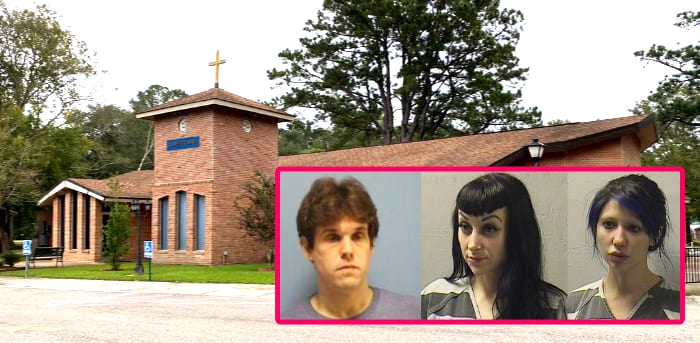 Following the arrest on indecency charges of Rev Travis Clark, Mindy Dixon and Melissa Cheng, inset above, the diocese moved swiftly to rid the church of the desecrated altar – as well as Clark who has been removed from ministry and will not be reassigned.
A "furious" Archbishop Gregory Aymond, issued a statement on Friday, responding to a series of investigative reports by David Hammer and The Times-Picayune/New Orleans Advocate on sexual misconduct by Clark and a priest involved in a separate abuse case, Rev Pat Wattigny.
Aymond described Clark's three-on-an-altar sex romp, filmed on a tripod-mounted camera phone, as "demonic."
His obscene behavior was deplorable. His desecration of the altar in Church was demonic. I am infuriated by his actions. When the details became clear, we had the altar removed and burned. I will consecrate a new altar tomorrow.
In this video report Aymond said:
It is a very tough time right now to be a Catholic in the Archdiocese of New Orleans to say the least. Many people feel anger, betrayal, and disappointment. I feel the same way… as do my brother priests. What has happened concerning Pat Wattingy and Travis Clark is unacceptable, sinful, and cannot be tolerated. Let me be clear: Both were removed from ministry immediately and will NEVER serve again in Catholic ministry.
Clark was arrested for obscenity, along with the two women involved, because their sex acts were clearly visible from the street, and were filmed by a passer-by.
The arrests came shortly before a different Northshore priest, the Rev. Pat Wattigny, reportedly disclosed to Aymond that he had sexually abused a minor in 2013.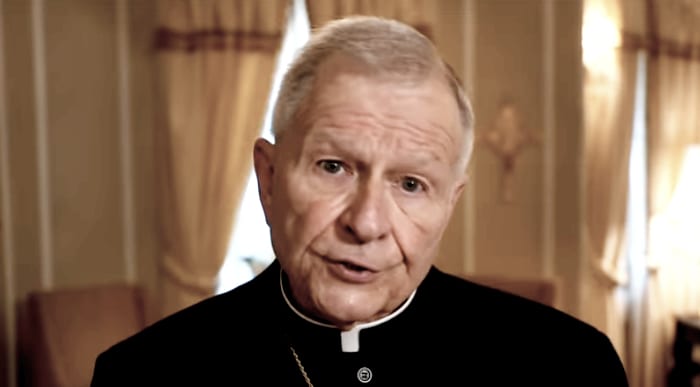 Aymond, above, removed Wattigny from public ministry and added him to the archdiocese's list of clergy whom the church believes have credible accusations of molestation against them. He said
When he informed us of the sexual abuse of a minor which occurred in Dec. 2013, I immediately removed him from ministry … reported it to civil authorities … and made a public announcement. There was no prior accusation and we knew nothing about the abuse before Oct. 1.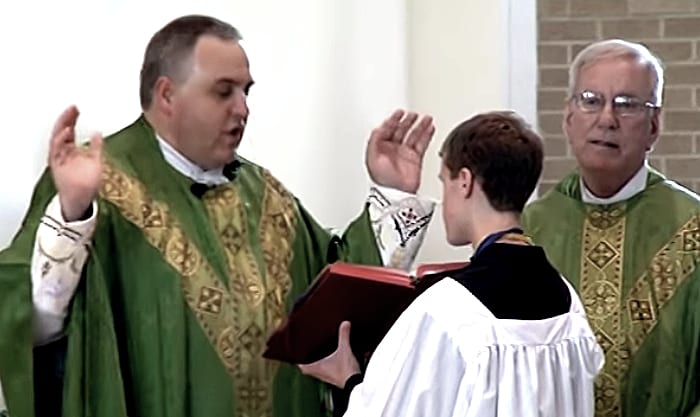 About four months before Wattigny, above left, disclosed to the Archdiocese of New Orleans that he sexually abused a minor in 2013, he resigned from his post as chaplain at Pope John Paul II High School because he sent a series of text messages to a student this year that violated diocesan policies, according to church officials.
An attorney representing the family of the student alleged that the messages constituted "grooming" for sexual activity, including repeatedly asking the boy when his 18th birthday was.
Aymond said:
In Feb 2020, we received copies of text messages between Wattingy and a teenager. Though not sexual in nature, our technology policy forbids this type of communication. This was addressed and the text messages stopped. A few months later, we received a report that he resumed texting. We asked him to resign as chaplain for violating the technology policy.
Aymond added that the texts did not indicate abuse and that there were no allegations of sexual abuse related to the text messages.
Earlier this year the Archdiocese of New Orleans filed for bankruptcy. According to this report, the decision was made after a meeting with Aymond and several other priests at a church in Jefferson Parish.
In a statement he Archdiocese said the move was brought on by the growing financial strain caused by litigation over decades-old incidents of clergy abuse as well as ongoing budget challenges.
Aymond said at the time:
I, along with a team of advisors, believe that reorganization will create an opportunity for us to renew our commitment to God's people and the New Orleans community by restructuring our financials and creating a path forward in hopes that we can continue and strengthen our core mission: bringing Christ to others.
According to the statement, bankruptcy will give the archdiocese time to develop a reorganization plan to outline how available assets and insurance coverage will be used to settle the outstanding claims and to negotiate reasonable settlements.
In August, attorneys representing dozens of abuse victims argued at a court hearing that the church has more than a half-billion dollars in assets and is not in insolvent. They say the federal bankruptcy action is unjustified and they want clergy sex abuse litigation moved back to state court.
FOX 8 Legal Analyst Joe Raspanti said:
The church is in a difficult position. Every Sunday they display the gold chalices in churches across the archdiocese. We look at the big buildings, we put the money in the baskets, we know about everything they have … The plaintiffs want to get as much of that out as possible and in front of the judge …
• Please report any typos/errors to barry@freethinker.co.uk
If you'd like to buy me a cup of coffee – and boy, do I get through a LOT of coffee keeping this site active – please click the link below.
I'd love a cup of coffee