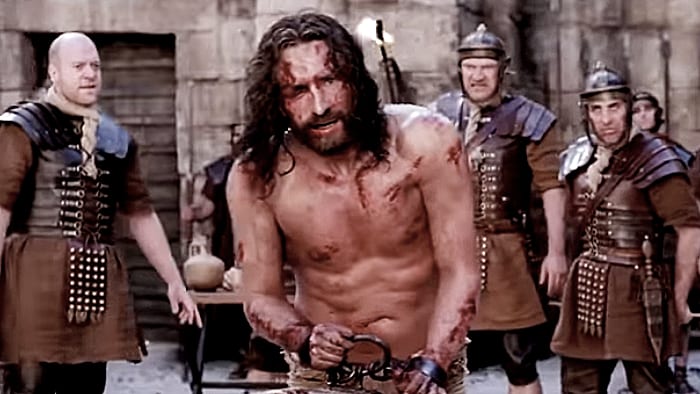 ACTOR Jim Caviezel received a serious blow to the head by a big ol' wooden cross when he was making Mel Gibson's torture porn movie The Passion of the Christ. He was also struck by lightning while preaching the Sermon on the Mount.

This might go some way to explain why the Jesus actor has become a gibbering, paranoid idiot, spouting baloney about "secular extremists."
According to Christianity Daily, the actor is warning Christians to stand up and speak out. Interviewed on the conservative The Ben Shapiro Show, he said:
If we are ever going to war, we should go to war with secular extremists. That is a war that needs to be fought and be won now! Christians need to start speaking the truth.
Caviezel also expressed his frustration over the pandemic restrictions placed on church gatherings in a statement shared with Fox News:
We can't go to churches. We can't go into our church. Why? Because they could get contaminated, right? So why are we on airplanes?

I have had friends that have committed suicide. I have seven SEAL buddies that lost seven of their friends committing suicide. Would it have helped to get into a church especially during this time? Absolutely. And is it good for mental illness? Yes, it is.
Caviezel argued that the pandemic restrictions on churches led to lives lost because vulnerable people did not have a place to depend on or to go to for mental refuge.
Caviezel warned Christians in an interview with Fox News:
If Christians don't watch out, it will be canceling Christianity as well.
In another interview with Breitbart News Daily, Caviezel warned of the negligence of Christians amidst times of persecution.
You know, it's not going to be some communist or Nazi that takes away your freedoms. It's going to be you giving them away.
Caviezel is now starring in film called Infidel. Review site Roger Ebert.com, in giving it two-and-a-half stars, says:
In 'Infidel' he [Caviezel] plays Doug, a well-known Christian blogger, who causes an international incident when he proselytizes to a Muslim audience during his appearance on a Cairo talk show: 'Jesus is God, and he wants to be your God.'

Later that night, thugs abduct Doug from his hotel room, whisk him away to Lebanon for months of torture, before transporting him to Iran.

There are a couple of jarring digs at 'secularists' being the real enemy, and you can practically see Dinesh D'Souza's face peeking out from beneath the screen in these moments.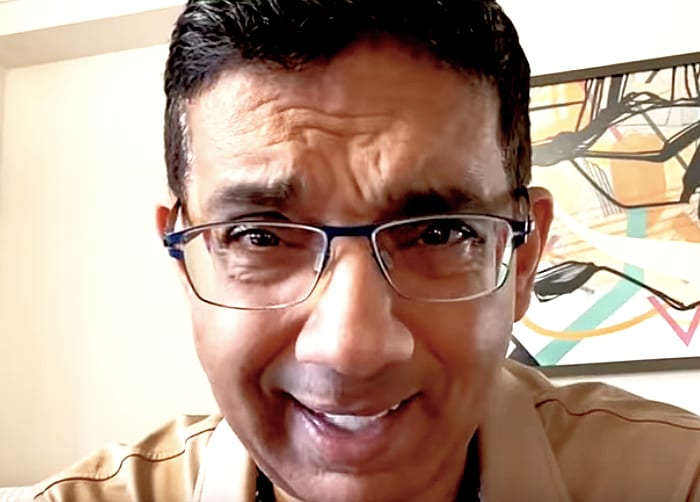 D'Souza, above, is the far-right Christian propagandist and conspiracy theorist who was the executive producer of Infidel. Following his conviction for a political campaign finance fraud in 2014, he was pardoned by Donald Trump four years later.

• Please report any typos/errors to barry@freethinker.co.uk
If you'd like to buy me a cup of coffee – and boy, do I get through a LOT of coffee keeping this site active – please click the link below.
I'd love a cup of coffee