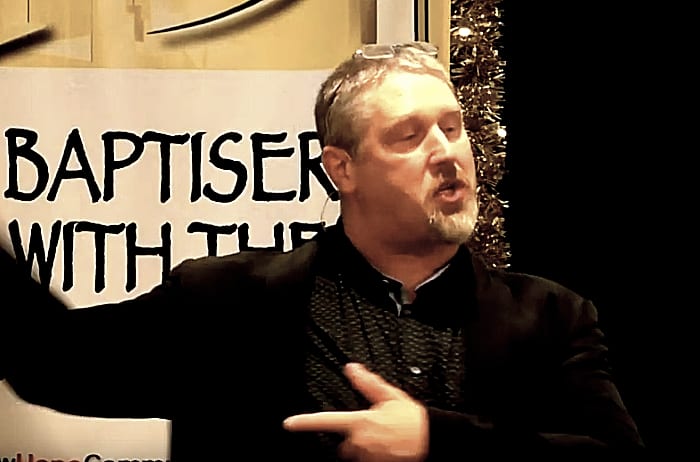 CHICAGO-born Wade McLennan, above, who established roots in Wales and heads New Hope Community Church in Cardiff, is the latest pastor to break COVID-19 social distancing restrictions.
The imbecile's excuse for his breach – provided to Premier – was that he was going to comply with the restrictions, but then "felt led by God "during a meeting with the leaders of his church to breach the rules and stand up for the right to worship.
The Lord convicted me because I wanted multiple pastors to stand, and if we had one voice, we could do this. And the Holy Spirit really spoke to me in this, and it was something that was quite specific.
Police said they turned up at the church following a report of a Covid-19 restrictions breach. After being allowed in by the pastor of the church the officers told the congregation they were breaking the law and needed to go home.
Wales went into a 17-day lockdown last Friday in response to a spike in infections.
Some members of the church expressed their disapproval of the police raid, saying the Welsh government ban on public church gatherings was "illegal."
Police told Premier in a statement that:
After explaining the rules and encouraging people to comply, officers moved outside the church to allow five minutes of prayer after which all those present left. No fixed penalty notices were issued.
McLennan said he plans breach the rules by holding another church service.
South Wales Police have sympathised with churches that cannot have public gatherings for three Sundays.
We know civil restrictions are frustrating and disheartening for people, but by following them, we can all play a part in protecting our communities and the National Health Service. Please take time to understand the latest regulations, all of which can be found on the Welsh Government website.
A Welsh Government spokesperson has also expressed sympathy, but maintains that the measures are to benefit the whole population.
We appreciate how incredibly difficult these restrictions are for many, but they have been introduced for two weeks to prevent the spread of this deadly virus and save lives.

We support all faiths in Wales and have not stopped people from worshiping, but we face a very serious situation; people are dying every day as a result of coronavirus. We need everyone to work together to make this firebreak successful if we are to prevent the NHS from being overwhelmed and even more people losing their lives over the weeks and months ahead.

We are absolutely aware of the serious impact loneliness can have on individuals, and we are determined to do everything we can to support people through these difficult times. We have made changes to our regulations to allow people to form an "extended household" if they live alone, whilst our Looking Out For Each Other campaign offers advice about how we can support others.
• Please report any typos/errors to barry@freethinker.co.uk
If you'd like to buy me a cup of coffee – and boy, do I get through a LOT of coffee keeping this site active – please click the link below.
I'd love a cup of coffee