THE cover of this week's Charlie Hebdo proclaims that, 'in private', Recep Tayyip Erdogan of Turkey is 'a very funny' fellow – but Turkish officials aren't laughing at this 'loathsome' attack on their President.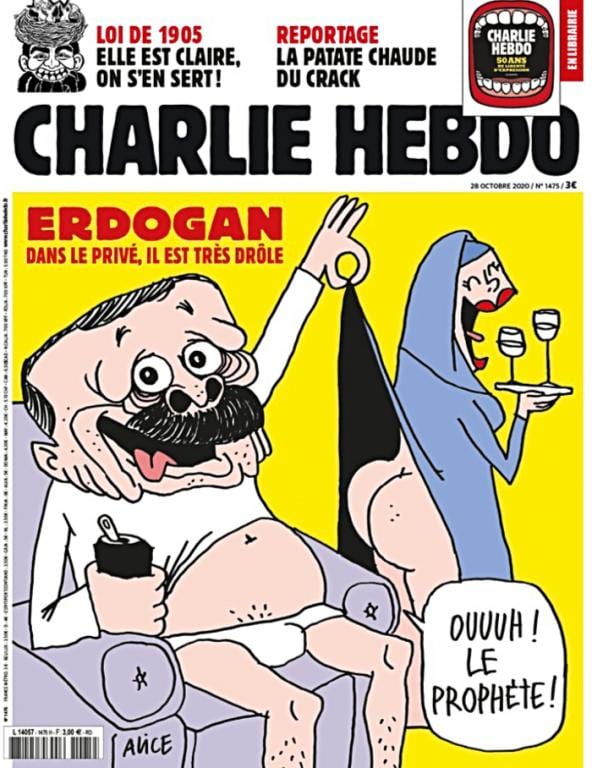 The Eurasian Times reports today that Turkey's presidential spokesman, Fahrettin Altun, said on Twitter:
Charlie Hebdo just published a series of so-called cartoons full of despicable images purportedly of our President. We condemn this most disgusting effort by this publication to spread its cultural racism and hatred.

The so-called caricatures are loathsome and they are devoid of any real sense of human decency. It's clearly the product of a xenophobic, Islamophobic, and intolerant cultural environment the French leadership seems to want for their country.

While underscoring Turkey's position of being opposed to any violence and acts of terrorism against civilians, he said:

We will not remain silent in the face of disgusting attacks on our culture and religion no matter where it comes from.

The racist, xenophobic, Islamophobic and anti-Semitic incitements will not be able to provoke us into reciprocating in kind. We refuse to bow down to your intimidation and provocations based on your perceived victimhood.
He added:
We call on all sensible European friends to fight back against this kind of primitive cultural racism, intellectual barrenness, and uncivilized discourse.
Another presidential spokesman, Ibrahim Kalin, also used Twitter to say that what Charlie Hebdo did this week was neither humour nor the exercise of free speech.
The aim of these publications, devoid of morality and decency, is to sow seeds of hatred and animosity.
Kalin said that everyone with common sense should condemn this "abominable" publication.
While many on Twitter are praising Charlie Hebdo, cartoonist Carlos Latuff, no fan of Erdogan, said:
Charlie Hebdo's traditional hatred against Muslims gave an opportunistic scoundrel like Erdogan a golden chance to present himself as the defender of Islam, inflating his fanatical followers and making all Muslims look like extremists before the world.
And he posted this cartoon: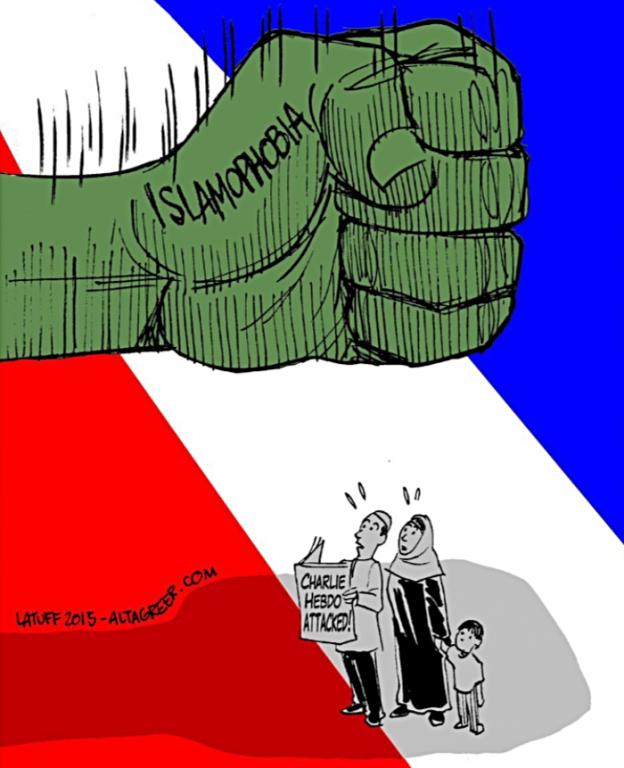 Meanwhile, the BBC reports that Turkey has vowed to take "legal, diplomatic actions" over the cartoons. State media say Turkish prosecutors have launched an official investigation into the satirical magazine. What they hope to accomplish by this is anyone's guess.
The creator of the Jesus and Mo cartoon strip entered the fray with this offering: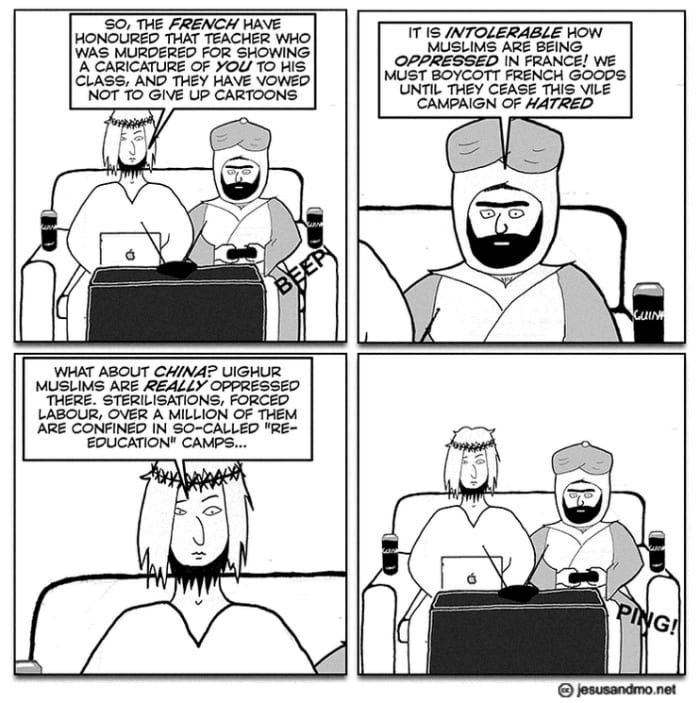 Hat tip: BarrieJohn
• Please report any typos/errors to barry@freethinker.co.uk
If you'd like to buy me a cup of coffee – and boy, do I get through a LOT of coffee keeping this site active – please click the link below.
I'd love a cup of coffee