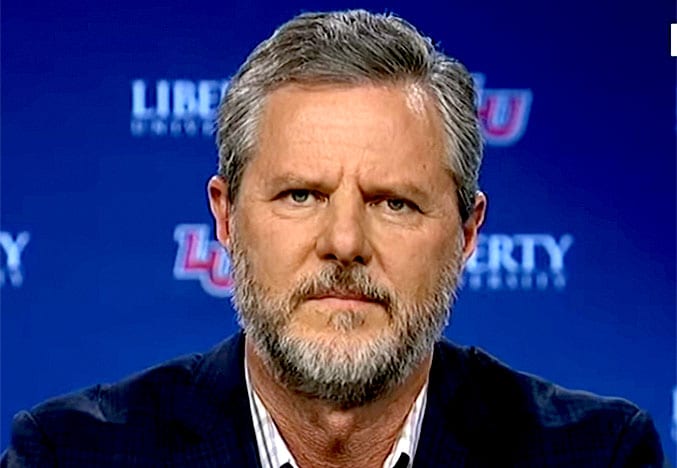 IN a lawsuit launched on Thursday, Jerry Falwell Jr, above, is claiming that Liberty University– which forced his resignation after details of his he and his wife's queer goings-on with a 'pool boy' surfaced earlier this year – had colluded with 'anti-evangelical forces' to oust him from his role as President.
Falwell announced that he is suing the evangelical Christian university in Lynchburg, Virginia, for making him and his family a target for a:
Malicious smear campaign incited by anti-evangelical forces. Liberty University not only accepted the salacious and baseless accusations against the Falwells at face value, but directly participated in the defamation.
The lawsuit also claimed breach of contract. Falwell's lawyer Robert Raskopf said in a press release:
We attempted to meet several times with the Liberty University Board of Trustees Executive Committee but were unsuccessful in doing so. Thus, we were forced to seek remedy for Mr. Falwell's ongoing injuries and damage to his reputation through the Court.
Liberty University spokesperson Scott Lamb told HuffPost that the university hasn't reviewed the lawsuit.
The University would need to read and review a lawsuit before making comment, and as of this moment we have not been served.
Falwell resigned in August from his role as Chancellor and President of Liberty, founded by his famous televangelist father. His departure came days after Reuters published the allegations of a young businessman, Giancarlo Granda, who claimed he had a years-long affair with Falwell's wife, Becki Falwell, and that Jerry Falwell sometimes participated in the liaisons as a voyeur.
The Falwells have acknowledged that Becki Falwell had an affair, but Jerry Falwell denies that he participated. Jerry Falwell has called Granda a "criminal" and a "liar," and claims the man tried to extort the couple over the affair.Giancarlo Granda says he was befriended by Jerry Falwell, Jr. and his wife Rebecca while he was working as a pool attendant at a luxury Miami Beach hotel.
An AP report adds that Liberty's statements have harmed not only Falwell's reputation but also his future employment prospects and business opportunities. Falwell now has a "drastically reduced ability" to attach his name to business and charity organisations, and he has stopped receiving previously frequent invitations to appear on TV to discuss Liberty, evangelicalism and politics.
Reached for comment on the lawsuit, Granda said via email that he stands by his previous statements.
Jerry is attempting to portray himself as a victim. No one should be fooled.
The lawsuit further alleges that:
Liberty's actions are antithetical to the teachings of Christ.
Falwell's attorneys charge the university with hurting its own standing and that of the broader evangelical community:
By playing right into the hands of sinister operatives with ulterior motives.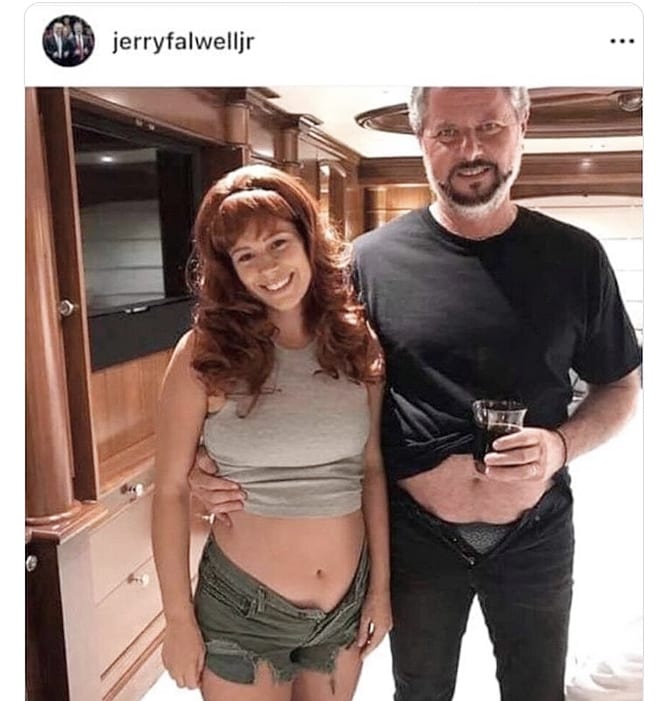 Falwell's tenure at Liberty was on rocky ground before the Granda accusations came to light. He was suspended in August after posting a photo of himself and a young woman on social media with both their pants unzipped.
Then, in September, he suffered a head injury after he tumbled down some stairs at his home while reportedly drunk.
Liberty University has engaged a Chicago-based law firm, Baker Tilly US, to conduct an independent investigation into Falwell's tenure as President, including accusations of self-dealing. The school's board said the investigation would look into financial, real estate and legal matters.
In August, Falwell told The Washington Post that he was leaving Liberty because he didn't want his wife's conduct to embarrass the school. He also claimed he had been bored and was seeking to move on.
On Thursday, Falwell said the lawsuit was a "necessary" step to restore his reputation and:
Help repair the damage to the Liberty University brand. Other than God and my family, there is nothing in the world I love more than Liberty University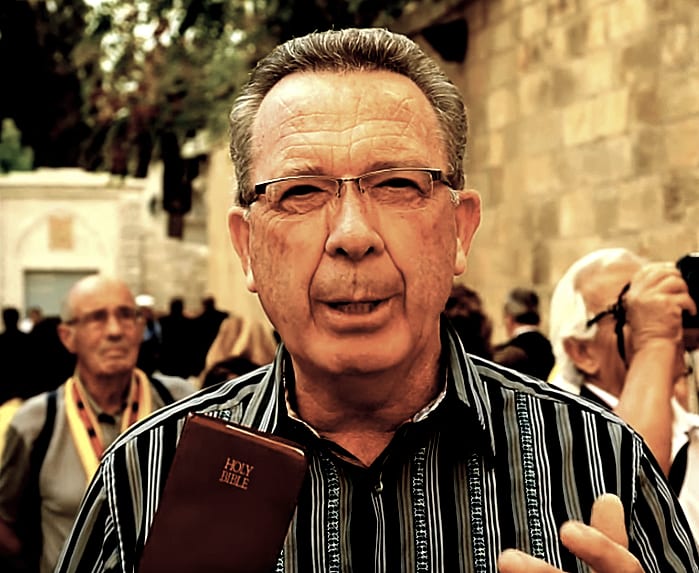 Falwell was replaced as Liberty's President by the ghastly Jerry Prevo, above, who reportedly destroyed the career of a mayoral candidate in Alaska with false allegations that he was gay.
Prevo, who spent 47 years as the pastor of Anchorage Baptist Temple before stepping down last year, is known for his virulent opposition to LGBT rights and his interference in Alaska politics. He has also partnered with Samaritan's Purse, run by infamous gay-hater and Trump-lover Franklin Graham.
• Please report any typos/errors to barry@freethinker.co.uk
If you'd like to buy me a cup of coffee – and boy, do I get through a LOT of coffee keeping this site active – please click the link below.
I'd love a cup of coffee