A PREACHER who reportedly destroyed the career of a mayoral candidate in Alaska with false allegations that he was gay has been named as interim President of Liberty University in Lynchburg, Virginia.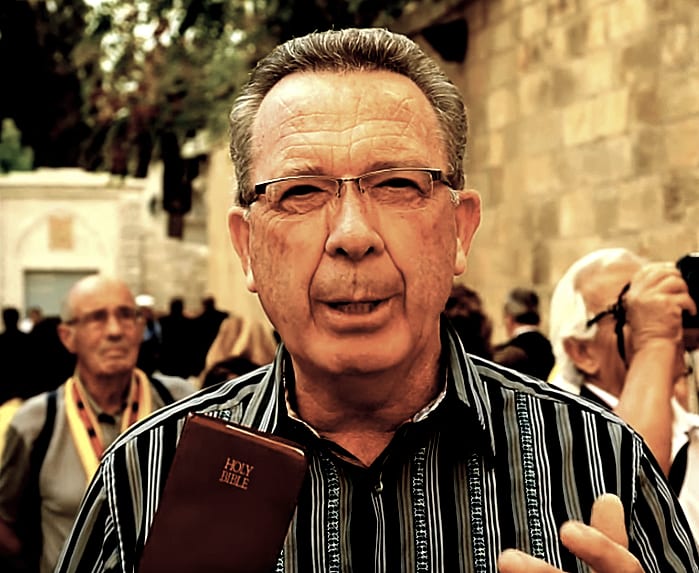 Jerry Prevo, above, replaces Jerry Falwell, Jr, who fell face-first into the doo-doo after posing for a picture showing him canoodling with a sweet young thing while his jeans were partially unzipped.
Prevo, who spent 47 years as the pastor of Anchorage Baptist Temple before stepping down last year, is  known for his opposition to LGBT rights and his influence in Alaska politics. He has also partnered with Samaritan's Purse, run by infamous gay-hater and Trump-lover Franklin Graham.
In 2016, writing for Anchorage Daily News, Charles Wohlforth said:
Anchorage began a bitter and sometimes violent battle over LGBT rights when our unified government was being formed in January, 1976; Prevo started that fight.

Then, in 1980, his Moral Majority group took over the Alaska Republican Party. He met every US president from Carter to George W Bush.

As a teenager, I saw Prevo destroy the political career of mayoral candidate Dave Rose, our family friend, with false insinuations he was gay.

Someone shot up a gay community center, and gays were assaulted.

Bullets also tore through a Bible study class at Prevo's church. I knew the kids at school who blew up the Anchorage Baptist Temple sign in  the late '70s (the crime was never solved). My talent-show punk-rock band had a protest song about Prevo.

Prevo agreed that society has left him behind. His words haven't changed but the boundaries of social acceptability have migrated to include LGBT lifestyles and exclude his condemnation of them. He has no intention of altering his preaching. In his mind, it's simple.

"The Bible very definitely says that it's wrong, and it's my job to tell the people what God says," he said.

Prevo grew up in a small town in Tennessee next to a Baptist church. His mother was a Christian but his father was not a believer. When refusing to go to church, Prevo's father joked they would need him to shovel coal in hell. Today, Prevo is afraid his father — a great father — probably is in hell.
After his appointment was announced , Pervo said in a a news release:
Please pray for us as well as the Falwell family as we embark on our academic year and so we may continue to be united in our common purpose and our faith in Christ.
Falwell, who is also a high-profile Trump supporter and ally, led the private evangelical university founded by his evangelist father, the late Jerry Falwell, for 13 years.
The university announced in a one-sentence statement last Friday that Falwell was taking a leave of absence. The statement didn't elaborate.
Prevo said in a statement last week that Liberty has experienced "unprecedented success" academically and financially under Falwell's leadership.
Liberty alumni who have been critical of Falwell and increasingly vocal about wanting new leadership, stepped up their organizing in the days after his leave of absence was announced. Four alumni on Monday unveiled a new non-profit called "Save 71," a reference to the year of Liberty's founding, designed to mobilize alumni, students and faculty behind reform at the university.
Liberty "needs to repent of its sins before seeking redemption," the group posted on its website, urging the board to name an independent committee to seek a longer-term replacement for Falwell.
The Board of Trustees must acknowledge the damage President Falwell has done to Liberty and the hypocrisy and corruption that has soaked into parts of its culture.
Among the alumni calling for a permanent change in leadership is Colby Garman, pastor at Virginia-based Pillar Church, who said the university would be "best served" by a President who is not trying to amass political power and is:
Able to thoughtfully convey the (school's) mission from a deeply Christian perspective.
Wohlforth ended his article by saying:
Prevo's day has passed. Megachurches rise and fall with their charismatic leaders and the fashion of the times. Attendance is down. The dated buildings of his huge campus reflect the era when it was growing.

People will always fear death, but maybe, in today's more diverse and progressive Anchorage, not in the way that brought them to Prevo's side to fight against social change.
• Please report any typos/errors to barry@freethinker.co.uk
If you'd like to buy me a cup of coffee – and boy, do I get through a LOT of coffee keeping this site active – please click the  link below.