A US billboard company is being sued by The Satanic Temple (TST) for rejecting a series of reproductive rights billboards that it deemed tasteless.

According to this report, TST contracted with the Lamar Billboard Company to display a total of eight billboards in Indiana and Arkansas near "fake" abortion clinics. These "crisis pregnancy centres" purport to offer pregnancy-related services but instead attempt to deter women from terminating their pregnancies, often using tactics that involve deception and intimidation.
The lawsuit accuses Lamar of religious discrimination and breach of contract.
The billboards' intent was to highlight TST's religious abortion ritual, described thus:
The Satanic abortion ritual provides spiritual comfort and affirms bodily autonomy, self-worth, and freedom from coercive forces with the affirmation of TST's Seven Tenets. The ritual is not intended to convince a person to have an abortion. Instead, it sanctifies the abortion process by instilling confidence and protecting bodily rights when undergoing the safe and scientific procedure.

After TST submitted their billboard artwork, Lamar rejected all four designs. Lamar's contract states that they may reject or remove any billboard that is not:
In good taste and in line with the moral standards of the individual communities in which it is to be displayed.
When TST asked what explicit elements of the designs Lamar considered troublesome, TST was told that "all of the content" was "misleading and offensive."
TST expressed willingness to update its designs. However, Lamar refused to specify any component that they believe is problematic, so it was not possible for TST to offer revisions.
TST claims that Lamar's actions violate the Accounting and Corporate Regulatory Authority's (ACRA's) nationally-applicable laws that prohibit religious discrimination.
As TST's designs contain Satanic imagery and Lamar objected to "all of the content," TST contends that Lamar has engaged in religious discrimination. Additionally, TST claims Lamar acted in bad faith and has deprived TST of the ability to advertise its religious abortion ritual as it holds a monopoly over much of the US billboard market.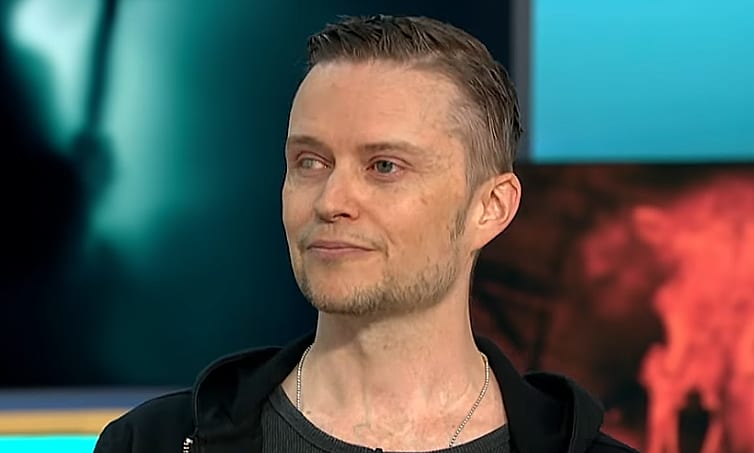 TST co-founder and spokesperson Lucien Greaves, above, said:
While it is understandable to be concerned with forcing a private entity to engage in speech or conduct it objects to, this scenario is different. Lamar initially agreed to work with us and their rejection appears to be religiously based. In addition, they have a virtual monopoly in certain regions. In this way, Lamar is able to regulate public-speech and they are not permitted to selectively exclude religious voices they object to.
From billboards to Ouija boards
The inclusion of Ouija boards in stocks of halloween products sold by UK retailer Poundland has upset some superstitious fools who want them removed.
The Argus reports that:
While Ouija boards are viewed as a harmless parlour trick by some, many, including the church, regard them as dangerous tools which can trigger psychological harm – or something even more sinister.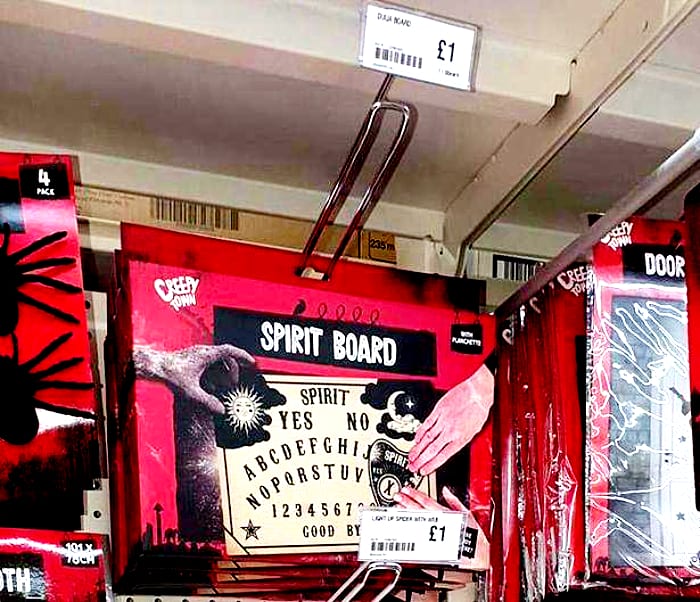 One person tweeted:
As if this year wasn't bad enough, Poundland are selling Glass-weegie boards… That's right, open the gates to hell why don't ya???
Another railed:
Most adults don't even know how to use them correctly never mind kids ffs.
A spiritualist added:
Someone should go in and buy the lot then bin them all save them getting near any kids.
One woman branded them "terrifying", adding:
Don't do it! We were left disturbed as kids!
But many were tickled by the product, with one mum joking:
My kids don't need this there already possessed demonic little [expletive.]
The product is labelled for adults only.
Another, referring to social distancing rules in the UK, quipped:
Remember no more than 6 spirits at a time.
One man wrote:
I love the way people are thinking little 6 year old Britney is going to cause a zombie apocalypse with their pound shop board with some letters on it … has everyone gone mental?
The popular chain refuses to be intimidated, and issued a tongue-in-cheek statement:
Poundland is the home for Halloween and the Spirit Board is part of this year's extensive Halloween Decoration range. We understand the spirits shook in disbelief when they were told it was only £1. Just wait until people see the Voodoo dolls.
The Argus is running a poll beneath its report. Here are the latest results: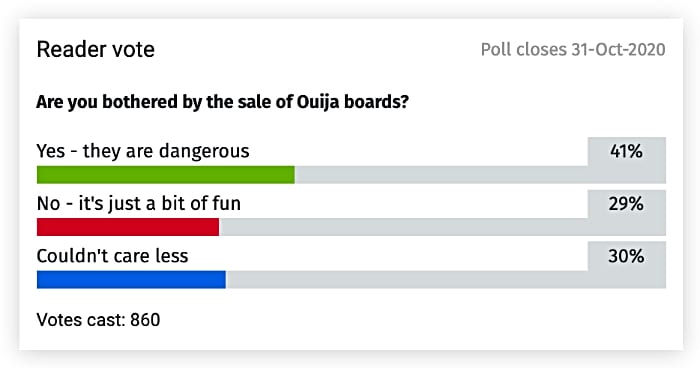 Hat tip: Robert Stovold (Ouija boards)
• Please report any typos/errors to barry@freethinker.co.uk
If you'd like to buy me a cup of coffee – and boy, do I get through a LOT of coffee keeping this site active – please click the link below.
I'd love a cup of coffee