THE CHAIR of Atheist Ireland Michael Nugent has written to the Historical Society at Trinity College Dublin, known as the Hist, asking it to reconsider its recent decision to drop Professor Richard Dawkins from its 2021 list of speakers because his presence could make students uncomfortable.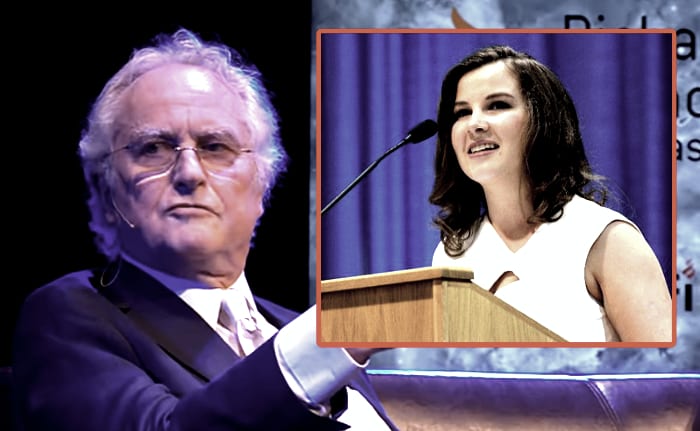 Auditor of the Hist Bríd O'Donnell announced the cancellation in a statement on her Instagram page at the weekend, saying that she had been "unaware of Richard Dawkins' opinions on Islam and sexual assault until this evening", adding that the society:
Will not be moving ahead with his address as we value our members comfort above all else.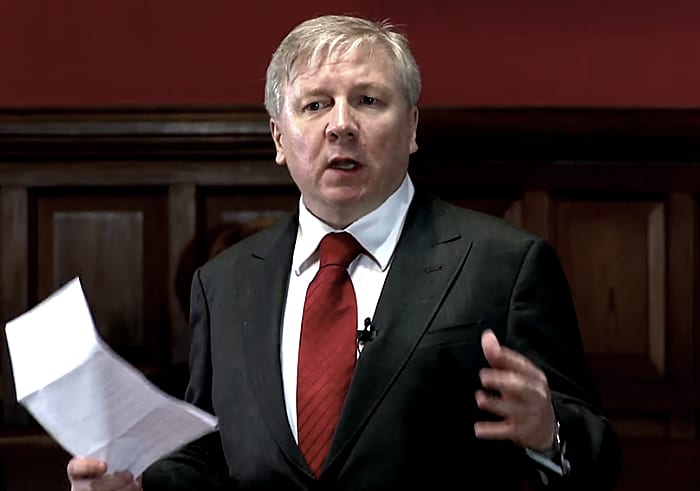 Amidst growing fury over Dawkins' disinvitation, Nugent, above, said in his letter that he had spoken as a guest of the Hist several times:
I have always enjoyed it as a place of intelligent debate where ideas are tested robustly, passionately, and rationally from all sides of an issue. That is what a good debating society does.

You have a particular responsibility to protect this reputation as custodians of the world's oldest student debating society.

I am writing to ask you to reverse your decision to unilaterally break your agreement to host Richard Dawkins as a speaker. Like Richard, I had a speaking event unilaterally cancelled, speaking about atheism to final year students in a Roman Catholic school. Thankfully, the school reconsidered, and honoured their agreement. I hope you are open to doing the same …

Your decision harms the credibility of the Hist as a debating society, and your stated reason misunderstands the nature of debate. The priority of a debating society is not 'to value our members comfort above all else.'

Indeed, part of the purpose of good debate is precisely to cause some discomfort, by challenging people's beliefs from all sides of an issue.

Your decision also harms the integrity of the Hist as a body that can be trusted to keep its word. There is a major distinction between a decision to not invite someone, and a decision to publicly disinvite someone after inviting them. Richard has done nothing so unpredictable to justify unilaterally breaking an agreement.

The Council of Europe's Venice Commission advises democratic governments. In a report on the relationship between freedom of belief and freedom of expression, it concluded:

'The purpose of any restriction on freedom of expression must be to protect individuals holding specific beliefs or opinions, rather than to protect belief systems from criticism. The right to freedom of expression implies that it should be allowed to scrutinise, openly debate, and criticise, even harshly and unreasonably, belief systems, opinions, and institutions, as long as this does not amount to advocating hatred against an individual or groups.'

Richard has never advocated hatred against anybody. Whether or not you agree with him, he is an honourable man who pursues truth and promotes education and human rights. I ask you to please reverse your decision, and I look forward to your response.
Nugent referred in his letter to two articles he's written about Dawkins. You can access them here and here.
His intervention coincides with a petition calling on the Hist to reverse its decision. It says:
Richard Dawkins is a renowned philosopher, biologist and author who has made major contributions to the field of evolutionary biology with his works 'The Selfish Gene' and 'The Extended Phenotype.'

He is also an outspoken critic of organised religion and has garnered a reputation as one of the world's most prominent atheist intellectuals.

The Hist's decision to prioritise the 'comfort' of its members over debate and discourse is an outrage of the highest order. This ludicrous decision contradicts the fundamental idea of a debating society and deprives the student body of the opportunity to both engage with and challenge the views of one of the most prominent intellectuals of the 21st century. Not only does this damage the reputation of the Hist, but is also an abject embarrassment for the college as a whole.

We ask the Hist to reverse this cowardly decision …
One of the most damning criticisms of the decision was published on Monday by The Burkean, which said:
Let us make something clear, the views held by Dawkins in relation to Islam are completely reasonable, and the very fact he has been deplatformed from an Irish college is outrageous in itself. However, his deplatforming is merely a symptom of a far greater travesty that has occured over the last number of years …


The modern progressive has managed to worm its way to the top of Irish society. While the likes of O'Donnell would have been laughed out of the room less than a decade ago, they now rule the roost, forcing their views down the throat of everyone they can.

Dissent in the minds of these ideologues should never be tolerated, as demonstrated by how frequently they will try to get people deplatformed, and even depersoned, when they are perceived to have sinned against their new form of Cultural Maoism …

It is clear that ideologues have gained control of the halls of debate in this country and its colleges. Whether it be online, on television, or in our universities, what used to be the source of much needed dialogue within an often fractured island now do not permit even a slight deviation from dogma. For those of us rightfully horrified by such a state of affairs, we need to act now, or the consequences will be disastrous …
Hat tip: Antony Niall and Angela_K
• Please report any typos/errors to barry@freethinker.co.uk
If you'd like to buy me a cup of coffee – and boy, do I get through a LOT of coffee keeping this site active – please click the link below.
I'd love a cup of coffee