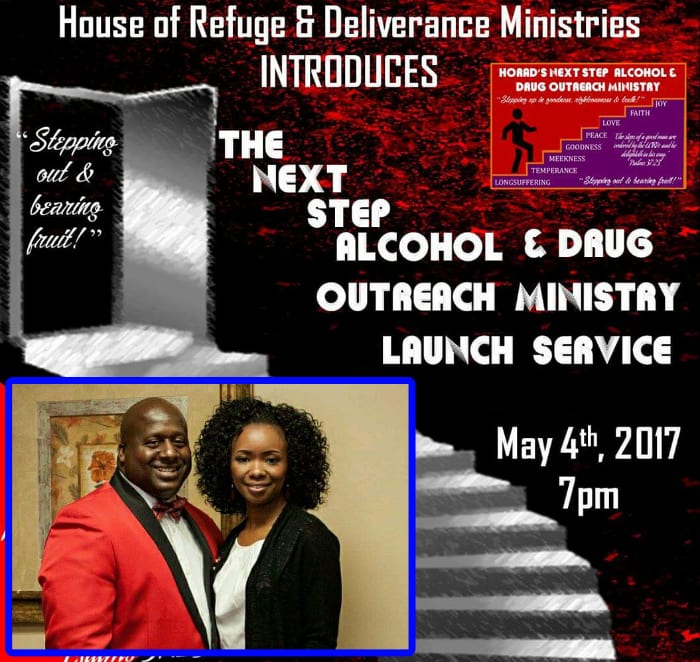 IN 2017 the Facebook page of the House of Refuge & Deliverance Ministries in Mayflower, Arkansas – operated by pastor Lloyd Eddie Lasker and Elect Lady Stella Lasker (inset) – featured the poster above.
Yesterday it was reported here that police – searching for Lasker in connection with the alleged abuse of a 21-month-old child injured in an exorcism at the church in which methamphetamine was used – arrested the the pastor outside a gas station.
He was charged with several counts of possession of a controlled substance, possession of drug paraphernalia and possession of a firearm by a convicted felon.
Authorities reportedly found about four grams of meth and a glass pipe in his truck, registered in the name of the church.
Because he was on probation and had an active search waiver filed against him, authorities also went to Lasker's residence, where, according to this report, they found multiple firearms, ammunition and "boxes for pipes that are used for methamphetamine."
After police searched his home, an affidavit states Lasker was questioned by detective Brittani Little.
Little launched an investigation against Lasker following a September 18 welfare check request. The request concerned a toddler who was at the House of Refuge and Deliverance church in Mayflower with his mother and Lasker on the day in question.
When the officer responded, she noted the child had:
Multiple bruises from head to toe and was life threateningly emaciated.
The child's mother claimed the child:
Was possessed by a demon.
The boy, who suffered "a brain bleed and extreme malnourishment, was taken to a nearby hospital and admitted into the ICU on Sept. 18," according to a search warrant affidavit.
When questioned by the detective on September 22, the pastor admitted he had performed exorcisms on the child. He also said he had "used meth in the church several times," including with the mother of the injured child and "many other members in the church."
Lasker told police it "would be likely" they would find methamphetamine residue at the church and that "some of the attempted exorcisms occurred at 748 Highway 365 [the church]."
Subsequently authorities located a baggie with methamphetamine residue in the church.
Lasker is currently free on a $7,500 bond in the drug case that was filed against him on Sept. 24.
• Please report any typos/errors to barry@freethinker.co.uk
If you'd like to buy me a cup of coffee – and boy, do I get through a LOT of coffee keeping this site active – please click the link below.
I'd love a cup of coffee