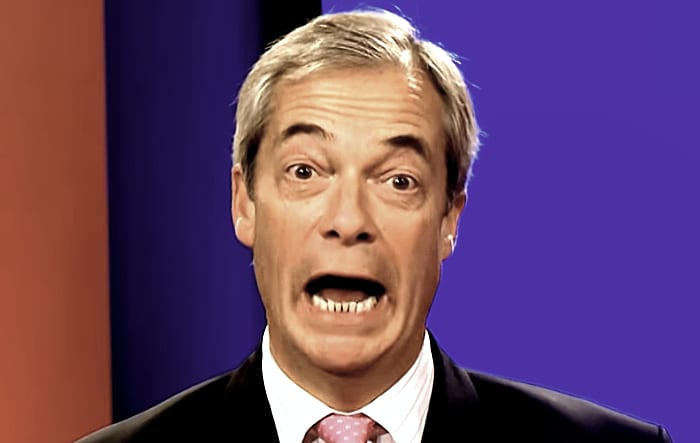 BACK from the US, where he spent time with his buddy Trump on the US presidential campaign trail, Nigel Farage, a key figure in the UK's disastrous exit from the European Union, is now directing his fury at the Church of England and Britain's Prime Minister.
Claiming in a video posted to YouTube this week that there is a "national leadership crisis in the UK", Farage accused the Church and the Archbishop of Canterbury, Justin Welby, of "leftyism" and "inadequate spiritual leadership" at a time when 
Johnson went "into hiding."
Farage first slams Johnson for self-isolating after being in contact with an MP who later tested positive for Covid-19.
He insinuates the timing of his isolation was bad with Brexit talks coming to a conclusion. He sarcastically says:
He's in hiding. But don't worry, if the politicians aren't giving leadership, there's always the Church.
He adds:
All the Church want to do is talk about progressive lefty politics. They have provided no spiritual leadership for the nation whatsoever.
And he slammed Welby for taking a sabbatical.
I thought that was after you've done something of note. What on earth is he taking a sabbatical for? I tell you what Dr Welby, make it a permanent sabbatical because the Church has let the country down even worse than the politicians.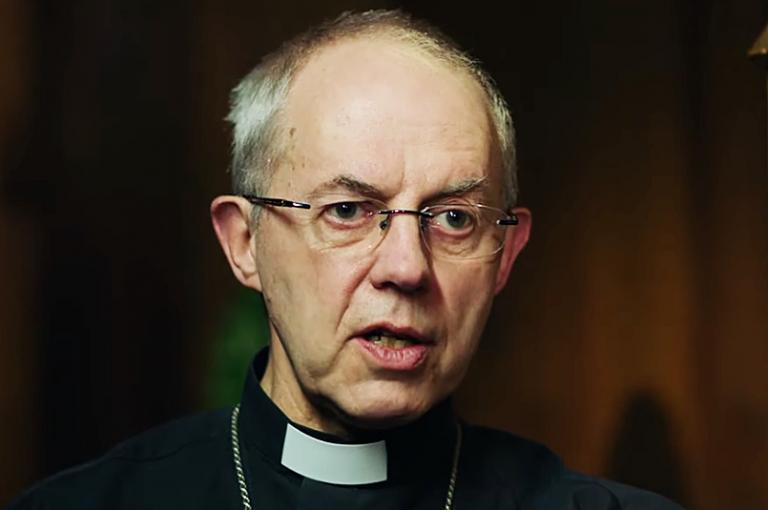 Lambeth Palace announced last week that Welby, above, was taking a three-month sabbatical next year for "spiritual renewal" and will spend time studying, reflecting and praying.
They said it is "normal practice" for archbishops to take time off, as his predecessors also did the same thing.
Welby's sabbatical was also attacked by Christian writer Karen Armstrong, who wrote in The Guardian:
Though his two predecessors took a break of similar length while they were in office, neither was during a time of acute national crisis. So in choosing summer 2021 for his absence, Justin Welby seems to be saying that his personal wellbeing is paramount and that the anxiety, suffering, fear and grief of a country in the grip of a deadly pandemic and an economic crisis is, at best, a secondary concern.

Perhaps it is not surprising that faith is in decline in the UK – only about 8% of the population attend a Christian service regularly – because this attitude strikes at the heart of the religious dynamic.
According to Wiki, after gaining no seats in the 2019 UK general election under the Brexit Party banner, Farage said he would leave the country to work as a warm-up speaker for Trump's 2020 campaign rallies.
In June 2020, he was exempted by the US officials from the country's travel ban under a "national interest" clause, while Trump prepared for his first major election campaign rally since the COVID-19 pandemic. On 20 June, he posted a picture from the US and was later spotted at the Trump rally, taking part in a "Team Trump on Tour" panel discussion.
Farage appeared in the audiences of rallies in states such as Michigan and Pennsylvania.. In an Arizona rally on October 29, Trump called Farage "one of the most powerful men in Europe" and invited him to speak on the stage, where he described Trump as the "most resilient and brave person" he had ever met.
After the day of the election, Farage conceded that Trump may have lost "fair and square", but said:
Donald Trump loses the odd battle, but he doesn't lose wars. He keeps fighting until he wins them.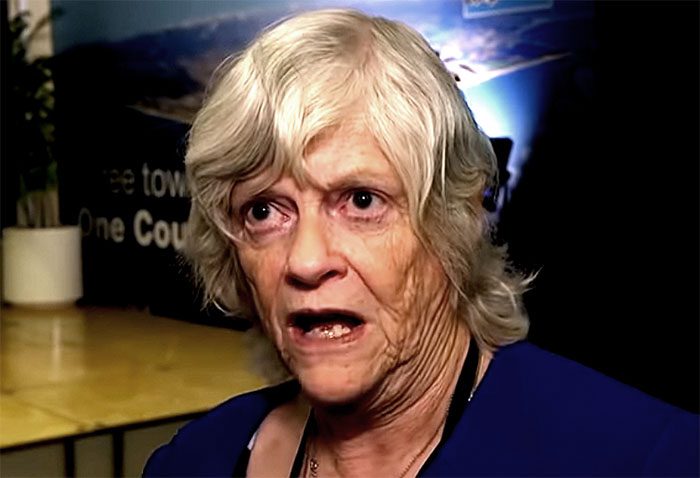 Wiki adds that in 2019 Farage defended the equally obnoxious Catholic Ann Widdecombe, above, a Brexit Party candidate, for remarks that were perceived to be supportive of gay conversion therapy. Widdecombe had stated that science may one day "produce an answer" to homosexuality. Farage later defended Widdecombe for these remarks, explaining that "these things are a matter of conscience."
Earlier, in 2015, when he was leader of the far-right United Kingdom Independence Party (UKIP), Farage Nigel Farage said that Christianity is a "significant part" of his "vision for the future of Britain" in a special message on "UKIP Policies for Christians."
He claimed that the UK is "fundamentally a Christian nation" and added that Christianity:
Should be recognised by Government at all levels. Sadly, I think UKIP is the only major political party left in Britain that still cherishes our Judaeo-Christian heritage. I believe other parties have deliberately marginalised our nation's faith, whereas we take Christian values and traditions into consideration when making policy.
He called for a "muscular defence" of what he calls the UK's "Christian heritage" and "Christian Constitution."
In a UKIP election publication called Valuing Our Christian Heritage, the party called for an extension of the "legal concept of 'reasonable accommodation'", which would allow believers to refuse services to same-sex couples and notes UKIP's opposition to marriage equality legislation. They say it:
Impinged upon the beliefs of millions of people of faith.
• Please report any typos/errors to barry@freethinker.co.uk
If you'd like to buy me a cup of coffee – and boy, do I get through a LOT of coffee keeping this site active – please click the link below.
I'd love a cup of coffee