A JUDGE at the Old Bailey in London ordered a man accused of stirring up racial hatred out of his courtroom this week after he noticed the accused was wearing a Nazi armband.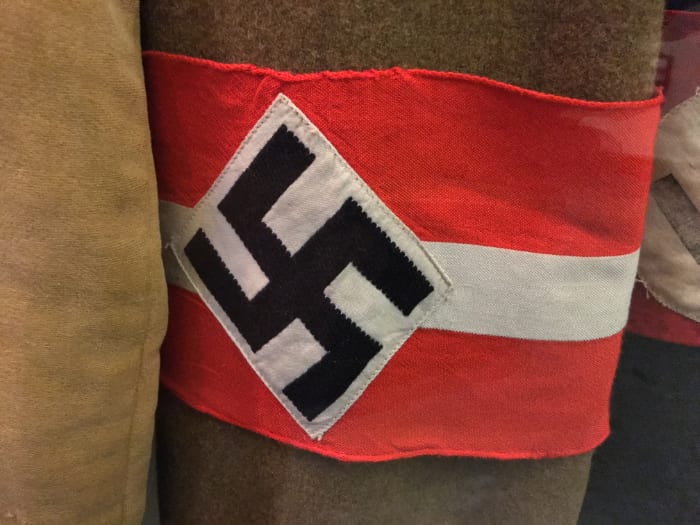 According to this report, Matthew Henegan, 35, faces seven charges of publishing, distributing and possessing anti-Semitic coronavirus hoax material on the Internet.
Henegan is also accused of distributing leaflets around St Neots in Cambridgeshire where he lives, as well as possessing a document entitled How To Make Armour Piercing Bullets containing information likely to be useful to terrorism.
The defendant, who is on bail, appeared before Mr Justice Sweeney wearing dark glasses, a hairband and a red swastika armband. The judge asked lawyer Harry Grayson: "Can you see what he's wearing?", before sending the defendant out of the courtroom.
Henegan complained:
I have a right to freedom of expression, freedom of dress, freedom of religion. They are rights not for debate.
Henegan was allowed to return after donning a large blue padded jacket that hid the swastika.
He stood in the dock to confirm his name and date of birth.
Mr Justice Sweeney set a pre-trial hearing date of March 12; with a provisional trial at the Old Bailey on November 8 next year.
The defendant was granted continued bail.
Speaking outside court, prosecutor Julia Faure-Walker said that Henegan's posts relate to a conspiracy theory blaming Jewish people for the pandemic.
• Please report any typos/errors to barry@freethinker.co.uk
If you'd like to buy me a cup of coffee – and boy, do I get through a LOT of coffee keeping this site active – please click the link below.
I'd love a cup of coffee