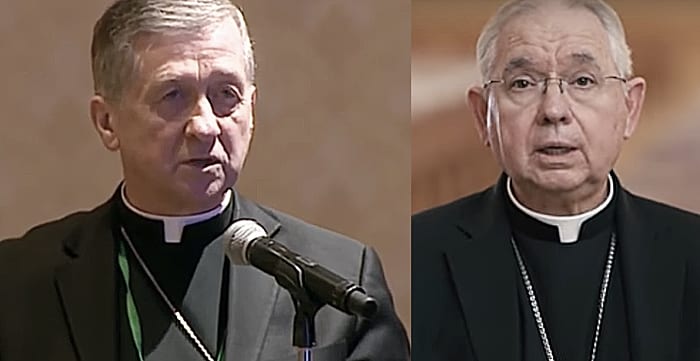 AND so it begins: The first sign of division among religious leaders over Joe Biden's presidency surfaced this week when Cardinal Blase Cupich, left, of Chicago slammed Archbishop José Gomez of Los Angeles over a statement issued by the United States Conference of Catholic Bishops.
Gomez, President of the USCCB, said in the statement that Biden's policies in the areas of abortion, contraception, marriage, and gender:
Would advance moral evils and threaten human life and dignity.
Cardinal Blase Cupich was not well-pleased and spoke out against the statement in a series of tweets.
Today, the US Conference of Catholic Bishops issued an ill-considered statement on the day of President Biden's inauguration. Aside from the fact that there is seemingly no precedent for doing so, the statement, critical of President Biden, came as a surprise to many bishops, who received it just hours before it was released.
In another tweet he said:
The statement was crafted without the involvement of the Administrative Committee, a collegial consultation that is normal course for statements that represent and enjoy the considered endorsement of the American bishops.

The internal institutional failures involved must be addressed, and I look forward to contributing to all efforts to that end, so that, inspired by the Gospel, we can build up the unity of the Church, and together take up the work of healing our nation in this moment of crisis.
Soon, I believe, other Christers will be fighting one another like cats in a sack as they begin to digest Biden's complete reversal of policies introduced by the twice impeached, insurrectionist ex-president.
One Biden initiative in particular will send the God nuts into a frenzy. NBC News reports today that Biden issued an executive order that will extend existing federal non-discrimination protections to LGBTQ people.
Alphonso David, President of the Human Rights Campaign, the country's largest LGBTQ advocacy group, called it:
The most substantive, wide-ranging executive order concerning sexual orientation and gender identity ever issued by a United States president.
The order directs all federal agencies to implement the Supreme Court's landmark 2020 decision in Bostock v. Clayton County, Georgia, which established that LGBTQ people are protected from employment discrimination under Title VII of the Civil Rights Act of 1964.
The order states:
Children should be able to learn without worrying about whether they will be denied access to the restroom, the locker room, or school sports. Adults should be able to earn a living and pursue a vocation knowing that they will not be fired, demoted, or mistreated because of whom they go home to or because how they dress does not conform to sex-based stereotypes.
Biden order also acknowledged how discrimination against LGBTQ people:
Often overlaps with other forms of prohibited discrimination, including discrimination on the basis of race or disability For example, transgender Black Americans face unconscionably high levels of workplace discrimination, homelessness, and violence, including fatal violence.
The order then directs the head of each federal agency to work in consultation with the Attorney General to develop a plan within 100 days to carry out the order.
Advocacy groups said the move is a huge step forward after four years of Trump administration policies that rolled back – or attempted to roll back – protections for LGBTQ people, including rules from the Department of Health and Human Services that would've allowed discrimination against transgender people.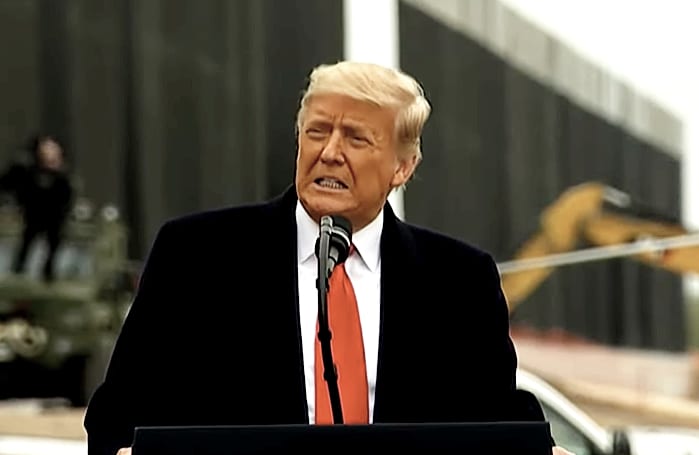 Something else that will infuriate Trump's white supremacist knuckleheads is that Biden ordered a halt on the construction of the wall on the US-Mexico border, the wall upon which Trump, in one of his last public appearances, heaped praise while a pathetically small crowd looked on and heard him whinging about "the greatest and most vicious witchhunt in American history."
The order terminating the work on Trump's vanity project said it was:
Unwarranted and that no more American taxpayer dollars be diverted to construct a border wall.
Biden said in the order:
I am also directing a careful review of all resources appropriated or redirected to construct a southern border wall.
The President said the US has:
A right and a duty to secure its borders and protect its people against threats, but building a massive wall that spans the entire southern border is not a serious policy solution.
I so look forward in coming days to reading about religious leaders, and the mindless morons that follow them, ripping themselves to shreds as a new era dawns – one where evangelicals and their ilk are faced with large "Vermin Keep Out" signs at the White House.

• Please report any typos/errors to barry@freethinker.co.uk
If you'd like to buy me a cup of coffee – and boy, do I get through a LOT of coffee keeping this site active – please click the link below.
I'd love a cup of coffee