IN THE world of science, Simone Gold, above – founder of a wacky outfit called America's Frontline Doctors, is regarded as a conspiracy theory nut, an anti-vaxxer and a Trump devotee.
But to LifeSiteNews Gold is a hero, and AFD is:
Is a group of medical professionals who work to promote early COVID-19 therapies and to expose the influence of pharmaceutical companies on treatment protocol for the coronavirus.
After learning with dismay that AFD's leader had been arrested and charged with "violent entry and disorderly conduct" for participating in the Washington DC insurrectionist riot, LSN yesterday repeated much of Gold's cockamamie theories, and quoted the quack as saying:
It most emphatically was not a riot.
She noted that she had traveled to Washington, DC to speak at a "Rally for Health Freedom" on the east side of the Capitol.
Federal agents arrested Gold in California days after she publicly admitted that she had followed other protesters into the Capitol building two weeks ago, as Congress was scheduled to certify the 2020 presidential election. Officials also arrested John Strand, the Communications Director for America's Frontline Doctors. He had joined Gold at the Capitol, where he photographed her delivering a speech.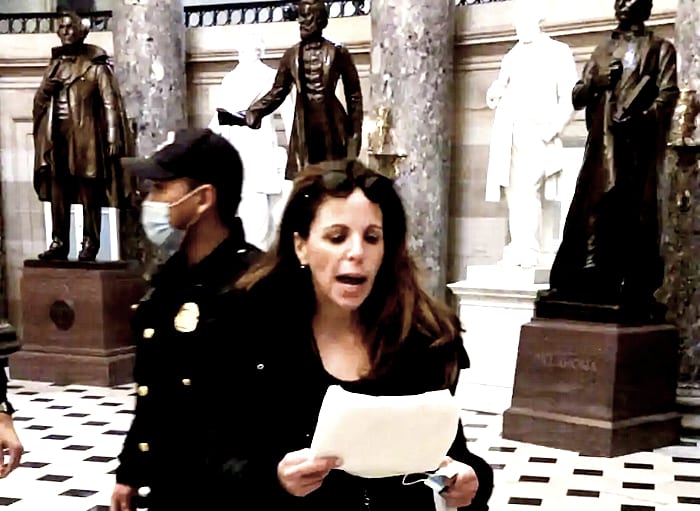 Gold estimated that she spent 20 minutes inside the Capitol building before police ushered her out. She delivered part of a speech that she had given at another rally in D C the day before, in which she branded the COVID-19 vaccine:
An experimental biological agent. If you don't want to take an experimental biological agent deceptively named a vaccine, you must not allow yourself to be coerced. If you are living in fear of a non-lethal virus, simply buy the same ordinary medicines used across the world.
Gold and America's Frontline Doctors, according to LSN, repeatedly raised concerns about the COVID-19 vaccines in recent weeks. She and her colleagues also emerged:
As early, forceful critics of the use of lockdowns to stop the spread of the coronavirus.
Last year, Gold made headlines for penning an open letter to President Trump signed by over 500 physicians that lambasted lockdowns as "a mass casualty incident."
Willful ignorance
In reporting Gold's arrest, The Guardian said that veteran doctors and ex-public health officials were dismayed by Gold's downplaying established science.
Said Dr Jeffrey Koplan, an epidemiologist and Vice President for Global Health at Emory University who once headed the Centers for Disease Control and Prevention (CDC):
She and her organization show a wilful ignorance of science and the scientific method, as well as a disrespect for accomplished scientific institutions and brilliant scientists.
And Dr Irwin Redlener, the Director of Columbia University's Pandemic Resource and Response Initiative, added:
Simone Gold is a toxic purveyor of misinformation, now actively contributing to rightwing extremist rhetoric that continues to rile up people determined to hang on to the most egregious Donald Trump lies.
Gold herself acknowledged her presence at the Capitol and voiced "regret" to the Washington Post, after a video surfaced of her walking inside the Capitol along with Strand. Gold told the Post she thought entering the Capitol was legal, and she didn't witness violence, even though dozens of Capitol police were hurt and five people died.
Meanwhile far-right LSN is whining over the fact that it has been banned for the second time for two weeks by Facebook for touting COVID-19 conspiracy theories. It reported:
As of this morning [January 21], LifeSiteNews has received a second strike from YouTube, as Big Tech continues its crackdown on conservative and Christian voices.

The offending video was this interview with biologist and vaccine researcher Pamela Acker, which revealed that fetal cell lines used in connection with the COVID vaccines were taken from babies who were still alive when their tissue began to be extracted.
• Please report any typos/errors to barry@freethinker.co.uk
If you'd like to buy me a cup of coffee – and boy, do I get through a LOT of coffee keeping this site active – please click the link below.
I'd love a cup of coffee