AN EGYPTIAN woman who created cupcakes with sexual imagery was reportedly detained for breaking Islamic law.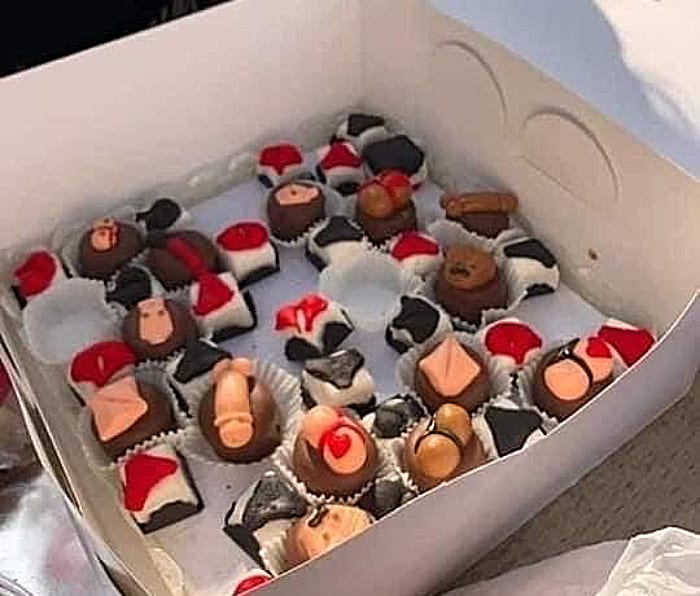 The unnamed miscreant , according to the BBC was "briefly detained" after a photo of the "indecent" cakes, shared on Twitter, came to the attention of Islamic watchdog Dar al-Ifta al-Misriyya, described on its website as:
The premier institute to represent Islam and the international flagship for Islamic legal research. It fulfills its historic and civil role by keeping contemporary Muslim in touch with religious principles, clarifying the right way, removing doubts concerning religious and worldly life, and revealing religious laws for new issues of contemporary life.
After the religious body spotted the mini-cakes, topped with fondant boobs, bums, vaginas and dicks – created for a birthday party at the exclusive Gezira sports club in Cairo– it declared them:
An assault on the value system and a crude abuse of society.
The baker was arrested and later released on $319 (£234) bail. There are reports that the partygoers may face legal action too.
One Twitter user commented:
The ancient Egyptians were more modern than current Egypt.
The Ministry of Youth and Sports is reportedly looking into the involvement of the club that hosted the private gathering.
If ever you need inspiration to bake rude confectionery, take a gander at at these images. There's also a Dutch instructional video on the making of tasty penises.
Human rights lawyer Negad El Borai tweeted that the incident confirmed:
There is a segment of society, with support of the state, that wants to eliminate any space for personal freedom in Egypt under the pretext of safeguarding Egyptian family values.
He drew parallels with the cases of several young Egyptian women accused of morality-related offences in connection with videos posted on TikTok and other social media platforms.
Last Tuesday, an appeals court overturned the two-year prison sentences handed to two Egyptians – Haneen Hossam, 20, and Mawada al-Adham, 22 – who were convicted in July for "undermining family values and principles" and publishing "indecent" photos and videos.
But days later it emerged that the public prosecutor had ordered the women's continued detention pending an investigation on human trafficking charges. The prosecutor alleged that they had exploited teenage girls by encouraging them to post similar videos to their social media pages.
A lawyer for the women said they would appeal against the move.
If ever you need inspiration to bake rude confectionery, take a gander at at these images.
• Please report any typos/errors to barry@freethinker.co.uk
If you'd like to buy me a cup of coffee – and boy, do I get through a LOT of coffee keeping this site active – please click the link below.
I'd love a cup of coffee