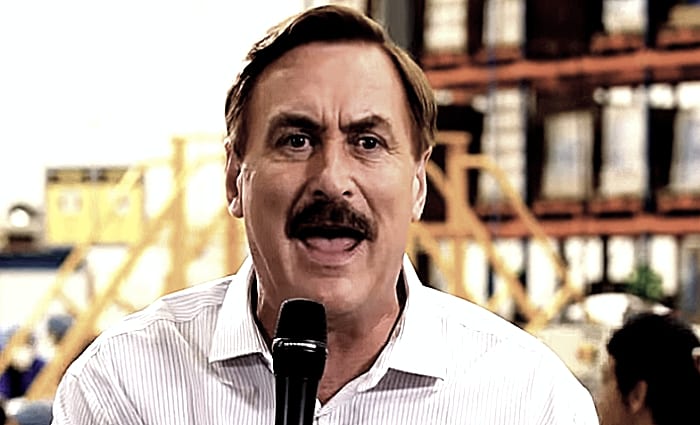 MIKE Lindell, above, is a far-right zealot who sponsored a bus tour supporting Trump's attempts to overturn the 2020 presidential election and to encourage attendance at the January 6 rally that was followed by the storming of the US Capitol by Trump's supporters.
So I almost burst a blood vessel when I learned via an ad on London-based radio station LBC that Lindell's MyPillow now has a presence in the UK.
So great was my fury that I immediately launched a petition for a boycott of this lunatic's products.
It reads:
Lindell, 59, has been one of Trump's most public supporters over the last four years and has often parroted conspiracy theories spread by the president and his followers.
Lindell, who is referred to as the "MyPillow guy," has been embroiled in controversy over the past year after touting a fake coronavirus cure and working more closely with the president.
MyPillow settled a $1million (£737,956) lawsuit brought in by several California counties in 2011, that claimed the company had been falsely advertising its product by saying it could treat symptoms of sleep apnea and cerebral palsy.
After Trump supporters were done storming the Capitol on Jan. 6, Lindell took to Twitter to baselessly claim that "Antifa and the left" was behind the attack on the governmental building. Most recently he reportedly urged Trump, in the wake of his defeat and impeachment, to declare "martial law."
Steven D'Antuono, the assistant director in charge of the FBI's Washington field office, has said there is no evidence that so-called Antifa activists were behind the violence at the Capitol.
Lindell has also pushed false claims of election fraud, leading to Twitter flagging posts as posing "a risk of violence," and thus preventing them from being liked or shared.
This man is totally unfit to be running a business in the UK, and I would urge everyone – especially members of the LGBT community – to boycott his products and write to broadcasters such as LBC to refuse his ads.
I contacted My Pillow UK for a statement, but have so far not received a reply.
• Please report any typos/errors to barry@freethinker.co.uk
If you'd like to buy me a cup of coffee – and boy, do I get through a LOT of coffee keeping this site active – please click the link below.
I'd love a cup of coffee