FOLLOWING the exposure of the racist, misogynistic and homophobic characteristics of God and Trump-loving domestic terrorist, Derrick Evans, who breached the Capitol, media attention is now focusing on a former Mormon missionary who boasted that he'd occupied the chair of the 'bitch' Nancy Pelosi. (It was actually VP Mike Pence's seat).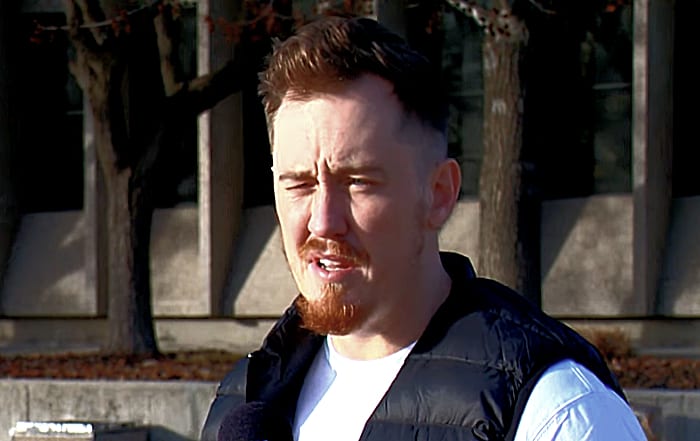 Josiah Colt, above, one of many Christian insurrections who got arrested after the riot, is now in full-one apology mode and is begging for forgiveness. This is in sharp contrast to a video he posted on Facebook and circulated widely on other social media platforms like YouTube in which he said:
I just got in the Capitol building, I hopped down into the chamber.

I'm in downtown D C. I'm all over the news now. But, like, I'm just like every single one of those people that was marching. A peaceful protest, we're here to represent America … we're tired of being lied to. We're tired of people stealing from us, stealing our freedoms, stealing our liberties. I didn't hurt anybody in there. Like, yeah, I did sit in Nancy Pelosi's seat. She shouldn't be there.
In an interview with Idaho's KTVB7, Colt, 34 – who was allowed out of jail ahead of his trial as long as he abided by requirements including location monitoring, not possessing any guns or other weapons, and staying at least 1,000 feet away from both the Idaho Statehouse and the James A McClure Federal Building – made a grovelling apology.
;
I didn't hurt anybody, didn't take anything, didn't break anything. My intention was just to go there to have my voice heard. I do love America. Like I said, I apologize. I do not condone the violence that happened there. It is tragic, it breaks my heart about what that turned into.

I went there because I love America and my intention was just to have my voice heard along with a lot of other people. For me I just wanted my voice heard about having fair elections, and yeah, it turned into something that really tragic and that I did not want to happen at all.
The apology came after the Latter Day Saint's Church to which Colt belonged was slammed for not condemning the Washington DC violence, according to Religion News, which learned that one of the rioters (not Colt) was "dressed as Captain Moroni."
After Religion News reported the church's silence, it posted an update, saying that the LDS finally spoken out.
On January 15, the First Presidency and Quorum of the Twelve Apostles of The Church of Jesus Christ of Latter-day Saints, said in a statement:
With great concern we observe the political and cultural divisions in the United States and around the world. We condemn violence and lawless behavior, including the recent violence in Washington, D.C. and any suggestion of further violence.

While The Church of Jesus Christ of Latter-day Saints is neutral in matters of party politics [as the above image so clearly shows], she, we remind our members – whatever their individual political views – to be united in our commitment to the Savior, Jesus Christ, and His teachings.

As His followers, we should treat one another and all of God's children with respect, dignity, and love. No political or other affiliation should supersede that covenant and sacred responsibility.
We urge all people to remember the precious and fragile nature of freedom and peace. As citizens of the United States look ahead to the Inauguration of a new President, we urge our members to honor democratic institutions and processes, and to obey, honor, and sustain the law.
Back to Colt: After he turned himself in to FBI's Joint Terrorism Task Force at the Ada County Jail last week, FBI Special Agent Matthew J Gano wrote in an affidavit that photos of Colt taken inside the Capitol Building and his own statements on social media prove he participated in the attempted insurrection.
Based on information I have reviewed, I estimate that between 2:00 p.m., and no later than 4:00 p.m., the defendant, Josiah Colt, entered the United States Capitol without authorization to do so. He was photographed hanging off a balcony and landing on the floor of the Senate chambers.

In a video posted to Facebook and circulated widely on other social media platforms, the defendant claims he was the first person to sit in the House Speaker's chair and calls House Speaker Nancy Pelosi a traitor. The defendant appears to be mistaken as he was also photographed in the seat reserved for the vice president, and not Speaker Pelosi.
• Please report any typos/errors to barry@freethinker.co.uk
If you'd like to buy me a cup of coffee – and boy, do I get through a LOT of coffee keeping this site active – please click the link below.
I'd love a cup of coffee