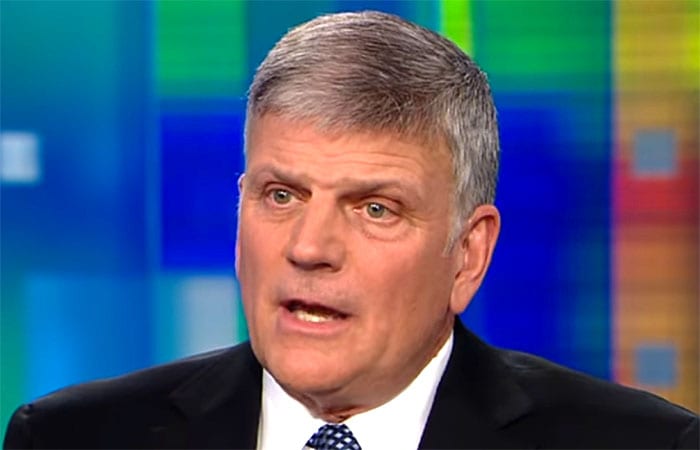 SELF-SERVING Trump butt-licker Franklin Graham, an evangelical who refuses to condemn yesterdays riots at the Capitol, told Americans instead to 'pray for President-elect Joe Biden, that he would not be swayed by the voices of self-interest, but that he would listen to the still small voice of Almighty God.'
Regarding those who responded to the narcissistic and insane dictator Trump's call for a show of strength in Washington DC, Graham said:
They have a right to protest … The people who broke the windows in the Capitol did not look like the people out there demonstrating. Most likely it was Antifa. For people busting windows, they need to go home. But for people standing out there peacefully holding flags, and protesting, they have every right to do that.
These imbeciles were not protesters.
Tonight President-elect Joe Biden, in a speech addressing "one of the darkest days US history," rightly described them as "domestic terrorists" and laid the blame for the violence squarely at Trump's feet.
Speaking in Wilmington, Delaware, Biden says people should not call the hundreds of Trump supporters who attacked the Capitol "protesters." Rather, he said, they were:
A riotous mob – insurrectionists, domestic terrorists. Don't dare call them protesters.

Biden said Trump is guilty of:
Trying to use a mob to silence the voices of nearly 160 million Americans who voted in November.
He added that Trump:
Made his contempt known for our democracy, our Constitution, the rule of law clear in everything he has done.
Trump, he said, unleashed an "all-out attack" on the country's democratic institutions that ultimately led to the violence on Wednesday.
Graham also said on Facebook that he's thankful for the fine "accomplishments" of the narcissistic bastard Trump's administration during the past four years.
People have asked if I am disappointed about the election. When I think about my answer, I have to say honestly, that I am grateful – grateful to God that for the last four years.

He gave us a President who protected our religious liberties; grateful for a President who defended the lives of the unborn, standing publicly against abortion and the bloody smear it has made on our nation; grateful for a president who nominated conservative judges to the Supreme Court and to our federal courts; grateful for a President who built the strongest economy in 70 years with the lowest unemployment rate in 50 years before the pandemic; grateful for a president who strengthened and supported our military; grateful for a President who stood against 'the swamp' and the corruption in Washington; grateful for a President who supported law and order and defended our police.

When President Trump says that this election has been rigged or stolen, I tend to believe him. He has a track record of being right.
Earlier today House Speaker Nancy Pelosi House Speaker Nancy Pelosi joined the growing calls by many Democrats to invoke the 25th Amendment and remove Trump from office in the final days of his presidency, telling reporters at a press conference that if this wasn't done the House would be prepared to vote on articles of impeachment.
I join with the Senate Democratic leader in calling on the Vice President to remove this President by immediately invoking the 25th Amendment. If the Vice President and Cabinet do not act, the Congress may be prepared to move forward with impeachment.
• Please report any typos/errors to barry@freethinker.co.uk
If you'd like to buy me a cup of coffee – and boy, do I get through a LOT of coffee keeping this site active – please click the link below.
I'd love a cup of coffee