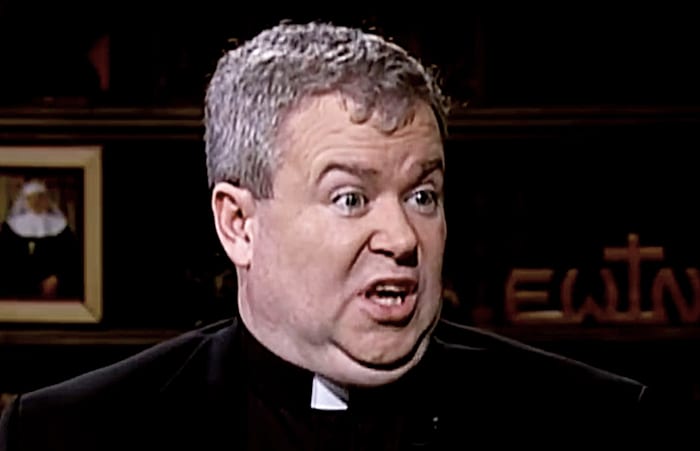 SOUTH Carolina Carolina Catholic priest, Father Jeffrey Kirby, above, has warned Americans to prepare for an all-out assault on religious freedom that will especially target Christians after Joe Biden takes office as President.
In a recent unhinged homily, reported by far-right LifeSiteNews which is also running fake news that left wing extremists orchestrated Wednesday's attack on the Capitol, Kirby – a moral theologian and philosopher who is pastor of Our Lady of Grace Parish in Lancaster – said:
We have a dark four years coming as a Church, and we need to get ready.
Before warning how a Biden administration will affect Christians, Kirby chastised members of his own parish for voting:
For a leader who calls himself Catholic while supporting abortion among other evils. Some of you, I know, voted for someone who is now going to suffer [hurt] and persecute the Church for the next four years. That on top of the fact that he supports the utter slaughter of the unborn.
Kirby "cried out with a loud voice":
Look at and watch as our religious sisters will be dragged through the courts, as contraception will be set to be imposed upon them. Watch how our hospitals disappear, because we will not follow government dictates. Watch how our support of unwed mothers disappears because of constant and unreasonable regulations. Watch as mother Church shrinks. Watch how she is treated by this government, this coming administration.

And those of you who voted for such an administration bear the responsibility of what you have done, because we are in for it, folks. And they're already getting ready. Have you seen the appointees? Some of the most aggressive anti-Catholic anti-organized-religion leaders in their various states. And this is what we're in for.
LSN's Capitol building riot report – under the headline "Evidence arises that Antifa planned Wednesday's Capitol storming", was based on fake news published by the Washington Times. The Times removed the item after a lawyer acting for the facial recognition company XRVision pointed out to the outlet that its report was "outright false, misleading, and defamatory".
On Wednesday, the Times published a story that claimed XRVision:
Used its software to do facial recognition of protesters and matched two Philadelphia Antifa members to two men inside the Senate.
It claimed one man "has a tattoo that indicates he is a Stalinist sympathizer" and the other "is someone who shows up at climate and Black Lives Matter protests in the West." The story did not name the men or provide evidence that they were involved in Antifa.
The attorney issued a statement to BuzzFeed News refuting the Times story. It said XRVision's software actually identified two members of neo-Nazi organizations and a QAnon supporter among the pro-Trump mob — not Antifa members.
XRVision said its attorney had ordered the outlet to 'Cease and Desist' from any claims regarding sourcing of XRVision analytics, to retract the current claims, and publish an apology.
The Times removed the story on Thursday. Roughly five hours later, it published a completely rewritten version that removed the references to Antifa members and included a correction acknowledging that the paper's original claim was false.
The correction in the Times' updated story said:
An earlier version of this story incorrectly stated that XRVision facial recognition software identified Antifa members among rioters who stormed the Capitol Wednesday. XRVision did not identify any Antifa members. The Washington Times apologizes to XRVision for the error.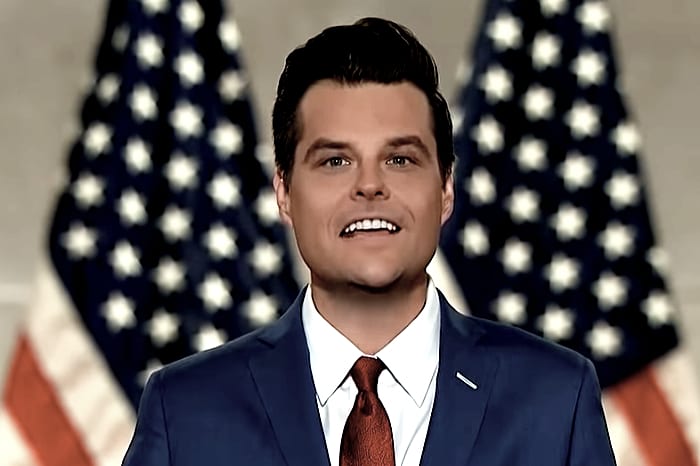 Meanwhile, WorldNutDaily, another zany far-right outlet, is today crammed with hysterical Antifa reports, one of which quotes Representative Matt Gaetz, above, a Florida Republican. Gaetz said in a speech on the House floor overnight that there was evidence that some of the people rioting were:
Masquerading as Trump supporters.
Gaetz's claims were supported by Representative Paul Gosar, the Republican from Arizona. Gosar tweeted that the storming of the Capitol:
Had All the hallmarks of Antifa provocation.
• Please report any typos/errors to barry@freethinker.co.uk
If you'd like to buy me a cup of coffee – and boy, do I get through a LOT of coffee keeping this site active – please click the link below.
I'd love a cup of coffee