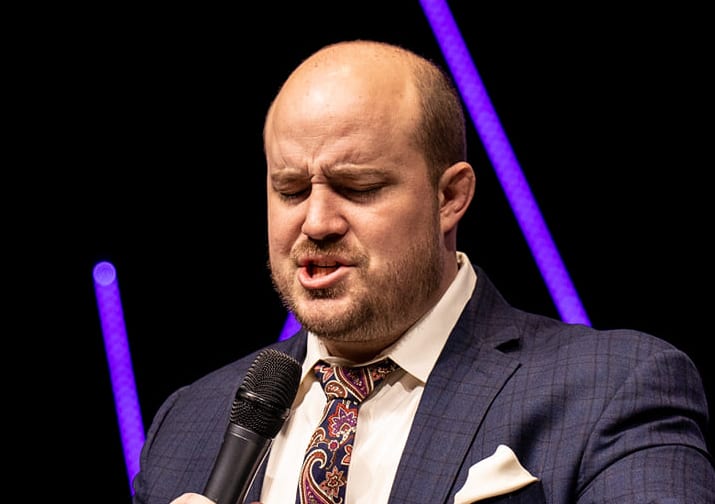 BACK in 2015 Florida evangelist Jeremiah Johnson, above, was 'pouring his heart out' to the the Almighty about the marital problems of a couple he knew. Then 'all of a sudden' God spoke into his ear and declared that 'Trump would become a trumpet.'
From that point onward, Johnson, along with many other pastors and evangelists, prophesied that Trump would win the 2020 election. When the murderous sociopath lost big time, Johnson quickly jumped on the conspiracy theorist bandwagon, claiming that the election was "stolen" from Trump.
But, according to this report, he later wrote in a newsletter:
I would like to repent for inaccurately prophesying that Donald Trump would win a second term as the President of the United States. I was wrong, I am deeply sorry, and I ask for your forgiveness. I specifically want to apologize to any believer in whom I have now caused potential doubt concerning the voice of God and His ability to speak to His people.
But Johnson's fungelical followers are not in a forgiving mood, and now Johnson is complaining of getting vile abuse and death threats from them.
He wrote on Facebook:
Over the last 72 hours, I have received multiple death threats and thousands upon thousands of emails from Christians saying the nastiest and most vulgar things I have ever heard toward my family and ministry. I have been labeled a coward, sellout, a traitor to the Holy Spirit, and cussed out at least 500 times. We have lost [Jeremiah Johnson] Ministry partners every hour and counting.

After publicly repenting on January 7th, I fully expected to be called a false prophet etc in some circles but I could have never dreamed in my wildest imagination that so much satanic attack and witchcraft would come from charismatic/prophetic people. I have been flabbergasted at the barrage of continued conspiracy theories being sent every minute our way and the pure hatred being unleashed.

To my great heartache, I'm convinced parts of the prophetic/charismatic movement are far SICKER than I could have ever dreamed of. I truthfully never realized how absolutely triggered and ballistic thousands and thousands of saints get about Donald Trump. It's terrifying! It's full of idolatry!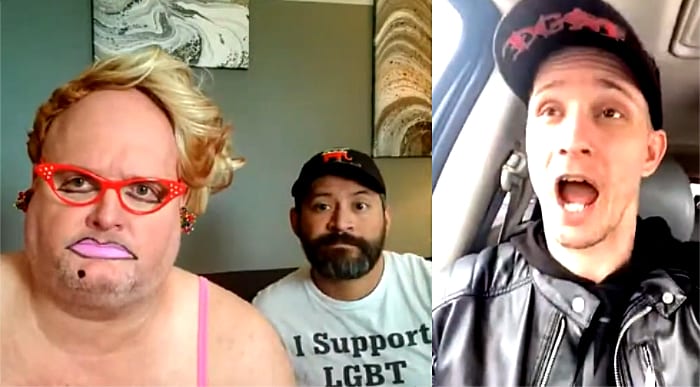 Another Trump supporter who alleges that he's getting death threats is far-right activist Kristopher Dreww, pictured above right being interviewed in a YouTube video by two gay Trumpites – one of whom looks a lot like the Insurrectionist-in-Chief in drag – about the backlash he received after he joined the mob that stormed the Capitol in Washington DC.
Shortly after the Capitol was breached, the Californian hairdresser from Huntington Beach– who calls himself "The Adorable Deplorable" on social media – recorded a fiery video in his Washington, DC, hotel room.
According to this report, the Huntington Beach hairdresser praised the insurrectionists as patriots and dispelled the rumour that Antifa members had any involvement the siege that delayed Congress' certification of electoral votes for President-elect Joe Biden.
He said in the video:
I just got back from storming the Capitol. It was successful. For all you bitches on Facebook going crazy talking about it was Antifa, and saying it wasn't us, it was us. We proudly took back our Capitol. They brought the National Guard out for us. We had the fucking cops running from us. Not because they are bitches but because they are smart. We did it. God it's so exhilarating!
Now Dreww says he's receiving death threats – from both right-wingers and leftists. He worries about being arrested and believes his successful beauty salon business is doomed. Choking back tears he said:
I'm scared. I fear for my life.
He claims he watched events from afar after traveling almost 2,700 miles to Washington DC and was not one of the rioters. He also walked back his claim that Antifa was not involved and "believes" the anti-fascist group was involved.
I do regret not doing my research and not knowing what people were in there. I am proud we took back our house, but I thought we took it back peacefully.

I never went inside the Capitol. I am a waste of time [for authorities to investigate him] ,but there are other people who did terrible things and should be arrested. I didn't go to Washington for Donald Trump. I went there for everyone's vote to count.
Meanwhile its reported that New York City New York City will terminate business contracts with Captain Chaos after last week's insurrection. The Trump Organization is under city contract to operate the two ice rinks and a carousel in Central Park as well as a golf course in the Bronx. His outfit profits about $17 million a year from those sites.
• Please report any typos/errors to barry@freethinker.co.uk
If you'd like to buy me a cup of coffee – and boy, do I get through a LOT of coffee keeping this site active – please click the link below.
I'd love a cup of coffee