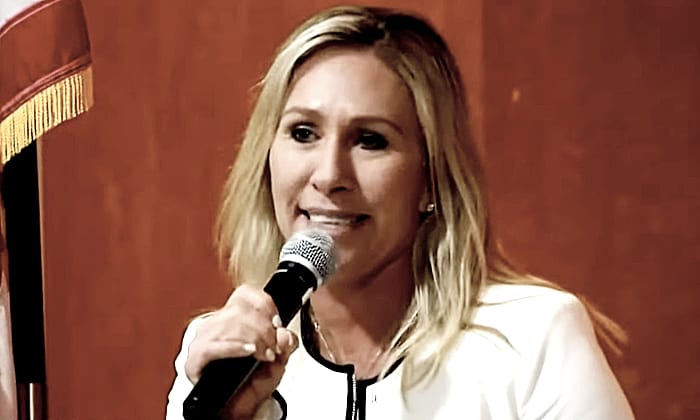 NEWLY-minted gun-toting Christian lawmaker Marjorie Taylor Greene, above – mentioned in an op-ed yesterday by Ophelia Benson – is now facing calls for her expulsion from Congress for her lunatic conspiracy theories, including Jews.
According to Religious News Service, several reports emerged in the past week pointing to Greene's longstanding support for bizarre and unfounded conspiracy theories, including speculating in a 2018 Facebook post that a wildfire in California that year was started when the Rothschilds, a Jewish banking family, fired a laser from space to ignite the blaze and benefit from it financially.
Some of Greene's fellow lawmakers, such as Missouri Democrat Representative Cori Bush, have already called for her expulsion from Congress for various reasons, and California Democrat Representative Jimmy Gomez has drafted legislation to do so.
Last Friday the Republican Jewish Coalition released a statement noting they supported her Republican competitor in the 2020 Republican primary because they:
Found Greene's past behavior deeply offensive. We are offended and appalled by her comments and her actions. We opposed her as a candidate and continue to oppose her now. She is far outside the mainstream of the Republican Party, and the RJC is working with the House Republican leadership regarding next steps in this matter.
Just how crazy is this woman? Over to the wonderful Tommy Campbell:
The Conference of Presidents of Major American Jewish Organizations, an umbrella organization that represents some 50 Jewish groups, also condemned Greene's views in a statement, saying they are "outraged" and accusing her of:
Routinely traffic(king) in unfounded conspiracy theories that are often antisemitic in nature. As an avid supporter of QAnon, Representative Greene espouses antisemitic canards. There must be a swift and commensurate response from Congressional leadership making clear that this conduct cannot and will not be allowed to debase our politics.
Criticism was even harsher from T'ruah, an advocacy organisation of more than 2,000 rabbis and cantors.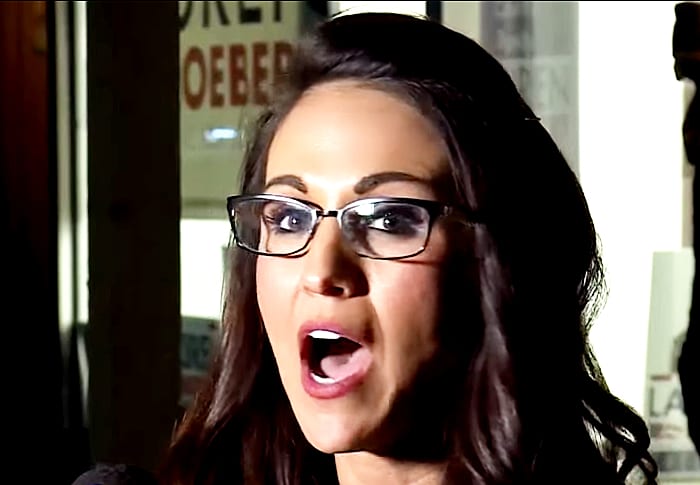 The group called for Greene's expulsion from Congress as well as Representative Lauren Boebert of Colorado, above – another gun nut who owns a restaurant called Shooters Grill in Rifle, where she and most of the staff pack heat.
T'ruah noted both women have expressed support for the baseless QAnon conspiracy theory that falsely contends a secret cabal of Satan-worshipping paedophiles operates a global child sex-trafficking ring and is in active conflict with Trump.
According to political scientist Paul A Djupe, QAnon supporters can trend toward anti-Semitism, and the broader QAnon conspiracy theory often includes anti-Semitic tropes such as the unfounded belief that Jewish people — specifically, the Rothschild family — control all banks.
T'ruah head Rabbi Jill Jacobs said in a press release:
Support for QAnon should be disqualifying for anyone holding public office. Rep. Marjorie Taylor Greene, Rep. Lauren Boebert, and other members of Congress who have indicated support for QAnon should resign or be expelled from Congress due to their support of this antisemitic and antidemocratic conspiracy theory.

We also call on all members of Congress, particularly the Republican party who has tacitly welcomed conspiracy theorists into its ranks, to explicitly denounce these conspiracies for what they are: antisemitic and antidemocratic nonsense that is responsible for a rise in antisemitic violence and deadly antidemocratic insurrectionism aimed at overturning free and fair elections.
Jacobs also argued:
It is not hard to draw the connection between the increase in public officials supporting such hateful nonsense and the sharp increase in antisemitic attacks and violence over the last several years.
Liberal-leaning Jewish advocacy groups J Street, Bend the Arc Jewish Action and If Not Now also called for Greene's expulsion. If Not Now's open letter described her as:
A racist and an antisemite.
It argued conspiracy theories would be "laughable" if they "had not gotten Jews killed in painfully recent memory."
Greene also issued a defiant statement on Friday afternoon addressed to the "radical, left wing Democrat mob." Greene did not directly address allegations of anti-Semitism, insisting instead she would not "cower to the mob" and:
More MAGA reinforcements are on the way.
• Please report any typos/errors to barry@freethinker.co.uk
If you'd like to buy me a cup of coffee – and boy, do I get through a LOT of coffee keeping this site active – please click the link below.
I'd love a cup of coffee