WHEN Trump ordered peaceful protesters in Washington to ber tear-gassed so that he could pose outside a church brandishing a Bible, many Americans – including horrified Christians – saw his posturing as 'farcical, sacrilegious and even fascistic.'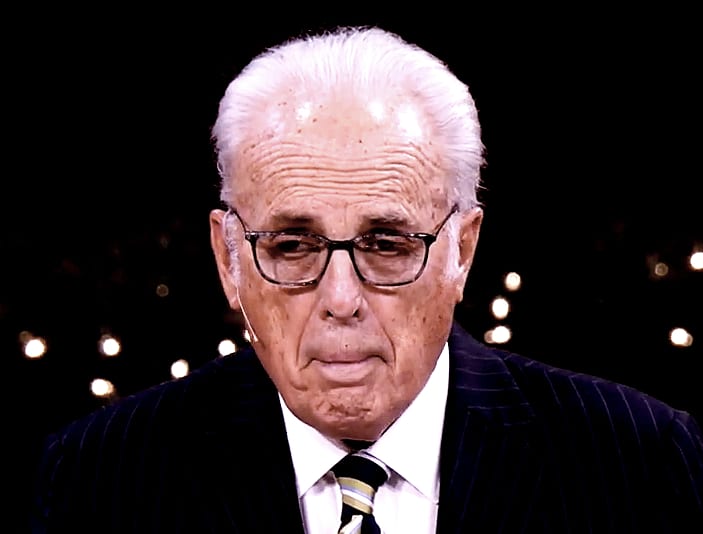 Reptilian Los Angeles pastor John MacArthur, above – who recently blasted rich "phony" preachers – was certainly not among those who expressed outrage.
But when Joe Biden laid a hand on a Bible to take his presidential oath of office, the octogenarian told his Grace Community Church congregants in a Sunday sermon that Biden's action was "blasphemous."
According to Christian Headlines, MacArthur declared:
You can say whatever you want to say, but when you touch the ark, when you place your hand on the throne of God, because God is enthroned in His Word, and you place your hand on the Word of God and pledge to do the very things that blaspheme His name.

God doesn't want your respect, He wants your obedience.

Don't tell me you advocate for the slaughter of babies in the womb. Don't tell me you want to destroy masculinity, femininity, marriage. Don't tell me you want to fill the world with LGBTQ people in leadership, you want to justify transgender activity. Don't tell me you want to invite more Muslims in who represent a religion from Hell and then put your hand on the throne of God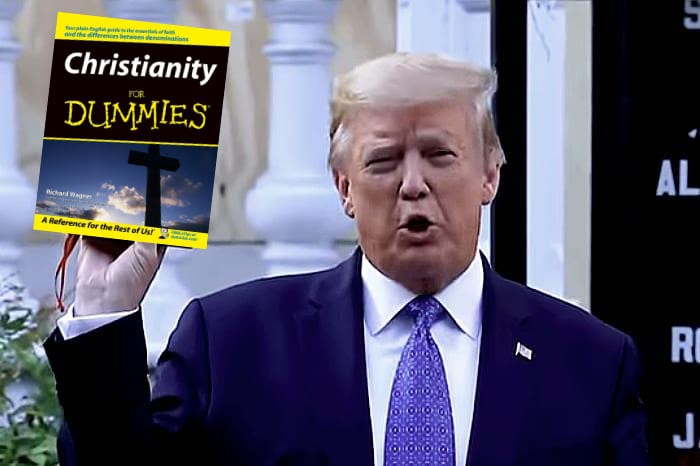 MacArthur, who refuses to comply with COVID-19 social gathering mandates, would never have spoken out against Trump's Bible stunt because the two are as thick as thieves.
Or "pig shit in the neck of a bottle," as some would say.
Last September, in a podcast he did for disgraced Jerry Falwell Jr's troubled Falkirk Center – MacArthur revealed that Trump called to thank him for his stand against California authorities who banned indoor worship services during the pandemic.
As an aside, I should tell you that the Falkirk Center tweeted after Biden's inauguration:
Thank you Pres. Trump for your incredible work on issues of life, family, & religious liberty during your term as President of the United States. Few Presidents compare in their ability to deliver meaningful results on issues of such vital significance.
And McArthur used Twitter to add:
It's official, one nation in rebellion to God with liberty and social justice for some.
Anyway, he said of his Trump call:
He called me after the Sunday morning service and he was very gracious and said, 'I just want to thank you for taking a stand. Church is essential, and I'm glad you're doing what you're doing.'
So there we have it straight from the ass's mouth: a president tells the leader of a mega-church that he has nothing but contempt for America's efforts to contain the pandemic. For that alone, Trump deserves more than impeachment. He needs to be put in orange prison suit to match his complexion. For a very long time.
During the podcast, the pastor shared the conversation he had with the President. They talked about why certainly from a biblical standpoint, Christians should not vote for the Democrats.
There's no way that a Christian can affirm the slaughter of babies, homosexual activity, homosexual marriage, or any kind of gross immorality. No way we could stand behind a candidate who was affirming transgender behavior, which of course is really the 'reprobate mind' of Romans 1.
• Please report any typos/errors to barry@freethinker.co.uk
If you'd like to buy me a cup of coffee – and boy, do I get through a LOT of coffee keeping this site active – please click the link below.
I'd love a cup of coffee