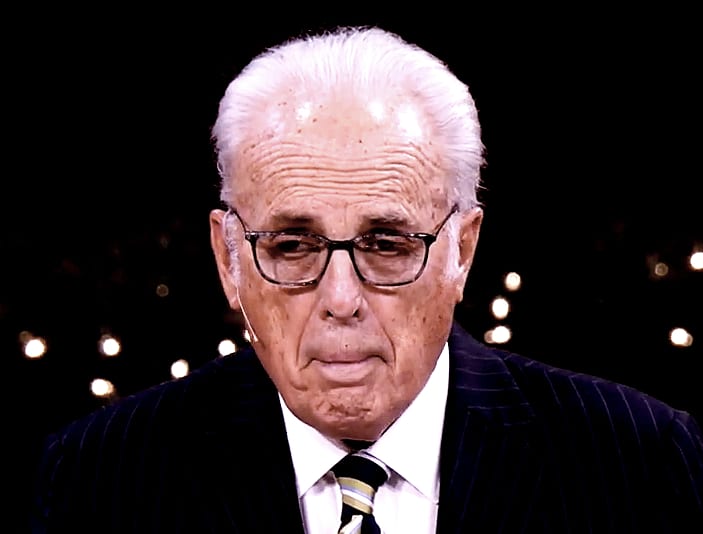 TWO things to know about John MacArthur, above, of Grace Community Church in California: He treats women with contempt and cares nothing for the safety of others.
Regarding the first, MacArthur accused the Southern Baptist Convention of taking a "headlong plunge" toward allowing women preachers after women spoke at the SBC's 2019 annual meeting.
That, he said, was a sign that the denomination no longer believed in biblical authority.
When you literally overturn the teaching of Scripture to empower people who want power, you have given up biblical authority.
As for COVID-19 lockdown mandates, his church has repeatedly sparred with authorities over worship restrictions. The church is currently embroiled in a lawsuit with L A County after leaders opted to resume in-person indoor services over the summer in violation of California's public health and court orders.
Despite facing the prospect of fines and the threat of jail time as a result of his refusal to comply with coronavirus regulations, MacArthur has maintained that it's the church's biblical responsibility to stay open and hold worship services.
Now he's featured in the Christian Post for attacking some of America's largest churches, accusing them of supporting a culture of corrupt, "superficial Christianity" – and making loads of dosh while doing so.
Speaking at the pulpit of Grace Community Church in California for the first time after a brief absence during which some speculated he may have been ill, MacArthur suggested that the pandemic combined with the technological shift in ministry has led to:
A sifting and shifting. We had for decades, people trying to create a cultural Christianity that would appeal to non-believers, that was accepting of immorality, accepting of homosexuality, accepting of racial hatred. There was a kind of superficial, shallow Christianity that watered down the Gospel, didn't talk about sin, tried to have a positive message. And it was very successful.
McArthur – net worth $14-million – explained, apparently without a trace of irony, that one of the things he likes to do is to call churches to repentance but it was a tough call because "superficial Christianity made a lot of money" and "elevated a lot of charlatans."
MacArthur also told his congregation that despite efforts by authorities to shutter his church during the pandemic, he has managed to defy every restriction and remain open regardless of fines and court actions against his church.
They tried every way to close Grace Church. And I think it is true that there is no more scrutinized church in the United States of America than Grace Community Church.
He called out major media organisations like ABC, CNN and the Los Angeles Times as well as "ungodly bloggers" who tried to discredit his church.
MacArthur said the decision to remain open in defiance of government restrictions has been a blessing to his church. He said even though the church had not collected an offering in the last ten months, congregants:
Have given more in the last 10 months than any 10-month period in the history of this church.
This from a man who moments earlier had castigated money-grubbing pulpit "phonies."
The Lord has grown our church. So this was a very small tiny local church until COVID. One thousand new members, baptisms.
He called his new members "Grace refugees."
It's the people who had no other church to go to so they came here as church refugees. And aren't we happy about that? Aren't we blessed? We'll take you whoever you are even if you're a Presbyterian refugee. People have flown in from all across America, driven in from all across the West every Sunday to be with us. Some of you only came here because it was the only church open and you found it wasn't just a church that was open. It was a church that was presenting the Gospel and the Word of God.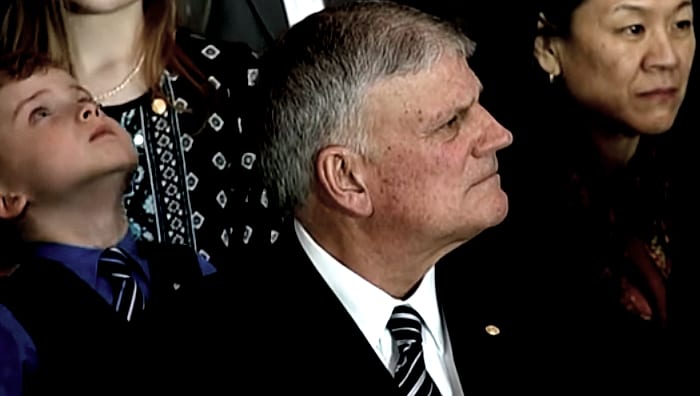 Last August, one of the biggest charlatans in the world of evangelism, Trumpite Franklin Graham, above, took to Twitter to defend MacArthur and encourage Southern California residents to visit Grace Church the next day:
I urge you to get up tomorrow morning and go! It will be worth the drive. Not only will you hear a great message from the Bible, but this would be taking an important stand for our religious freedom.
Commenting beneath the CP report, Rick Weinert wrote:
So this was a very small tiny local church until COVID." REALLY!?

Grace Community Church is neither tiny nor inconspicuous. Everyone in the church world knows MacArthur. By calling Grace "a very small tiny local church until COVID," he has disrespected the thousands of faithful preachers and churches surviving on a shoestring across this country, let alone the world. His attack against the "filthy rich" preachers is hypocrisy at best.

John, where did your $14 Million come from? I know a few ministries that could use a small piece of that just to survive. While I appreciate the truth at the heart of this article, I cringe at the hypocrisy.

• Please report any typos/errors to barry@freethinker.co.uk
If you'd like to buy me a cup of coffee – and boy, do I get through a LOT of coffee keeping this site active – please click the link below.
I'd love a cup of coffee