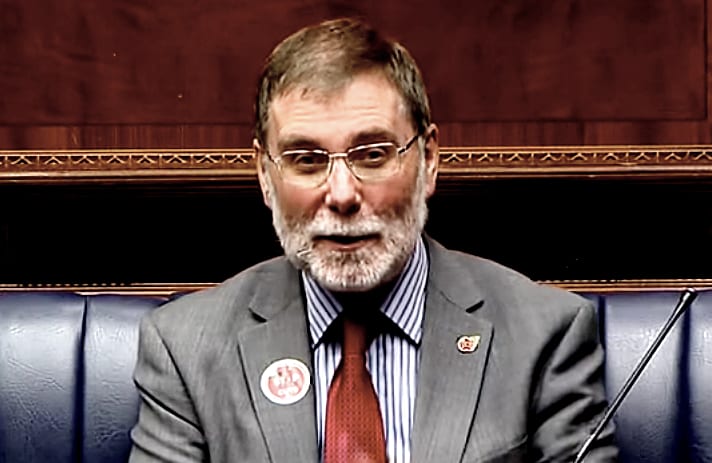 NELSON McCausland, above, a board member of Northern Ireland's Education Authority, opened up a huge can of worms on Monday when he tweeted about an American who, in 2009, 'stopped being homosexual' after encountering a bunch of Bible-thumpers in a Los Angeles cafe.
McCausland wrote:
A powerful testimony of a life changed by God and some important insights into the whole 'gay movement' from someone who has been there.
He was referring to Becket Cook, who had featured in a 2019 article – "From Gay to Gospel: The Fascinating Story of Becket Cook" –  published by US-based The Gospel Coalition.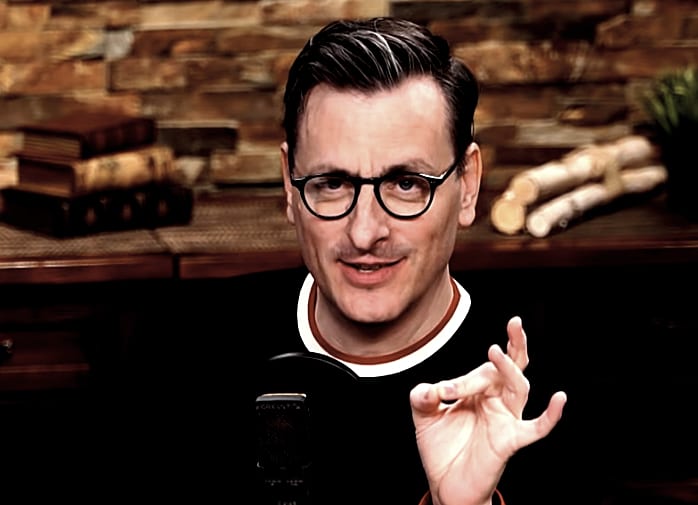 Cook, above, exuberantly gay and "practically an atheist" until he met the cafe Christians, was subsequently lured into their Reality Church and swallowed its "homosexuality is a sin" garbage hook, line and sinker. He later published a book entitled A Change of Affection: A Gay Man's Incredible Story of Redemption.
Fury followed after McCausland posted his tweet, and according to the Belfast Telegraph, some are now demanding he be sacked for his homophobia and for promoting dangerous and discredited "pray away the gay" interventions.
Alliance councillor Eoin Tennyson, who is gay, said McCausland's post was shared without:
Any regard for the devastating impact this ex-gay nonsense has on young LGBT+ people. Being gay is not a disease, it can't be cured.
He added:
'Gay conversion' has been consistently discredited and denounced. It has absolutely no basis in scientific fact. It's clear you've never been 11 years old, crying yourself to sleep at night praying to be 'cured' because you've internalised the nonsense. You should be ashamed of yourself.
Meanwhile Conor Houston, who is a director for the LGBTQ+ group Shout Out and is also the chair of Belfast's Fleming Fulton special school, said he was:
Horrified by the deeply offensive post.
He called for Mr McCausland's removal from the Education Authority board and added:
Compassion and education are the antidote to such ignorance.
McCausland – a creationist and former science teacher who became Northern Ireland's Secretary of the Lord's Day Observance Society – denied that the article he posted was related to gay cures.
Councillor Tennyson must have misread or misunderstood the article that I posted as it was not about 'gay conversion therapy'. It was a testimony from The Gospel Coalition website and was in the form of an interview about the life-transforming power of the gospel of Jesus Christ.

The person interviewed had not undergone any therapy.
In 2010, McCausland wrote to the Ulster Museum requesting that it display a range of creationist and other anti-Evolution material, claiming that it was the Museum's job to "reflect the views of all the people in Northern Ireland" rather than to reflect the understanding of modern science.
In response to McCausland's letter, Richard Dawkins, an evolutionary biologist and noted atheist, said:
If the museum was to go down that road then perhaps they should bring in the stork theory of where babies come from. Or perhaps the museum should introduce the flat earth theory.
What Cook did experience was a "transformation" when "some random straight dude" in the church prayed for him. Shortly after "the Holy Spirit flooded  him" – and the "scales dropped from my eyes."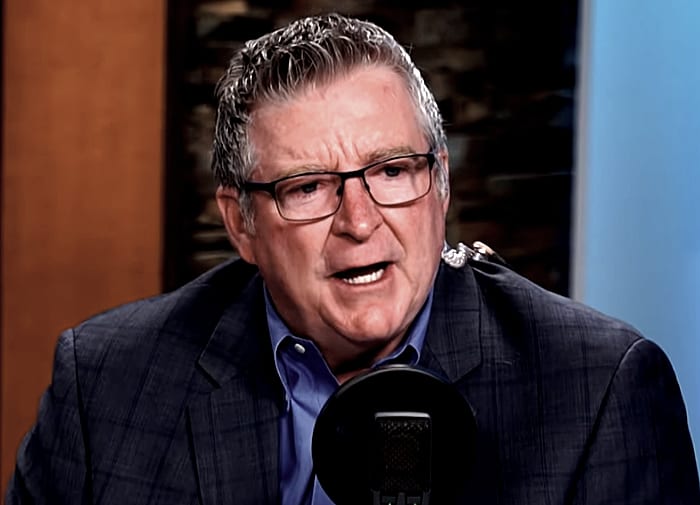 His experience was pounced upon by Christian hate group, Focus on the Family – headed by its evangelist President Jim Daly, above – which posted an interview with Cook last year on YouTube.
Focus on the Family aggressively promotes conversion therapy, according to The Human Rights Campaign. In a 2014 article it quoted the outfit as saying:
Just as there are many paths that may lead a person to experience same-sex attractions, there are likewise multiple ways out.
The article continued:
Focus On The Family has raised over $515-m over the past five years, making it one of the most well funded anti-LGBT organisations in America. It invests in public education campaigns against LGBT equality, while their related organization CitizenLink supports radical anti-LGBT candidates who work against basic civil rights and legal protections.

In fact, even after the leading national organization promoting 'conversion therapy' – Exodus International – shuttered their doors and apologized for the harm they had caused, Focus On The Family continues to endorse junk science rejected by every major medical and mental health organization to this day, blaming molestation, divorce, and straight up 'rebellion against societal norms' for people's sexual orientation. 
By allowing himself to be used as a Focus on the Family puppet, Cook signals his support for conversion therapy. And by tweeting, and posting on Facebook about Cook McCausland appears to show equal enthusiasm for faith-based attempts to change the gay people's sexual orientation.
The man has to go – and go quickly.
• Please report any typos/errors to barry@freethinker.co.uk
If you'd like to buy me a cup of coffee – and boy, do I get through a LOT of coffee keeping this site active – please click the link below.
I'd love a cup of coffee