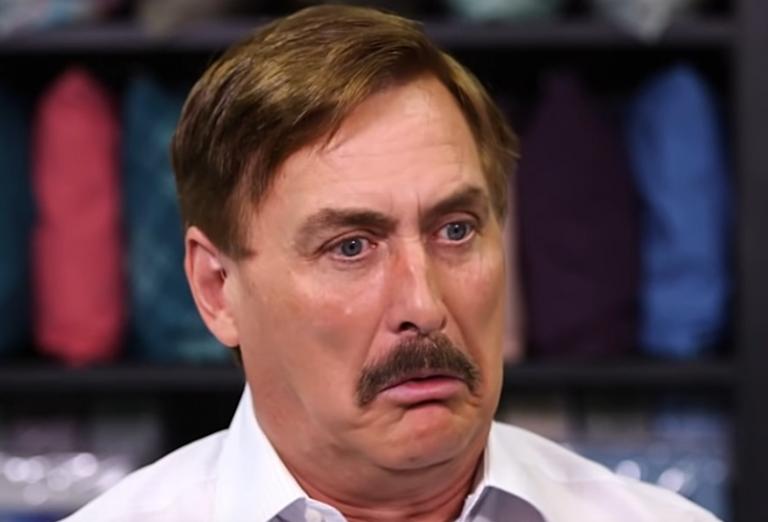 MIKE Lindell, above, the American huckster and conspiracy theorist who heads the faith-based MyPillow company, has so angered retailers with his persistent claims that the presidency was 'stolen' from Trump that a number of them have removed his products from their shelves.
According to this report, the unhinged former crackhead – who claimed in in a 2019 YouTube video that "God is Chairman of the Board of MyPillow" – tweeted as recently as last Friday that Trump got around 79 million votes compared to 68 million.
The result: one company – Bed Bath & Beyond – announced in statement that it had decided to stop selling his products as part of a purge of:
A number of underperforming items and brands.
Lindell told KARE-TV his products have also been pulled from Kohl's, HEB Stores, the Canadian Shopping Channel, and Wayfair.
Lindell, a top supporter of former President Donald Trump who described the January 6 riot inside the US Capitol in which five people died as "very peaceful", also claimed the insurrection was committed by:
Undercover Antifa that dressed as Trump people.
In a video posted to his Parler account before the conservative social media platform was removed from the Internet, Lindell said Trump "will be our president for the next four years." The claim came just days before President Joe Biden's inauguration.
The move by retailers came after Dominion Voting Systems — one of the largest election equipment manufacturers in the country — sent a letter to Lindell, threatening legal action if he did not retract his claims about the company's equipment and his assertion that Dominion participated in systemic election fraud intended to "steal" the presidency from Trump.
The letter said:
Your smear campaign against Dominion has been relentless, and you have leveraged your significant social media following to inflict the maximum amount of damage to Dominion's good name and business operations.
The company went on to assert that Lindell:
Failed to identify a scintilla of credible evidence that even suggests that Dominion is somehow involved in a global conspiracy to harvest millions of votes in favor of President-elect Biden. Of course, this is because no such evidence exists.
Meanwhile it was reported today that Lindell has been permanently suspended from Twitter.
When I discovered that MyPillow has a presence in the UK, I launched a petition calling for a boycott of his overpriced crap products, and asked the media to stop accepting MyPillow ads. I pointed out that Lindell's dodgy company settled a $1- million (£737,956) lawsuit brought by several California counties in 2011 that claimed the company had been falsely advertising its product by saying it could treat symptoms of sleep apnea and cerebral palsy.
I also revealed that Lindell has aggressively touted quack cures for coronavirus.
• Please report any typos/errors to barry@freethinker.co.uk
If you'd like to buy me a cup of coffee – and boy, do I get through a LOT of coffee keeping this site active – please click the link below.
I'd love a cup of coffee