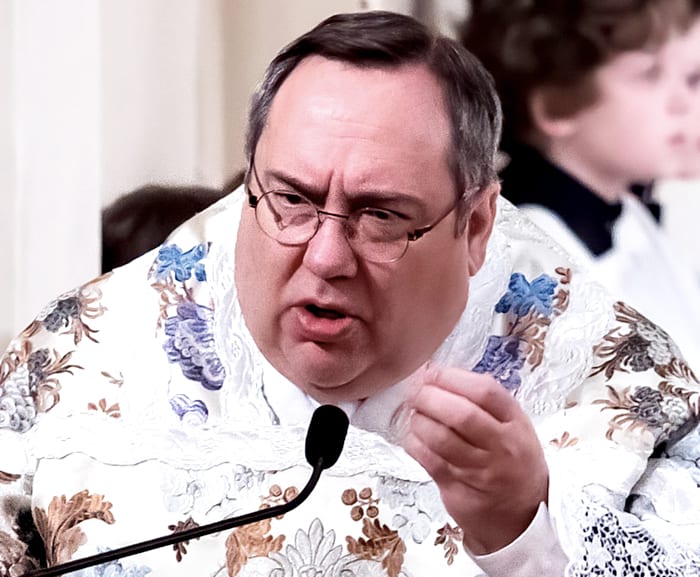 THE woes of Wisconsin priest John Zuhlsdorf, above, began with an 'exorcism' he conducted with the apparent aim of reversing President Joe Biden's 'fraudulent' election win.
According to this report, after Zuhlsdorf live-streamed himself performing exorcisms of alleged election fraud he was ousted from his position at a Roman Catholic diocese in Wisconsin.
In one of the live-streams, Zuhlsdorf said:
I think it's amply clear, there's enough evidence to demonstrate that there was fraud in some places, and people had to commit that fraud, it didn't happen by itself. As exorcists will confirm, the demons are very good with electronic equipment.
This was a reference to false claims from Trump's allies that voting machines were rigged in favour of Biden.
Zuhlsdorf also falsely claimed that he was given permission for the exorcism by Madison Catholic Diocese Bishop Donald Hying.
Hying said this was a lie. He told the National Catholic Reporter that he did not give the Zuhlsdorf permission to conduct exorcisms related to "partisan political activity".
Instead he claimed he gave the priest the go-ahead to perform an exorcism:
For the intention of alleviation from the scourge of the coronavirus pandemic.
The Diocese of Madison announced earlier this month that the parish and Zuhlsdorf had reached "a mutual decision" on the "conservative" priest leaving his post to engage in other activities – possibly in the fashion industry as his extravagant taste in frocks suggests.
In a statement accompanying the announcement, Hying said that Rev Zuhlsdorf had left his post:
To pursue other opportunities. The Bishop of Madison is grateful to the Reverend Zuhlsdorf for his faithful support of the diocese's seminarians and priests, thanks him for his many years of steadfast ministry serving the diocese, and wishes him the best in his future endeavours.
Diocese spokesman Brent King said that Zuhlsdorf was not an employee of the parish, and was best described as a "freelancer".
Zuhlsdorf is smarting over the break – and vented anger on his Fr. Z Blog:
There is a Catholic Antifa now. They are feeling their ascendancy and they are applying it. We will see more persecution leveled at any one who strays from their demands. The New Catholic Red Guard. They are bullies. They are easy to spot. They aren't even trying to hide it anymore. In the near future they will be a force of great evil in the Church and we must find ways to resist them without stooping to their thuggery, without giving in to hate. God help them.
Hat tip: BarrieJohn
• Please report any typos/errors to barry@freethinker.co.uk
If you'd like to buy me a cup of coffee – and boy, do I get through a LOT of coffee keeping this site active – please click the link below.
I'd love a cup of coffee