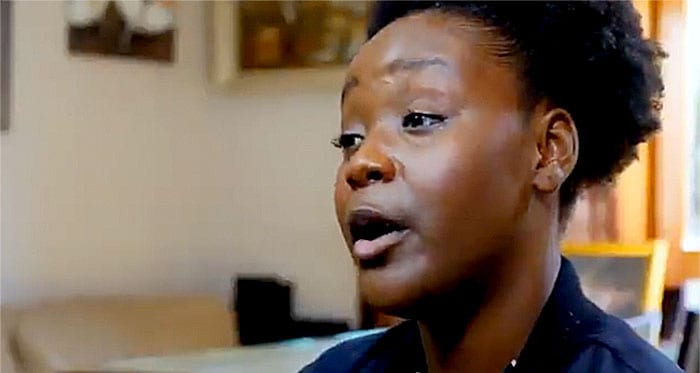 'MISCONCEIVED and an abuse of process.' That's how a lawyer described a claim for compensation by Seyi Omooba, above, during the closing stages of a week-long tribunal hearing over the Christian homophobe's high-profile dismissal from a production of The Color Purple.
According to The Stage, Omooba was initially pursuing £128,000 in compensation from the Curve theatre and her agent Global, but revised her financial claim ahead of the final day of the hearing today (Monday) to just £71,400.
Part of this is an acknowledgment of the impact that Covid-19 would have had on her potential earnings, but she has also abandoned a claim for £4,309, the amount of her agreed fee for the musical.
During the hearing, the theatre's Chief Executive Chris Stafford revealed the fee had always been offered to Omooba. Her refusal to invoice for the amount and its subsequent inclusion in her claim was described by Curve's representative Tom Coghlin QC as "misconceived and an abuse of process".
Omooba was dropped from both the production and by her agent in March 2019, after a Facebook post written five years previously was shared and criticised widely. In it she said she believed homosexuality was not "right" and that people cannot be born gay.
Coghlin said a series of "fatal conceptual and factual weaknesses" in Omooba's case had emerged over the four days of witness examination.
Omooba revealed that at the time that she did not believe that her character, Celie, was gay, that she had not read the play's script, and that – had she not been dropped – she would have refused to play the character as a lesbian and would have pulled out of the show.
Coghlin argued this amounts to a "repudiatory breach of contract" on her part.
Addressing the claim by Omooba's lawyer, Pavel Stroilov, that both Curve and Global inflicted "life-changing" actions on Omooba and ended her career "abruptly and unfairly," Coghlin said:
As for the life-changing decision, this was from a role that she didn't want and would have refused to play.
But Christian Legal Centre's Stroilov described the claim as "very straightforward" and urged the tribunal to uphold his case.
Coghlin added that Curve had been placed in an impossible position, in which Omooba had tried:
To force the respondent's hand into dismissing her.
Christopher Milsom QC, representing Global, described Omooba as "the author of her own misfortune", and said the impact of her comments on her employability made her contract with the agency "an empty vessel".
He argued that the situation was not a result of either respondent's actions and that responsibility should not be laid at their doors.
The Stage described the case as one of the most significant theatre-related hearings in recent times.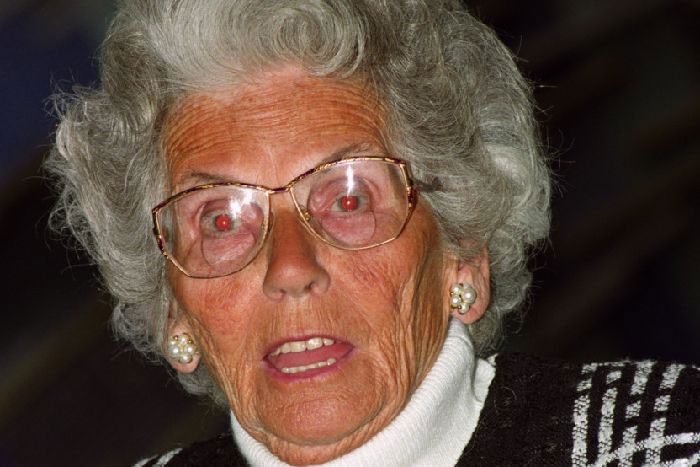 The last time a theatre production in UK made worldwide headlines was in 1982 when Christian Mary Whitehouse, above, a deranged moral campaigner known as the "nation's nanny", brought a private prosecution against director Michael Bogdanov for staging a simulated anal sex scene in The Romans In Britain.
She had conniptions over the scene in which a young male Celt was raped on stage by a Roman soldier. She accused Bogdanov of procuring "an act of gross indecency."
Bogdanov, facing the possibility of three years imprisonment, endured 18 months of torment preceding the trial in which his children were bullied, he received threatening phone calls and shit was pushed through his letterbox.
When it came to trial, however, the case quickly collapsed.
A judgement in the Omooba case is expected later this week. One can only hope that the tribunal kicks her to the kerb.
• Please report any typos/errors to barry@freethinker.co.uk
If you'd like to buy me a cup of coffee – and boy, do I get through a LOT of coffee keeping this site active – please click the link below.
I'd love a cup of coffee