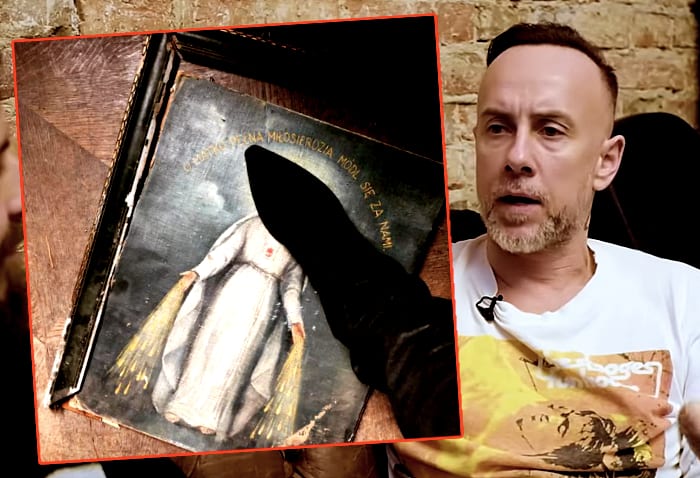 FORMER Catholic-turned-Satanist, Nergal (real name Adam Darski), above, has been convicted in Poland for 'offending the religious feelings of four people' by posting a picture on Facebook of a shoe desecrating an image of the Virgin Mary.
Nergal, frontman for "extreme" metal band Behemoth, fell foul of the law after the photo appeared in 2019. At his trial earlier this month, prosecutors heard evidence from an unnamed "expert in religious studies" who testified that:
Treading with a shoe on the image of the Mother of God is an offence against religious feelings.
The case came to court after Conservative legal group Ordo Iuris and an outfit known as Towarzystwo Patriotyczne (The Patriotic Society) claimed that four people – including a politician from Poland's ruling conservative coalition – had their religious feeling "hurt" after seeing the image.
This appeared reason enough for a guilty verdict, and Nergal was hit with a 15,000 złoty (£2,900) fine and ordered to pay court costs of almost 3,500 zloty (£678).
Metal Injection reproduced a message posted by Nergal ahead of his trial:
Another lawsuit in the process. Reason? In every case the same: offense of RELIGIOUS FEELINGS! Can u imagine this nonsense in XXl century? Poland is mentally soooo fuckin' behind the civilized Europe that we r literally THE last bastion of so called "blasphemy casus"

Even extremely Catholic Ireland removed this paragraph from constitution lately. It WILL happen in Poland at some point …. and yea, I'm willing to be that stepping stone. FUCK religious fundamentalism in every fuckin hole. And frankly, I'm sure I will win this and EVERY other case. Just wait and see ….
Nergal is challenging the fine and the case the case is now expected to proceed to a full trial. If found guilty he could could face up to two years in prison. The investigation cited Article 196 of Poland's penal code which claims:
Whoever offends the religious feelings of other persons by publicly insulting an object of religious worship, or a place designated for public religious ceremonies, is liable to pay a fine, have his or her liberty limited, or be deprived of his or her liberty for a period of up to two years.
Back in 2019, the musician was kicked out of a YMCA gym in the US for not worshipping Jesus Christ.
Gym staff took exception to Nergal's T-shirt – which featured the logo of Norwegian black metal band Darkthrone – before asking if he had Christian beliefs.
Nergal responded by telling them that he wasn't a man of Christ.
In a 2019 video "The Satanist of Warsaw" as he is known, spoke of his Catholic upbringing and described Catholicism as "shallow."
Oh Nerhal, it's a whole lot worse than that!
A report published this week into the goings-on at St Ninian's, a residential care home run by the Christian Brothers in Scotland found that children had been subjected to a "reign of terror" by sexual predators between 1951 and 1983.
Abusive Brothers had unrestrained access to the vulnerable children they wished to target. That such abuse was possible for virtually the entirety of St Ninian's existence represents serious failures in oversight, management, and governance. Children were betrayed by serious breaches of trust and, for many, it caused lasting damage.
That's grounds for outrage. Stepping on picture of a mythical virgin is not.
• Please report any typos/errors to barry@freethinker.co.uk
If you'd like to buy me a cup of coffee – and boy, do I get through a LOT of coffee keeping this site active – please click the link below.
I'd love a cup of coffee