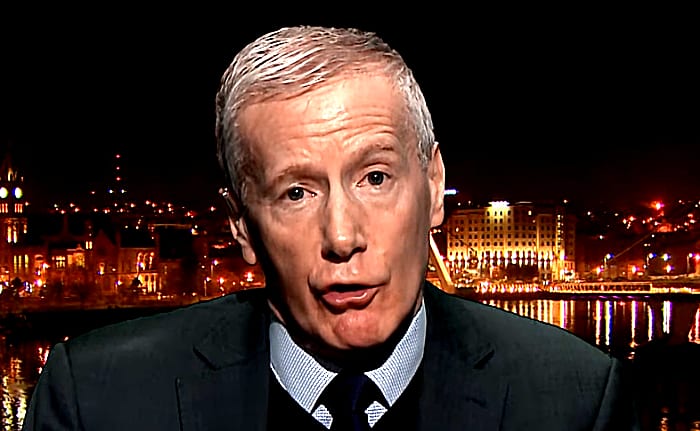 THE Northern Ireland Assembly has more than its fair share of religious nutjobs, but among the worst of them is Gregory Campbell, above, a devout Christophile and frothing homophobe.
Right now he's in the midst of a storm over over his accusation that the BBC's Song's of Praise Gospel Singer of the Year Competition 2021 was racist because the five contestants and three judges were black. This, he said in a Facebook post, was "the BBC at its Black Lives Matter worst."
Campbell, the Democratic Unionist Party's MP for East Londonderry told Premier that he does not believe the singers were representative of the best gospel singers in the country and that the BBC is claiming to be diverse while airing an episode that had "one colour scheme".
Just watched BBC TV Songs of Praise which this week was Gospel Singer of the year semi final. This I'm afraid was BBC at it's BLM worst. There were 5 singers, all of them black. There were 3 judges all of them black and one presenter who incidentally was, yes black. The singers were all very good but can you imagine an all white line up with an all white jury and presented by a white person? No I can't either.
He told Premier:
Are you really trying to make me believe that there wasn't a single white person to make the breakthrough on any of those counts? Is that what you or anyone else would be saying? We come back to the point of diversity – gospel music covers all skin colours. No one can argue that gospel music is majority black, it is not, it is simply incorrect to say that.

If black and white sing gospel – and they do – why are people trying to say that all of this was on merit and nobody that was white was good enough? That sounds to me, inherently racist and if it was the reverse, I would say the same.
When asked how black Christians might feel about his comments he said he hoped black people would agree with him that diversity is good but that the show was not diverse:
Anyone who says it was, I think they need to have a look at the programme themselves and then have a look in the mirror.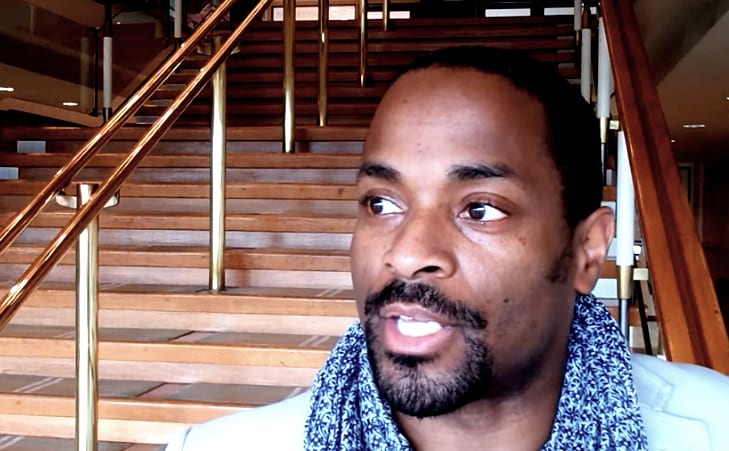 Presenter of the episode, Mark De-Lisser, above, said he was shocked when he heard about Campbell's post and thinks his comments were irresponsible and uninformed.
It's naïve for him to think that a show cannot be fronted by a black person, myself, and have five black contestants and three black judges, which is kind of celebrating a style of music that has come out of the black community and out of the black experience in this country.

People who were selecting the five people to go into the show are all gospel people from this country who are totally qualified in order to say who is good and who represents, in terms of ability, represents clearly what gospel music is in this country. Those people chose who they felt was right, and it just so happened that none of them were white, and that is absolutely fine."
Alliance MP Stephen Farry wants the DUP to effectively expel Campell from the party for the Facebook post.
Meanwhile, a statement published by the North West Migrants Forum with more than 1,000 signatures is urging Campbell to give a public apology. It says:
It is alarming that a political leader thinks it appropriate to use this kind of race-baiting to secure some sort of perceived political advantage, regardless of the consequences.
De-Lisser told Premier that Campbell's comments show there is a lack of understanding and ignorance about gospel music.
I think he's just a little confused as to exactly what this music is. Yes, people might say it's racist, but for me, I think it's just ignorance, sheer ignorance.
Not only is Campbell ignorant, he's also a bigot who described homosexuality as:
An evil, wicked, abhorrent practice. In the Bible, there is only one sin which called down literal fire and brimstone from God and that wasn't murder, it wasn't theft, it was homosexuality.
According to this report, Campbell has refused to apologise for the comments and has dismissed criticism as a "contrived controversy".
In the assembly on Monday afternoon, his party leader Arlene Foster, a vehement opponent of same-sex marriage, said Campbell's words were "not a sentiment" she identified with.
The DUP has said nothing further about the comments, which are the latest in a series of provocative statements from the East Derry MP.
SDLP MLA Cara Hunter yesterday wrote to DUP chairman Lord Maurice Morrow urging him to intervene.
It is deeply regrettable that after a programme of enriching and uplifting gospel music performed by incredibly talented singers that a member of parliament would seek to make a political statement based on the colour of the performers' skin. The comments that Mr Campbell made were incredibly hurtful and, I believe, totally unacceptable.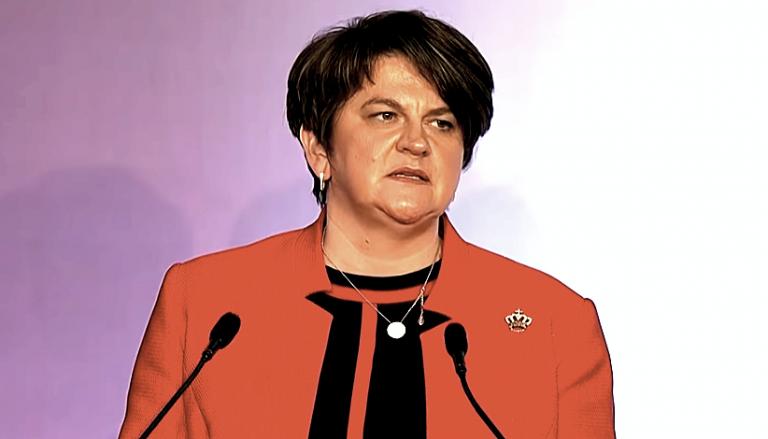 In 2018 the BBC greatly annoyed the DUP with a show in which Fern Brady, a Scottish comedian, described Foster, above, as looking like:
A butch lesbian masquerading as a straight woman in charge of the DUP.
Brady also lashed out at the party as:
The most homophobic in the UK.
At the time sources close to the DUP said the BBC's decision to broadcast Brady's "offensive onslaught" was disgraceful and warranted an immediate apology – an apology it never received.
• Please report any typos/errors to barry@freethinker.co.uk
If you'd like to buy me a cup of coffee – and boy, do I get through a LOT of coffee keeping this site active – please click the link below.
I'd love a cup of coffee