THIRTY-three years ago a study revealed that 67 percent of Americans trusted clergy members for their 'honesty and ethical standards.' That figure in 2020 plunged to 39 percent, according to a new Gallup poll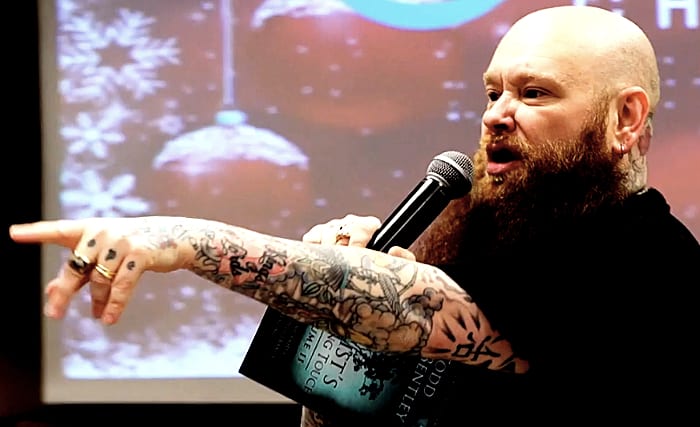 This, suggests the Christian Post, is in part due to the public being increasingly exposed to negative media reports about priests behaving like criminals. "Healing evangelist" Todd Bentley, above – a predatory sex and drug addict who got booted from his leadership of Fresh Fire USA – is an notable example provided in a separate CP report.
Bentley, who has apparently been having conversations with Him Upstairs all of his life, has just announced that, after God spoke to him last summer, he's now planning a comeback involving podcasts and" a new platform for TV and media ministry."
About 12 years ago, God instructed him to knee a man in the gut to cure colon cancer, and to physically attack others so they could experience "God's power."
Now I may be wrong but it would seem from a quote in CP that the thug – who "has an appetite for a variety of sexual sins, including both homosexual and heterosexual activity" – was conversing with God when he was still in the womb!
I thought it was very unusual for the Lord to be speaking to me six months before the day I was born …
CP readers are taking Bentley's claim of being a reformed character with a pillar of salt. One wrote:
He wants a ministry? Fine, he can start by cleaning bathroom toilets and sweeping floors at a local church. He can help out at soup kitchens. He can get a regular job and tithe and more to the poor and to legitimate Christian outreaches.

Then, maybe many years later, maybe not, and after deep repentance and brokenness, evidenced by fruits of humility and service, God might give him a larger platform to speak.
Back to that Gallup poll. Commented on its findings, Scott McConnell, Executive Director of Lifeway Research, said:
For churches, for churchgoers, for clergy themselves, that's not good news because … these are real perceptions that Americans have. This trendline does correspond with the decline that we've seen in religious affiliation in recent years, and clearly, if Americans are not attending church, they would … likely not have personal relationships with a pastor. So without that regular contact, their perception will be based completely on secondhand information or media accounts of … pastors.
So what professions earn less trust than pastors?
Nursing home operators (36 percent), bankers (29 percent), journalists (28 percent), lawyers (21 percent), business executives (17 percent), advertising practitioners (10 percent), car salespeople (8 percent) and members of Congress (8 percent).
Meanwhile, more Americans saw nurses (89 percent), medical doctors (77 percent), grade-school teachers (75 percent), pharmacists (75 percent), and police officers (52 percent) as having higher honesty and ethical standards than members of the clergy.
While only 39 percent of the American public as a whole thought that members of the clergy had high honesty and ethical standards, that number rose to 54 percent among Republicans.
Quelle surprise!
On the other hand, 38 percent of Democrats believe that clerics have high honesty and ethical standards, while only 32 percent of independents said the same.
• Please report any typos/errors to barry@freethinker.co.uk
If you'd like to buy me a cup of coffee – and boy, do I get through a LOT of coffee keeping this site active – please click the link below.
I'd love a cup of coffee