ULTRA-Orthodox Jews in London are calling for a boycott of Jewish News, which has been castigating members of the Charedi community for breaching COVID-19 lockdown restrictions in Britain, America and Israel.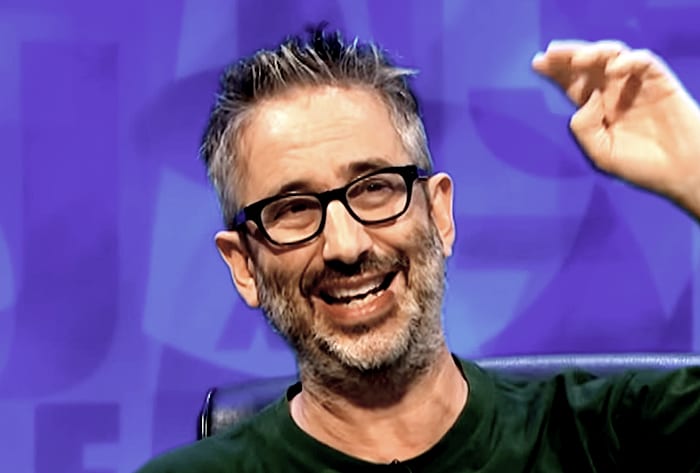 After publishing a damning exposure of lockdown "criminality" on January 28, yesterday (Monday) the paper publicised a short tweet by Jewish comedian, David Baddiel, above, who – in a response to reports of Charedi defiance – referred to Jews ignoring restrictions as "stupid fucking frummers."
Today JN reports that:
Sections of the strictly-Orthodox Jewish community have launched a retaliatory boycott campaign against this newspaper for attempting to save lives by exposing multiple potentially deadly lockdown breaches in Stamford Hill.

On Thursday a Jewish News investigation revealed Strictly-Orthodox weddings with more than 300 guests have continued apace throughout lockdown.
It revealed that at least 50 weddings have taken place during lockdown, super spreader events that put lives at deadly risk.
Lookouts are used to raise the alarm, money set aside for fines and at least one bride was Covid positive.

The majority of the community has soberly acknowledged the wrongdoing and pledged to curb further illegal activity. However, others have dug their heels in and blamed the Jewish News investigation for stoking antisemitism.
JN – which illustrated its report of the boycott demand with a cartoon of a Charedi man holding a copy of the paper with the caption "You think, maybe, campaigning for people to boycott the wedding receptions would be a little more productive?" – said that one anonymous strictly-Orthodox group has called for a boycott of both Jewish News and the Jewish Chronicle.
It is circulating a notice saying:
Boycut (sic) the Jewish News and the JC. Spreading Hate (sic) to the Public (sic) on Jews. No one is defending those who break the covid rules but Jews should not be spreading News (sic) articles which will create Public (sic) hate on All (sic) Jews.
Another group is calling on shops to stop stocking the two publications.
All Shops (sic) that stack (sic) the JC and JewishNews (sic) should decline any future deliverys (sic) for good.
The statement then turns into an ominous warning:
They need to get shut for our good. Any shop that will have it, we will have the names notified to the Public (sic) too. To share and spread hate will not stop anything but the oppsite (sic), will force everything go underground (sic) and make millions of people hate Jews!
JN has also received reports of copies of last week's issue carrying the investigation into the deadly pandemic breaches being removed from Stamford Hill and Golders Green, both with huge Charedi populations.
Back to Baddiel. It appears JN was the only outlet to pick up on his tweet, which drew a strong reaction from commentator Jenni Frazer. Writing for JN, Frazer pointed out that Baddiel has used his deserved public profile as a writer and comedian to challenge anti-Semitism and hateful stereotyping, and yet:
Baddiel this week took advantage of his 727,000 Twitter following to pick up on the Jewish News investigation about Stamford Hill responses to Covid. He wrote just three words: "Stupid f****** frummers.

It set me wondering as to whether those three words were not, in their own way, just as dismissive and discriminatory as the large-scale anti-Jewish racism of which Baddiel so rightly and eloquently complains. It left me feeling uncomfortable, no matter how much I may agree with the intent behind the comment.
She added:
Not in a million years am I trying to make excuses for the truly appalling flouting of the rules, in strictly Orthodox communities from London to Brooklyn to Jerusalem. Each time I see a photo in the national press, of a sea of unmasked men – for it is almost always entirely men – I shudder.

But I do wonder what message we are sending those in the strictly Orthodox communities. Theirs is the demographically superior grouping, and soon there will be demonstrably more of them than of us. And apostrophising them as 'stupid effing frummers' is not, in my opinion, calculated to bring them round to a more law-abiding way of thinking.

I'd love to see a public dialogue between Baddiel and a Stamford Hill intellectual. In this plague year, perhaps that's what we need: after all, Stamford Hillians are just as proud of calling themselves "Jew" as him.
While this kerfuffle was bubbling away in the UK, in Jerusalem thousands ignored social distancing to attend a funeral for Rabbi Meshulam Soloveitchik, who died aged 99.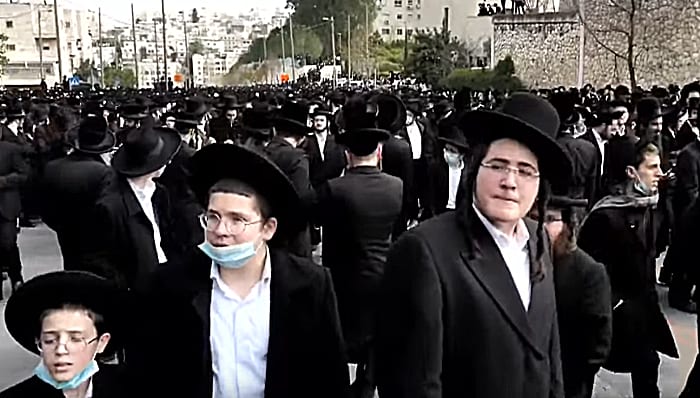 According to this BBC report, densely packed throngs of people gathered outside the rabbi's home on January 31 in a public rejection of restrictions on outdoor gatherings of more than 10 people.
Police officers blocked intersections to traffic to allow participants to pass, but appeared to take no action to prevent the illegal assembly.
Israeli media said the rabbi, a leading religious scholar who headed a number of well-known seminaries, had recently suffered with Covid-19.
Alon Halfon, a Jerusalem police official, told Channel 13 TV that officers had little choice but to allow the massive procession to proceed.
He said police action had helped reduce the crowd size and that some 100 tickets were issued for health violations. But in such a densely packed environment, with children among the crowd, attempting to disperse it would have been "unwise and dangerous".
Israel's health ministry has recorded over 640,000 confirmed cases of coronavirus and at least 4,745 deaths since the start of the pandemic. At the same time, Israel has vaccinated over three million of its citizens, one of the highest rates per capita in the world.
Concluding a comment beneath Frazer's op-ed, Neil Harris wrote:
IF the ultra orthodox really are the future of Judaism then they count me out along with most thinking Jews. Their takeover will be regrettable and I will be sad about the demise of sensible Judaism but if it comes to it I will not fight a losing battle and will not remain identified with a religion or people that is chareidi dominated as I have very little in common with them.
Hat tip: Robert Stovold and BarrieJohn (Jerusalem report)
• Please report any typos/errors to barry@freethinker.co.uk
If you'd like to buy me a cup of coffee – and boy, do I get through a LOT of coffee keeping this site active – please click the link below.
I'd love a cup of coffee