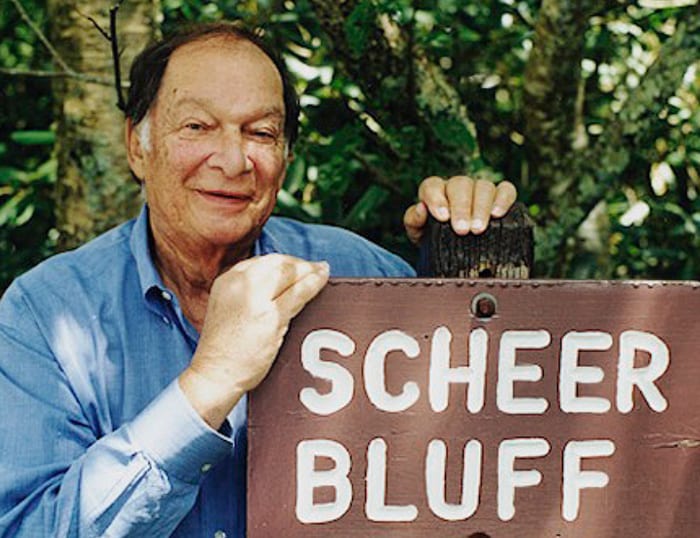 TODAY, February 20, marks the birthday of Julian Scheer, above, who, in 1969 – while working as NASA's Assistant Administrator for Public Affairs – was informed that President Nixon, was 'big on God.'
In a conversation concerning what words were to be put on a plaque that would be taken to the moon by Apollo 11, Scheer – born in 1926 and the holder of a a degree in a journalism and communications – was told by NASA Administrator Thomas Paine that the President wanted to know what he should do or say when the astronauts landed on the lunar surface.
Without admitting that NASA had absolutely no idea, Paine agreed to be at the White House in an hour to present NASA's game plan for the President.
Writing for The Orlando Sentinel in 1989, Scheer admitted that NASA hadn't a clue that Nixon would want to be in the loop, and nothing had been prepared for him because the President had previously appeared disinterested in the project.
Something had to be cobbled together fast, and among the paperwork presented to a Nixon lackey was information about the plaque designed to sent on the journey.
A replica of the plague via Heritage Auctions
This, in Scheer's words, is what happened next:
When we got to the plaque, the aide stopped. He picked up a pen and inserted a caret – "under God," he wrote, making it "We came in peace under God …"
"What do you mean?" I asked.
"Under God, under God, we came in peace under God," he said with a bit of irritation.
"What God?" I asked.
"God, God," he answered. "We came under God!"
"But this is a universal thing," I said. "What about the people on earth who do not worship our God, Buddhists, Muslims and . . ."
"Damn it, Julian, the president is big on God!" the aide snapped.
"Big?"
"Listen," he said, "that Billy Graham is here every Sunday. We have to go to church services here with Billy Graham! I'm telling you, the president will want God."
Paine than asked Scheer what he planned on doing. Scheer replied:
The plaque has been put on the spacecraft and checked out. I guess the answer is nothing.
Paine replied:
I didn't hear that.
According to the Freedom From Religion Foundation, after the successful Apollo 11 mission, Scheer was awarded NASA's highest award, the Distinguished Service Medal, and led the crew on tours around the world.
He left NASA in 1971 to manage the campaign for Terry Sanford (Democrat, North Carolina) for the presidency but remained a consultant to the space programme and was a trustee of the Smithsonian Institution's National Air and Space Museum.
He worked for a Washington-based communications consulting firm until 1976, when he became a vice president running the Washington offices of LTV Corp, whose holdings include steel mills.
He retired from LTV in 1992 and returned to his consulting firm. He wrote several books, including Light of the Captured Moon for children.
Sheer died aged 75 of a heart attack in 2001.
Thanks to devout Christian Edwin "Buzz" Aldrin, religion still managed to raise its ugly head on the moon.
On landing, the first thing Aldrin did was give thanks to the Almighty and celebrated a sacrament.
• Please report any typos/errors to barry@freethinker.co.uk
If you'd like to buy me a cup of coffee – and boy, do I get through a LOT of coffee keeping this site active – please click the link below.
I'd love a cup of coffee