WHEN enterprising 25-year-old Tommy Marcus learned that Trump's bigoted buddy had died he celebrated by donating  $100 to Planned Parenthood. More than that he used social media to urge others to contribute to his newly-established Quentin Quarantino Rush Limbaugh Memorial Planned Parenthood Fundraiser.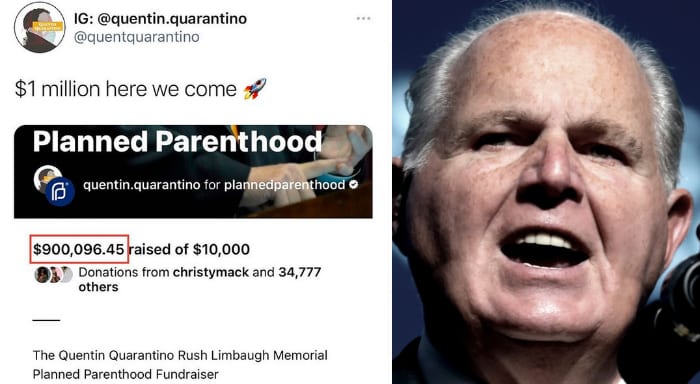 The result was nothing short of staggering, as the Instagram screenshot, above, shows.
Who is Marcus, the man who uses the name Quentin Quarantino on Instagram?
According to this report, he's a University of Michigan graduate based in New York City, who gained a huge following as a creator of memes that "call out bullshit" and the "hypocrisy of pro-lifers and anti-maskers."
In short, a young guy Limbaugh – a dedicated "pro-lifer" – would have absolutely hated.
Last Friday Vice reported – beneath the headline 'Leftist Scum' Memer Raised $400K for Planned Parenthood as a Special Tribute to Rush Limbaugh – that Marcus hoped he could raise $10,000 for Planned Parenthood by creating a Limbaugh memorial fund.
In his latest post, Quarantino revealed that donations have exceeded $1.1-m.He said:
It was really an experiment, and the results have been unbelievable. It's really cool to see that such a polarizing figure and such a bitter history of Rush Limbaugh could inspire such a constructive and meaningful thing.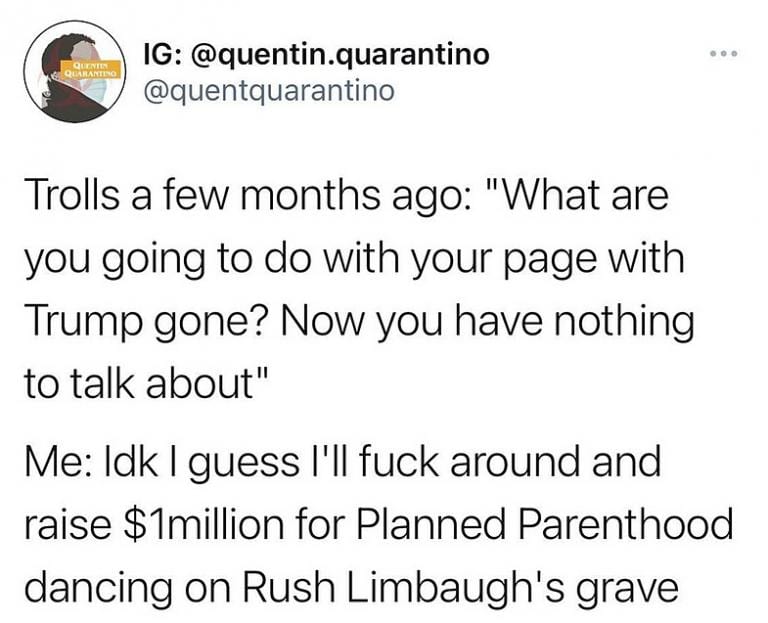 Before launching the fundraiser, he'd posted several memes that, if they didn't outright celebrate Limbaugh's death, made it clear that Marcus was not sorry that the conservative icon was dead. He said:
Rush Limbaugh has been someone who's spent decades clogging the airwaves with sexist, homophobic, racist, endlessly discriminatory propaganda.
He singled out Limbaugh's track record of mocking AIDS and those who died from it as particularly offensive.
He is really, to me, the embodiment of Trump's America, of hatred, of the division that we see in our country right now. Limbaugh liked to take particular aim at feminists – or, as he called them, 'feminazis.'
Marcus has taken to posting some of the direct messages he's received from Planned Parenthood supporters. One wrote:
They made me feel less alone and never judged. I finally felt heard and safe.
Another wrote in to condemn South Carolina for passing, on Thursday, a law that would ban abortion after just six weeks of pregnancy – before many people even know they're pregnant. Planned Parenthood immediately sued over the law.
On Friday, the organisation secured a court order that will keep it from going into effect. Marcus had been using his page to donate money to groups like Planned Parenthood and No Kid Hungry, as part of what he calls an effort to "troll for good."
But he had no idea that his latest caper would  go viral and benefit PP to the extent that it has.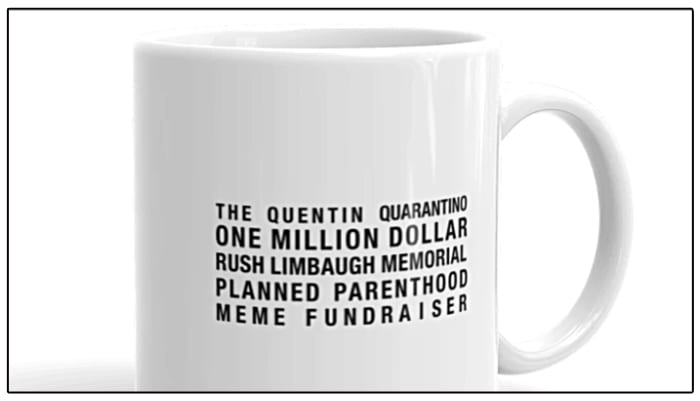 Marcus has even started a merchandising page that offers the mug above.
• Please report any typos/errors to barry@freethinker.co.uk
If you'd like to buy me a cup of coffee – and boy, do I get through a LOT of coffee keeping this site active – please click the link below.
I'd love a cup of coffee