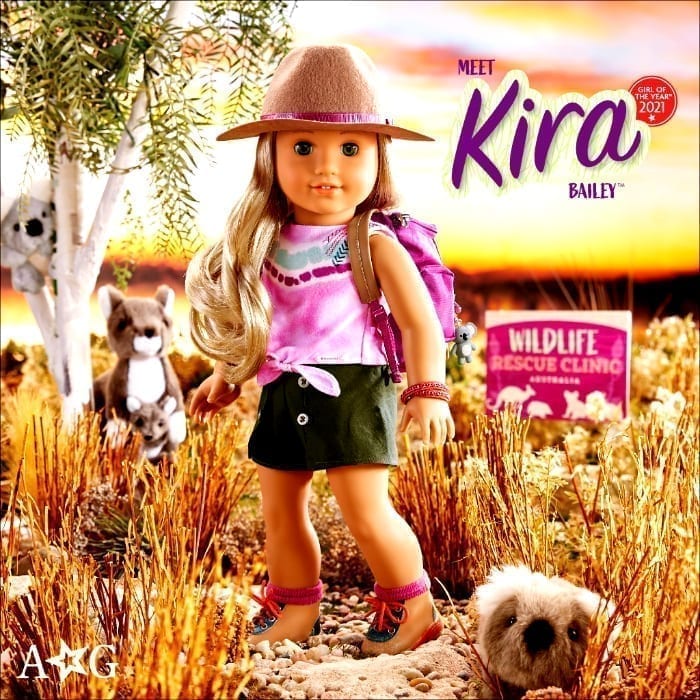 AT THE end of December, Mattel unveiled its 2021 Girl of the Year – Kira Bailey from Michigan – who's passionate about climate change's impact on wildlife.
So far, so good, but the book that accompanies the doll – Kira Down Under – tells of her trip to an animal sanctuary in Australia operated by her great-aunts Mamie and Lynette who are – eeew! – in a same-sex marriage.
This unleashed torrents of homophobia on social media, and on Amazon 52 percent of reviewer have slammed the book, giving it a one-star rating for being "inappropriate".
One review reads:
My daughter purchased Kira on January 1 and was super excited to be one of the first to own the new doll for 2021. In her book, Kira visits her aunt in Australia. Unfortunately, as my daughter began to read the book she read that Kira's aunt is married to another woman.

Homosexuality is an inappropriate topic for a children's book and I am very disappointed that it was woven so blatantly into the story line for Kira. This type of content should have been made clear in the advertising so that I as a parent could make an informed choice for my child.

My daughter and I have read dozens of American Girl books and have always loved them and highly recommended them to friends. Before now, I have never had to worry about American Girl reading material being wholesome for my child. My daughter had no idea what a lesbian couple is and American Girl has cruelly taken away part of her innocence now that I've had to explain about that lifestyle.

It goes against what I believe as a Christian and was not something I wanted my daughter to be exposed to at this early age. I am very, very disappointed in Americans Girl and will not purchase their products in the future.
Kira is the first character whose story mentions a same-sex marriage. In the book, she explains that her aunts married "after the law was changed to allow it," referring to Australian Parliament's 2017 decision to legalize gay marriage, two years after the U.S. Supreme Court did the same.
American Girl Doll News blogger Sydney Jean wrote a post titled "Why Kira's Aunts Mean The World To Me" in which she thanks the brand for:
Creating some more hard-to-find representation for us LGBT people. I will forever remember Kira as a doll with a groundbreaking story due to this, and I will cherish her forever.
In pointing out the outrage Kira has caused, Boston collector Rebecca Nachman, said in December:
Here's all the drama in the American Girl world that's gone down in just the last three days. The other day, it was leaked that the new 'Girl of the Year' was going to have lesbian aunts and people lost their goddamn minds. There was so much blatant homophobia in all these American Girl Facebook groups I'm in and it was horrific.
Kira is not the brand's first dive into LGBT content — the September advice book A Smart Girl's Guide: Crushes (formerly A Smart Girl's Guide to Boys) was updated to include same-sex relationships. And this month American Girl will publish the book Pets, featuring a mixed-race family with two dads.
Thia has upset racists who are taking issue with an anti-racism pledge made last December by American Girl. It vowed to hire more Black writers and expand its racially-diverse characters. This reportedly caused another rift between supporters and "a lot of upset white women," some of whom accused AG of "caving into political correctness."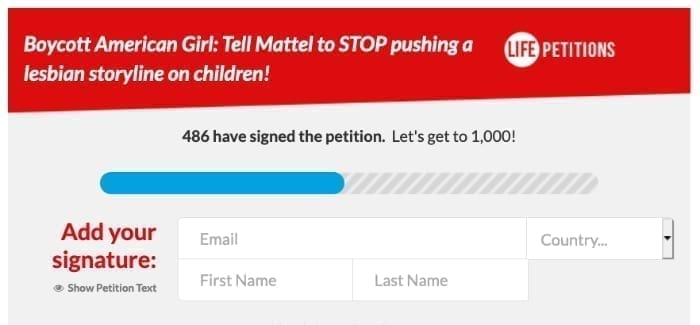 Far-right Christian website LifeSiteNews, crammed with fake news and conspiracy theories, is on the case, and has launched a petition, which reads in part:
The popular "Girl of the Year" series features new characters whose lifelike dolls and storybook tales engage the imagination of young girls across the country and world.

But, this year, there's an insurmountable problem which is rightly causing fury among parents: the new 'Girl of the Year,' Kira Bailey, visits her 'great-aunts', in Australia, who, we learn, are in a homosexual relationship, and who are 'married' to each other.

This is totally unacceptable, and that's why we're asking you to JOIN this BOYCOTT of Mattel, until they pull this new "Girl of the Year" from the shelves.

Many parents are rightly infuriated. And, many have taken to social media to comment about the situation, focusing on the destruction of innocence and consent.

Indeed, there were no warning labels on any of this year's 'Girl of the Year' material, advising parents of the contents. This meant that many children were already exposed to harmful, sexually-confusing material before their parents knew what was going on.

It seems clear that this move by Mattel is not a business decision, but a political decision. In fact, this move seems expressly designed to appeal to adults who support a radical sexual ideology.

But, it is not Mattel's role – as a toy-maker – to enter into this delicate area of sexual and moral ethics.

However, because Mattel has chosen to pursue this dangerous political decision over the best interests of children, we are calling on parents to boycott Mattel until they pull Kira Bailey from the shelves.
Each time I visit LSN I have a burning desire to scrub myself down with a strong disinfectant. On the other hand I'm grateful for its existence as it provides me with a endless supply of material that exposes the infantile and hateful mindset of True Christians™.

• Please report any typos/errors to barry@freethinker.co.uk
If you'd like to buy me a cup of coffee – and boy, do I get through a LOT of coffee keeping this site active – please click the link below.
I'd love a cup of coffee