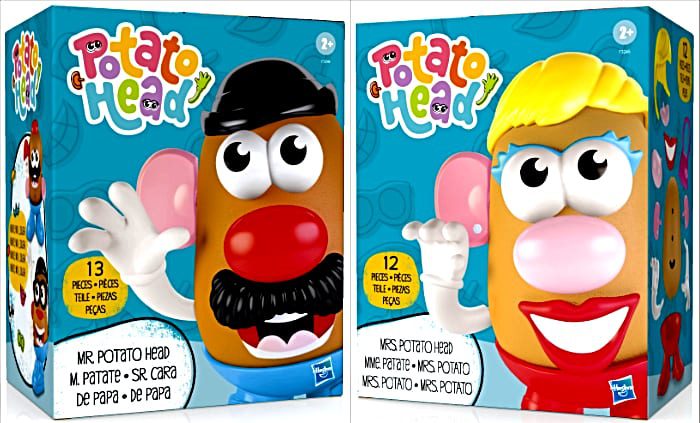 YESTERDAY I received an email from a a Freethinker reader, berating me for not covering the latest outbreak of outrage among Christian conservatives who are fuming over the Potato Head brand's plan to enable kids to play at gender bending.
She provided a link to a Christian Post report that said:
Toy manufacturer Hasbro stirred controversy immediately after it announced the launch of a 'modern' version of its iconic Mr. Potato Head toy line that will drop the honorific 'Mr.,' to be more 'inclusive' and to let kids create their own type of potato families, including two moms or two dads.
I replied that some things are so damn silly that they don't deserve the oxygen of publicity. And anyway, Hasbro had already emphatically stated that Mr and Mrs Potato Head "aren't going anywhere."
Except to church!
That email niggled at me all day, and finally I decided to dig deeper in the hope of finding an angle that hadn't already been covered.
That's when I discovered on a blog called Simply Celebs that said Mr Potato Head is a Christian. Under a piece headed "What is Mr. Potato Head Religion?" CS says:
With this report we researched Mr. Potato Head religion. We will detail what Mr. Potato Head's religion is as well as what being Christian means to Mr. Potato Head.
Except it does no such thing, The best we get is that Mr Potato Head "has always been Christian" and that:
Some Christians like Mr. Potato Head visit church most Sundays and may visit a mass on holidays.
And that's it, except for some background history on the brand.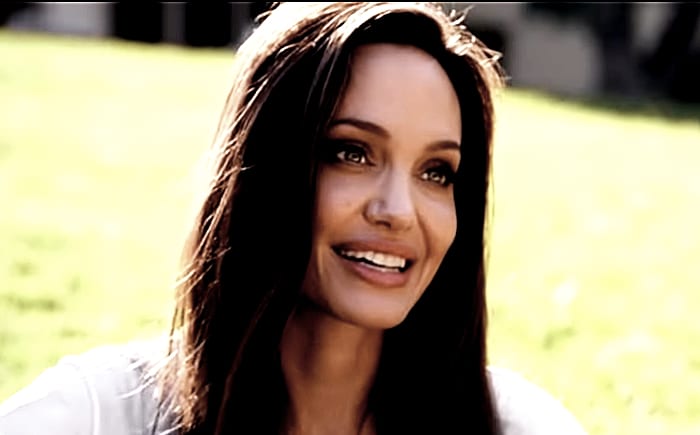 The same site claims that Hollywood Star Angelina Jolie, above:
Converted to Islam after adopting a Muslim child and learning more about the religion.
This is an outright lie. Numerous sites – including the Freedom from Religion Foundation – report on her absence of faith, and Beliefnet flatly states that she an atheist, adding:
She doesn't profess to any kind of relationship with a God however. While she and Brad Pitt seek to educate their children about people and religion, she doesn't feel particularly tied to any specific faith. She has adopted numerous humanitarian causes, which has turned public perception after her often controversial early career.
Oh and for the record, Jolie has a transgender child.
In 2008, Brad Pitt – who separated from Jolie in 2019– told Oprah Winfrey his then eight-year-old Shiloh preferred the name John and was happily living life as boy.
In an interview with The Telegraph, child psychologist Linda Blair commended the parents for showing their support for their child. Blair used John as an opportunity to educate adults about how to address a child's gender exploration, rather than dismissing it as "just a phase," while praising Brad and Angelina for encouraging their children.
However, eight years ago it was reported that Pitt's mother Jane, a conservative Christian Republican, infuriated Jolie by insisting on buying the child fairy costumes and princess dresses, something Jolie found profoundly "disrespectful."
This was not the first example of tension between Brad's "two leading ladies." Earlier that year, Brad's mom wrote a letter to a local newspaper in the US, urging Americans to vote against Obama in the upcoming elections because of his support of gay marriage.
She wrote:
Any Christian should spend much time in prayer before refusing to vote for a family man with high morals, business experience, who is against abortion, and shares Christian conviction concerning homosexuality just because he is a Mormon.
She was referring to Mitt Romney.
Bottom line: Mr and Mrs Potato Head are not Christians, but most Christians are potato heads.
• Please report any typos/errors to barry@freethinker.co.uk
If you'd like to buy me a cup of coffee – and boy, do I get through a LOT of coffee keeping this site active – please click the link below.
I'd love a cup of coffee