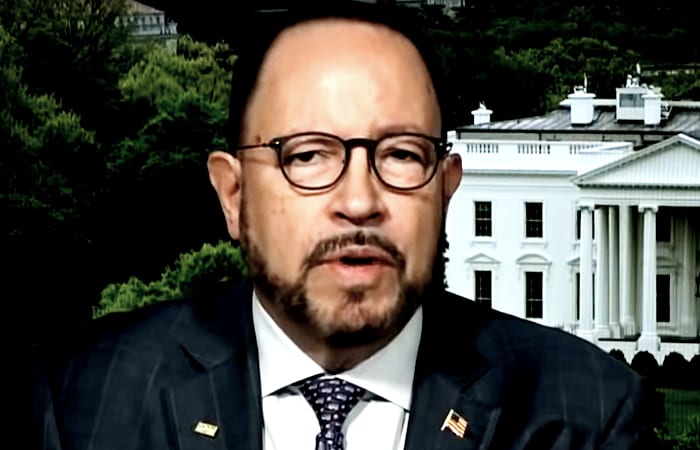 EARLIER this year Robert Unanue, above, CEO of Latin American food company Goya, was ordered by his board of directors to shut the fuck up about voter fraud and other conspiracy theories surrounding the presidential election.

In the face of the board's order that, henceforth, he would need their permission to make public statements, Unanue said:
I've made the decision to lower the temperature and walk away from speaking about politics and religion.
Then yesterday (Sunday), according to the Huff Post, he popped up at the Conservative Political Action Conference and claimed that "in his opinion" Trump is still President.
We still have faith that the majority of the people of the United States voted for the president. I think a great majority of the people in the United States voted for President Trump, and even a few Democrats.
Since a July 2020 appearance at the White House, Unanue's loud adulation of Trump – who routinely expressed xenophobic views targeting Latinx communities – has prompted calls to boycott Goya Foods, which is based in New Jersey. In 2011, it's new distribution centre was blessed by an Archbishop.
It's unclear if Unanue sought permission to give the CPAC address. Goya Foods did not immediately respond to HuffPost's request for comment.
Prior to the board's decision, Unanue had faced renewed backlash over cable news appearances in the aftermath of the deadly January 6 insurrection on the US Capitol led by Trump's supporters.
He claimed on Fox News that media and tech companies want to "cancel" God, free speech, and American culture, history and liberty by blocking Trump from social media platforms following months of his disinformation about the election.
Unanue also said there was a "war coming" during a Fox Business appearance on Inauguration Day.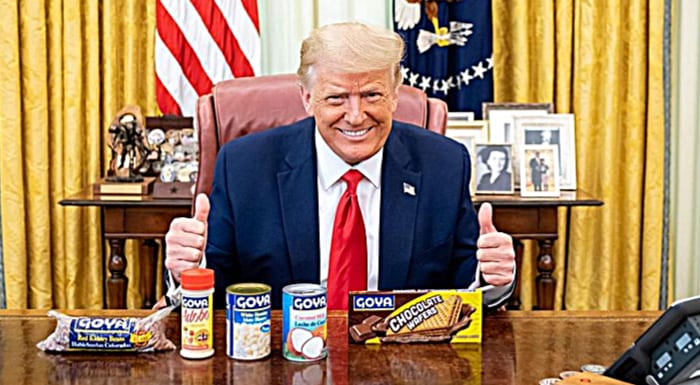 Last year Trump may have violated federal regulations that forbid government employees to use their positions, titles or authority to endorse products by posting a pic on Instagram that showed him at his desk with a variety of Goya products.
Meanwhile CNN reports that Trump:
Returned to the public stage on Sunday with a familiar kind of Trump speech – a speech filled with debunked lies.
Most notably, Trump's first post-presidency address, at the Conservative Political Action Conference in Orlando, included his usual lies about the 2020 election. He continued to falsely insist he was the legitimate winner and continued to falsely insist the election was "rigged."
Trump repeated a bunch of other false claims we regularly heard from him as president, on subjects ranging from trade with China to his stance on the war in Iraq. He also offered up some new false claims about President Joe Biden's early days in office.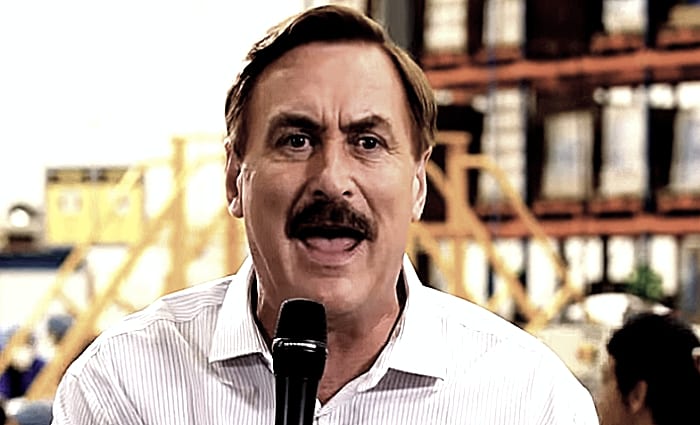 In other news about crazy Trump/Jesus lovers it's reported here that Mike Lindell, above, aka "The MyPillow Guy" is being sued for $1.3-billion for claiming that used Dominion Voting Systems' technology had been programmed to steal votes from Trump.
The suit, filed by "top-shelf defamation attorneys"Tom Clare and Megan Meier, sets out to do two main things. It details all the times Lindell falsely asserted that Dominion machines were programmed to steal votes and give them to Biden, and it makes the case that Lindell's "noisy embrace" of Trump was motivated by a desire to sell pillows to right-wingers, not so much by "political true belief."
• Please report any typos/errors to barry@freethinker.co.uk
If you'd like to buy me a cup of coffee – and boy, do I get through a LOT of coffee keeping this site active – please click the link below.
I'd love a cup of coffee