MEMBERS of Harmony Free Will Baptist Church in Oklahoma were were reportedly 'heartbroken and shocked' when they learned that their 'beloved' pastor David Charles Evans had been been shot dead last Monday.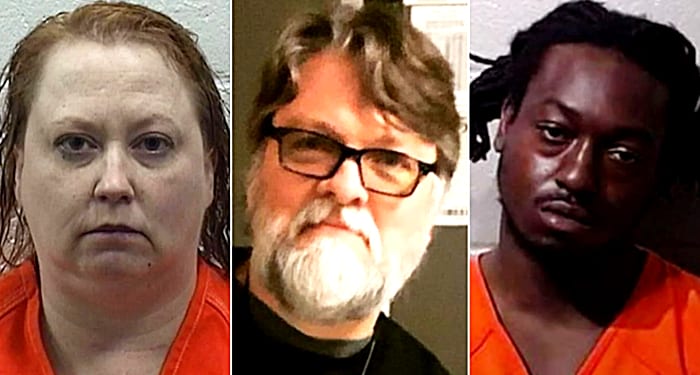 Shock turned to horror when the congregation at the Ada-based church learned at the weekend that Evans had been in a three-way relationship, and that his wife Kristie, 47, and her 26-year-old lover – Kahlil Deamie Square – had been arrested and charged with his murder.
The Daily Beast reports that Kristie Evans asked Square to kill her husband in a sinister plot the two hatched while the pastor was on a missionary trip Mexico. According to an affidavit, the mother-of-three later told police her husband "was verbally abusive and controlling of her" and "called her names like 'slut, fat, ugly, and whore.'"
The affidavit said:
Kristie gave David's gun and a box of bullets to Kahlil. [They] agreed upon an approximate time Kahlil would come to the Evans' residence to kill David. Kristie left the backdoor unlocked so Kahlil could make entry to the resident.
The pastor's wife told investigators that she and Square:
Had a sexual relationship that also included David at one point as well.
The affidavit added:
Kristie and David first met Kahlil months ago at a Super 8 Motel. The trio had sex at the motel on more than one occasion.
Evans admitted that Square stayed over for three nights at her home while her husband was in Mexico. She told Square that her husband was verbally abusive, that he mistreated her, and that:
It would be nice to have more freedom.
At around 1 am on March 22, Evans called 911 to report that "someone had shot her husband" inside their home in Ada, about an hour outside of Oklahoma City. When officers arrived, David Evans was "lying in bed, bleeding from the nose and mouth" with a gunshot wound to the head. He was pronounced dead at the scene.
Initially, Kristie Evans told police that a few hours after the couple had gone to bed, she was "awakened by a 'pop' noise and smelled smoke. She noticed her husband was bleeding from his nose and mouth – but was still alive and making a "gasping noise." Before calling 911 she said she ran outside the house to look for any cars or intruders.
But, the affidavit states, as authorities began to interview friends and neighbors, her story began to unravel. In one interview with a neighbor, Brian Hughes, authorities learned that a white Ford Mustang had been at the house several days prior to the pastor's death.
Hughes provided video surveillance footage of the same Mustang in front of the house on March 22. Evans later admitted that the car belonged to Square, with whom she was having an affair.
The affidavit states that authorities received a text message on Thursday from Evans' daughter, saying Evans was coming in to confess. She had allegedly told her daughter that she:
Begged Kahlil to kill David and that Kahlil shot and killed David with David's gun.
Evans is being held in the Pontotoc County Jail and Square is in the Cleveland County Jail. It is not immediately clear if either has a lawyer.
Harmony Free Will Baptist Church did not immediately respond to The Daily Beast's request for comment.
Hours before he was killed, the pastor warned his parishioners that the devil would seek to "destroy and kill them" for witnessing God's power.
Expect it. Be prepared for it. If the devil is not attacking you, there is a reason. If the devil is attacking you, there is a reason.
• Please report any typos/errors to barry@freethinker.co.uk
If you'd like to buy me a cup of coffee – and boy, do I get through a LOT of coffee keeping this site active – please click the link below.
I'd love a cup of coffee