AN off-beat US company called MSCHF raised eyebrows a while back by producing Jesus footwear, featuring soles that purportedly contained 'holy water.' They quickly sold out.


It's now targeting the Satanists with a limited edition of Satan shoes – just 666 priced at $1,018 a pair.
The company, according to religious website Faithwire, teamed up with American rapper, Lil Nas X – famous for his song "Old Town Road" with Billy Ray Cyrus – to get the shoes to market by the end of March.
The product, made by Nike, has been modified to include a drop of blood and a biblical reference to Satan's fall from heaven (Luke 10:18). The laces feature upside-down crosses and pentagrams.
Faithwire points out that the rapper – real name Montero Lamar Hill – just released "Call My By Your Name":
A shocking new music video that depicts him coaxing Satan in an attempt to steal his horns.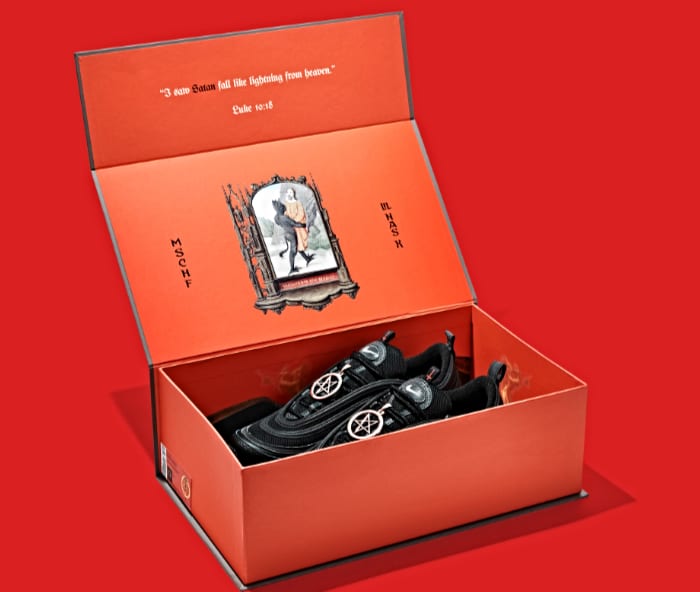 Lil Nas X's new shoes are created using Nike Air Max 97s. However, Nike Media Relations told CBN News on Sunday:
We do not have a relationship with Little Nas X or MSCHF. Nike did not design or release these shoes and we do not endorse them.
MSCHF team member Daniel Greenberg said that the company buys the shoes from Nike, then MSCHF artists put their own designs on them before they're sold.
An article published last January by Business Insider revealed that MSCHF is known for:
Creating some of the most absurd, cynical, and viral projects and products that have spread across the Internet.
Company CEO Gabriel Whaley said told Business Insider:
We're trying to do stuff that the world can't even define. Our perspective is everything is funny in a nihilistic sort of way. We're not here to make the world a better place. We're making light of how much everything sucks.
Has anyone considered footwear for atheists? You bet your sweet bibby they have. In 2012 a Kickstarter funding appeal launched by Irishman David Bonney proved so popular that a new company came into being and has proved universally successful.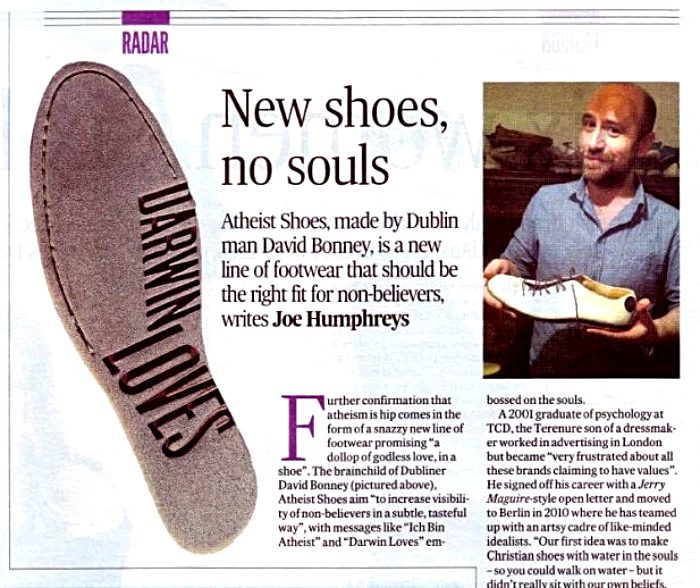 This from the Berlin-based company's truly brilliant website:
The first 'ATHEIST Shoe' came into being on an artistic whim; confident that the world might be a better place if non-believers were more open about their godlessness, we carved the words "ICH BIN ATHEIST" onto a shoe sole … because what better way to voice one's heart and ideology than via one's shoes?!

We didn't think much of it, hoping our friends might be tickled by this peculiar little folly. But when we posted a picture of the shoe on Reddit, in January 2012, the response was mind-blowing; in just a few hours we received hundreds of emails asking where to buy the shoes. And so, overnight, what began as casual whimsy became a shoe business.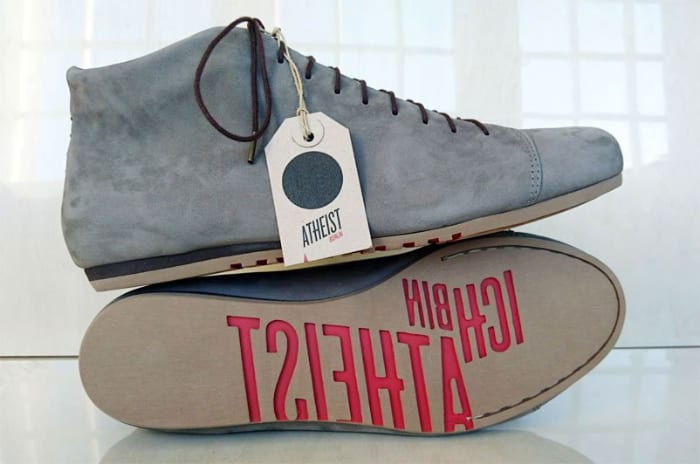 Since then, Atheist Shoes have been getting rave reviews (here's one featuring the kitten testicle grey pair, above) – and not without good reason. They are beautifully crafted, very comfortable and long-wearing (I have a blue pair bought a decade ago and they still look as good as they day they arrived.)
• Please report any typos/errors to barry@freethinker.co.uk
If you'd like to buy me a cup of coffee – and boy, do I get through a LOT of coffee keeping this site active – please click the link below.
I'd love a cup of coffee