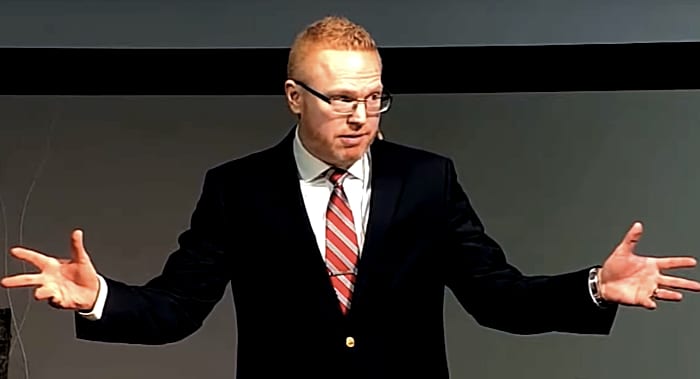 EDMONTON pastor James Coates, above, of Grace Life Church west of Edmonton, doesn't believe governments have any right to impose restrictions on worship during a pandemic and his continued defiance of lockdown measures landed him behind bars last month.
Yesterday, an outfit called The Justice Centre that supports "persecuted Christians" said it was "very disappointed" to announce that Justice Peter Michalyshyn of the Alberta Court of Queen's Bench in Edmonton had ruled that Coates must remain in jail for the next eight weeks pending his trial, unless he agrees to abide by health mandates.
Such orders, The Justice Centre insisted:
Violate his Charter freedoms of conscience, religion, expression, association and peaceful assembly.
Coates has been in custody at the Edmonton Remand Centre since February 16, after he refused to sign a bail condition to comply with provincial health orders.
The centre filed an appeal in the Alberta Court of Queen's Bench, to seek the release of Coates from jail prior to a trial date set for the beginning of in Alberta Provincial Court in Stony Plain.
It revealed that Alberta Health Services (AHS) had fined Coates, taken Grace Life and Coates to court, and even attempted to shut the church down completely.
Lwyer John Carpay, President of the centre, said:
A trial set eight weeks down the road was too long for an innocent Pastor to be in jail. Pastor Coates is a peaceful Christian minister.

He should never have been required to violate his conscience and effectively stop pastoring his church as a condition to be released. In every way this was a violation of Pastor Coates' Charter rights and freedoms.

Charter freedoms do not disappear because the government declares regular church services to be outlawed while allowing hundreds of people to fill their local Walmart.
Coates has addressed the province's health restrictions in his sermons, telling worshippers that governments exist as instruments of God and there should be unfettered freedom of worship.
An associate pastor of the church, Jacob Spenst, conducted last Sunday's service and told the congregation that messages of support have been pouring in for the jailed pastor.
• Please report any typos/errors to barry@freethinker.co.uk
If you'd like to buy me a cup of coffee – and boy, do I get through a LOT of coffee keeping this site active – please click the link below.
I'd love a cup of coffee